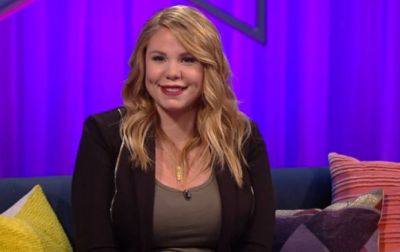 It took nearly eight weeks but Kail Lowry has finally given her third son a name of his very own!
The Teen Mom 2 star, who gave birth to a baby boy back in August, announced on Sunday that, last week, she came up with an actual moniker for the little boy, whom she has been calling "Baby Lo." ("Lo" is short for both Lowry and Lopez, which is the last name of the baby's father Chris.)
Kail announced the name via a post on Instagram. From this point on "Baby Lo" will be called… Lux!
"Lux Russell, 08/05/17," she captioned a photo of the baby lying on a personalized blanket. "7 lbs. 15 oz 19 3/4 born at 3 a.m. on the dot."
In the caption, Kail even stated that she and Chris had a difficult time coming up with a name for the kid.
"It only took us 7 weeks to decide on a name and eight weeks to make it official," she wrote.
Although it seemed odd to 'Teen Mom 2' fans that Kail would wait so long to pick a name for her baby, it's totally within the legal limits. In Delaware, the state that the baby was born in, parents have up to 90 days to register their child's name.
Last week, Kail posted a video to Snapchat of her and her friend at a hospital, trying to come up with a name for the baby. She eventually had a nurse draw a name from a bag. Kail said she was happy with the name that was chosen.
On Instagram, Kail explained to fans that Lux's name is pronounced like "lucks." According to Nameberry, it is a Latin name meaning "light."
Kail's 'Teen Mom 2' co-star Chelsea Houska weighed in on Lux's newly chosen moniker.
"I love it!" she wrote in the photo's comment section.
Fans had a mixed reaction to Baby Lux's newly announced name.
"9 months and 7 weeks and that's all you could come up with?" one person wrote to Kail on Twitter.
"You waited this damn long for 3 damn letters that shouldn't go together?" someone else wrote.
"Lux Lowry (or Lopez idk your life) is kind of a badass name tho," one person tweeted.
See Kail's baby name announcement below:
(Photos: MTV, Instagram)