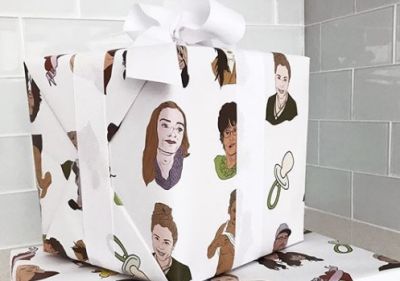 Teen Mom fans will agree: Nothing says "Happy Birthday" or even "Merry Christmas" quite like a pile of gifts wrapped in Butch Baltierra's mirror flex pic or Jenelle Evans' latest mugshot!
A company is about to make this dream a reality. Shavspaper—which makes wrapping paper featuring all sorts of pop culture icons—recently announced that its adding a 'Teen Mom'-themed wrapping paper to its offerings.
The company posted the first photos of the wrapping paper on its Instagram page earlier this week, giving fans their first peek at the paper, which features cartoonish pics of Butch and Jenelle, as well as Catelynn Lowell and Tyler Baltierra, Maci Bookout, Debra Danielsen (in full "Debz OG" garb, naturally), Amber Portwood, Kail Lowry, Farrah Abraham, Gary Shirley, Chelsea Houska and a feisty looking Barbara Evans. It makes for the perfect thing to wrap up that "Free Butch" T-shirt you were planning to give your pal for her birthday!
Fans recently brought the wrapping paper to some of the 'Teen Mom' girls' attention, and some of the girls were not very happy about it.
Jenelle wasn't thrilled to see her Kieffer-Era mug shot on the wrapping paper. She simply wrote, "blocked" in the photo's comment section.
Farrah had a slightly better sense of humor about it.
"You better be sending me a gift if you're putting my face on wrapping paper," she commented on the post. (Maybe they can buy her something off the creepy Amazon wish list she made for her "back door" fans?)
Shavspaper has not yet released the wrapping paper but has stated in other posts that it will be available for sale "very soon."
Here's to hoping they come out with a Butch and April edition before the holidays!