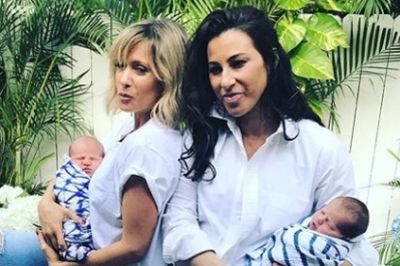 Former Road Rules and The Challenge cast member Rachel Robinson has tied the knot and welcomed two (potential) future Challengers to her family!
Back in May, Rachel announced she was pregnant and that she and girlfriend Natalie Gee were expecting twins. This week, Rachel told followers that not only had twins Jesse and Jack Gee-Robinson arrived, but that she and Natalie have gotten married. Talk about a big couple of weeks!
"I would like to introduce you to Jesse & Jack Gee-Robinson," Rachel captioned a family photo posted to Instagram over the weekend. "The world is brighter, this life had more meaning, oh & we got married today — please refer to @natgeebeauty as my wife." (Click here to see a wedding pic!)
"We started this process a few months ago, and I feel so beyond blessed," Rachel added on her fitness website. "Natalie is the partner I have been waiting for, and I cannot wait for this new journey to begin together as a family of 7. (Yes, 2 moms, 2 kids, 3 dogs…). Our families, friends and community support is something we hold so dear, and being two women so connected in our communities, the [outpouring] of happiness and love we have received the last month since starting to tell people has been nothing short of truly amazing."
While Rachel hasn't graced 'The Challenge' with her presence since 2012's 'Battle of the Exes,' her name did come up during an earlier episode of "The Challenge: XXX" this season when Aneesa Ferriera revealed fellow competitor Veronica Portillo had dated Rachel for three years. Aneesa also told viewers that after Veronica and Rachel called it quits, she and Rachel began a relationship of their own. During the episode, Veronica declined going into details on her and Rachel's past love life, saying during a confessional that she thought talking about it years later was "disrespectful."
Veronica did, however, divulge a little more details after the season wrapped. During a recent Reddit AMA session, she revealed that back on the early seasons of "The Challenge," she and Rachel would sneak off for some alone time.
"We had so much freedom, it's crazy," she wrote. "We shot 'The Gauntlet' in Telluride and our house was part of a resort with shared access to a spa and gym. Every day I would hand over my microphone to production & we (Rachel & I) would go 'workout.' We would go into town and have nice dinners, just the two of us, off camera, at least once a week. We left the set during 'Inferno 2' and got a hotel room for a night."
Veronica has yet to comment on Rachel's latest milestones.
Rachel won two of the seven 'Challenge' seasons she competed on, with her last win being 2009's "The Duel." She got her start on MTV during the "Road Rules: Campus Crawl" season.
(Photo: Instagram)