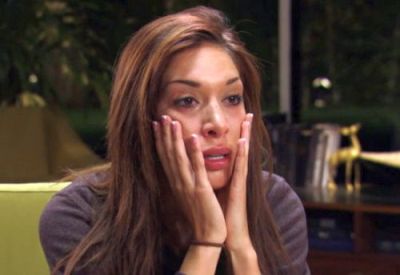 Farrah Abraham has reportedly been fired from MTV's Teen Mom OG…and she's taking her infamous backdoor with her!
The reality TV star announced that executives from the network had called her and fired her from the show on Monday, stating that her restarting her adult entertainment career via live web cam sex shows, as the reason she was being let go.
She first announced the news on Instagram live.
"I had a super horrible day. MTV fired me from MTV's 'Teen Mom' because my press from my own brand outshined their press and also they were sex-shaming me about doing this cam show today," Farrah stated on Monday night.
The two-minute rant was full of classic "Farrah speak."
"I wanted to just say, for all the women who are sex-shamed, or if the Viacom executives are watching this now, they'd rather watch us have sex and all this stuff, as long as it's not around their show," Farrah ranted. "Yet they partake in that and then want to fire me because they have a power-trip.
"So I'm no longer going to be with MTV I guess because they wanted to fire me and hate on me and sex-shame me. Whether I'm with them or another network, thank you for supporting me."
She threw in yet another jab at the head honchos at Viacom.
"The Viacom execs get off while watching me…rather than watching me doing the things I loved to do. [It's] me doing me. F**k MTV I guess, whatever….I may have to show my butt but I don't know yet."
Farrah was scheduled to make her second appearance on web cam site CamSoda on Monday. It was reported that she and her backdoor would put on a solo show for viewers, but Farrah apparently backed out of doing the backdoor show, stating that the promoters "over-compromised" (The Ashley thinks she means "over-sold") the show. She said she had never planned to do a live sex show and that she was actually just giving out sex toys and lingerie and whatnot. She ranted about CamSoda later on Monday night, even calling them "SCAMSODA."
The Ashley can add a little bit of info to this. Her sources tell her that Farrah getting the boot from the show was a big topic at the 'Teen Mom 2' Reunion/Specials tapings in Los Angeles last week among producers and crew members. This was not a last-minute decision on the network/production team's part and had been in the works for some time.
"Basically, they could explain away [her doing p0rn] the first time, when she did her 'Backdoor' tape because it was made and released while the show was on hiatus [in 2013]," one behind-the-scenes source tells The Ashley. "They brought her back on for 'OG' because they could explain away that young people make mistakes sometimes, but now that she is back into the adult industry again, they can't use that excuse anymore.
"Another factor is that an overwhelmingly large portion of the viewing audience simply does not like Farrah, and not just because of the adult stuff," the source added. "They are not losing one of the more popular girls."
Farrah is notoriously difficult to work with, as 'Teen Mom OG' fans have watched over the years. (Um…Porta Potties for the crew, anyone?)
"She creates a miserable filming experience for everyone involved on her crew," one productions source tells The Ashley. "Several former crew members have actually refused to film with Farrah, so it's just not worth the drama and backlash for everyone involved with the show anymore."
Farrah will be featured in the upcoming season of 'Teen Mom OG,' which premieres in November.
Late Monday evening, Farrah posted the trailer for the upcoming season of 'Teen Mom OG' to her Facebook page, along with another rant. As per usual, Farrah was sure to point out that she is the "biggest talent on the show," and kind of accused her former bosses of being pill-poppers. She also celebrated God, #America and the sex industry in general (as you do).
The Ashley is leaving the entire rant intact (without punctuation editing, etc.) to allow you to enjoy it in all its "Farrah Speak" glory!
"Even though #Viacom fired me today they couldn't help but to exploit myself & my daughter for their promotional gain- Viacom let me go because as a Business Mogul I act like an adult and part take in adult promotions and activities that other adults do for FREE or in private!
Even though I have successfully been to gentlemen's clubs appearances they filmed and Viacom filmed me at the AVN's & Viacom shows and glorifies showing couples having sex on their network but as stated today 'my brands press out shines the Teen mom Viacom press'- Sad such a phenomenal show will no longer have its biggest talent on the show because of women hating, sex shaming, hate crimes, selfish, Weinstein company power trip behaviors against a professional hard working, honest mother. I'm proud of myself not giving in to be sex shamed by Viacom network, Proud to not have a network take away financial opportunities for my goals, proud to be an Advocate for a healthy sex life, safe sex, teen pregnancy prevention and so much more while I run companies in different feilds and scale them.
Cheers to basically winning against hurtful disgusting executives who do way more in their personal lives then what I could ever be judged for-I will never be broken by hateful wrong people and if everyone else is brained washed, on drugs, pills, scheming thinking their at the top of their power trips I WISH to always be apart- I give this chapter of my life to GOD & all of his glory & to justice in court. If God's for you who dare be against you. I look forward to writing my first business book and sharing all of these life changing experiences in detail , from scheming producers & executives to jealous celebrities ,what to do to over come , not be shattered & stay true to the free world we live in ! #USA #AMERICA Get out there a keep being you! Your much better then all the politics & the people at the top who could never be at the top if it wasn't for you! #godisgood"
Early Tuesday morning, she replied to a post by the official 'Teen Mom' Twitter account (that used the tagline "New strength, new independence  + a new season- but still OG!" to promote the new season).
"I'm the only strength the only independent ALWAYS OG – God Bless," she tweeted.
So far, Farrah's crew, which includes her sometimes boyfriend Simon Saran, mother Debra "Debz OG" Danielsen and father Michael Abraham have remained silent on Farrah's firing. Farrah's 'Teen Mom OG' co-stars (who she notoriously does not get along with) have also not commented yet.
The Ashley has reached out to both Farrah and MTV for comment, and she will update this story when more information is available.
(Photo: MTV)