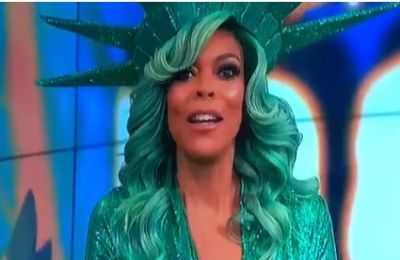 Things got downright scary for talk show host and reality TV star Wendy Williams on Halloween morning when she unexpectedly fainted while filming her live show!
Wendy, who has appeared on reality TV shows like Dancing with the Stars and The Wendy Williams Experience, was dressed as the Statue of Liberty while filming the Halloween-themed episode of her talk show The Wendy Williams Show. She was introducing the day's costume contest when things took a bad turn.
Wendy's voice changed noticably during the segment, eventually even cracking. Her eyes then got big and she started to become unsteady on her feet. A few audience members can be heard laughing in the background, most likely because they thought Wendy was doing some sort of skit.
However, no one in the crowd was laughing when Wendy hit the floor and members of the production team rushed to the stage to assist her.
According to The Blast, Wendy returned to the stage later to let viewers know that her fainting was not part of the act. She blamed it on her becoming overheated in her costume. A source for Wendy told the site that she is "fine."
Wendy has not yet mentioned the incident on her social media accounts.
Watch the terrifying moment below:
What just happened to #WendyWilliams? This wasn't planned! OMG! pic.twitter.com/Pi7TKs0mBv

— O Girl Media (@OGirlMedia) October 31, 2017
(Photo: FOX)