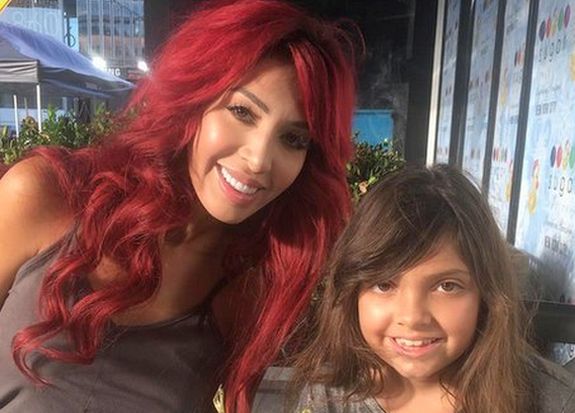 Scratch yet another person from the Teen Mom OG cast list!
Even Farrah Abraham doesn't know if she was fired from the MTV show that made her famous, but the Backdoor Teen Mom seems pretty sure about one thing: her daughter Sophia's days on 'Teen Mom OG' are over.
In a new interview with In Touch Weekly, Farrah revealed that she doesn't want her eight-year-old daughter to appear on the show anymore.
"I will say Sophia is not going to continue to be on 'Teen Mom,'" Farrah told the magazine.
Farrah insinuated that she doesn't want her daughter on a show where so many people get knocked up. (Go figure!)
"Sophia is not going to continue to talk about sex and unplanned pregnancies and all that stuff — so she'll go on to do something better."
Farrah revealed that she has plenty of things in mind to keep Sophia busy. (As The Ashley previously reported, Sophia is no longer in regular school and is instead doing online school so she can go to events with her mom.)
"Hopefully she'll be doing makeup brands or clothing," Farrah said of her daughter. "She's already in fashion so that's more her thing and her life."
The Ashley reached out to Farrah's dad, Michael Abraham, just to see what he thought of Farrah keeping Sophia off 'Teen Mom OG,' regardless of what happens with her own show contract.
"Honestly I think Farrah is a great mom and is protecting her daughter Sophia which is what any parent would do," Michael told The Ashley.
If Farrah does follow through with her threats to remove Sophia from the show, it won't be the first time one of the original kids was forbidden from appearing. Back when 'Teen Mom OG' first began airing, Maci Bookout refused to allow her son Bentley to appear on the show because she didn't want him sharing the screen with Farrah (who had recently done her Backdoor Teen Mom sexy-time tape.) Maci eventually allowed Bentley to be on the show again.
(Photo: Instagram)