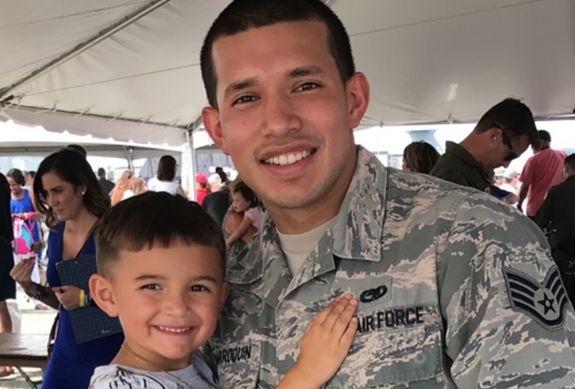 Javi Marroquin has been traveling a lot lately, spending multiple weekends in Florida to be with his new long distance lover, Briana DeJesus, and it looks like there is even more travel in the Teen Mom 2 dad's future.
In an interview with Radar Online, Javi (who's in the United States Air Force) revealed that he is being deployed for the second time. 
"I wasn't expecting this at all," he told the site. "I'm trying to put it all together."
Javi, who was deployed to Qatar in 2016, did not reveal where he would be going or when he was leaving. However, The Ashley's production sources tell her that Javi has been filming scenes about his upcoming deployment in recent weeks, and that it will be in the not-so-distant future.
Earlier this week, Javi hinted about a possible deployment in a series of social media posts. He Snapchatted a document that read "Reporting instructions."
"Feels like I just came back, but I know this time will be different," he wrote on Twitter.
Javi is likely talking about his love life in that post. He was still married to Kail Lowry when he deployed the first time, although she has stated multiple times that she had already filed for divorce from Javi before he left.
Javi is now in a relationship with Briana. The couple, who became "official" at the 'Teen Mom 2' Reunion taping in October, are already publicly declaring their love for each other.
Briana replied to Javi's tweet, reassuring him that it "sure will" be different this deployment.
"[Briana's] what's keeping me together right now," Javi told Radar.
Kail has yet to comment on Javi's upcoming deployment. She and Javi (and Briana) have been fighting (via social media, naturally) over the last few months. Javi recently tweeted his current feelings for his ex-wife and mother of his son, Lincoln.
"[I] have more important things to worry about right now than a past relationship that's dead to me," he wrote. "Lincoln is the only thing keeping it alive, which I'm blessed for don't get me wrong. But him, that's it."
(Photo: Instagram)