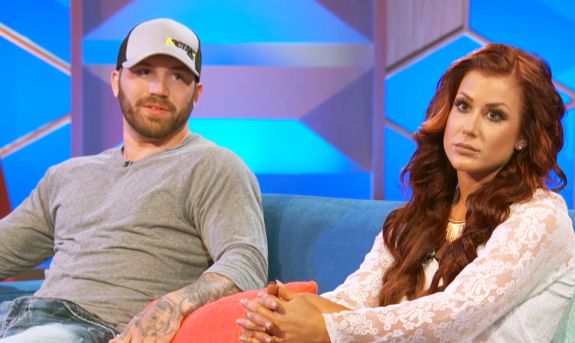 When it comes to dealing with her daughter Aubree's bad dad, Adam Lind, Chelsea Houska has had enough!
The Teen Mom 2 star headed to court last week to make some big changes to the visitation schedule currently in place for Adam to see his daughter– and The Ashley has new exclusive details!
As The Ashley previously reported, Adam got arrested (again) last week for violating the terms of a restraining order filed against him by one of his exes. After Adam's arrest, Chelsea headed to court on December 8 to file a motion to change Adam's visitation schedule.
"She wants to cut back on Aubree going to Adam's parent's house," a source for Radar Online told the site. (As The Ashley previously told you, Adam recently moved back in with his parents due to financial hardships.)
Adam's parents have been legally required to be present while Aubree visited with Adam.
"Adam is almost always gone while Aubree is there, so Aubree basically just spends time with Adam's parents anyway," The Ashley's sources tell her. "Chelsea would still allow Aubree to spend time with Adam's parents, because they have been a part of Aubree's life since she was born.
"She just wants to change it so that there is not a set schedule that must be followed each month," the source added. "The goal here is not to take Aubree out of her grandparents' lives; Chelsea just doesn't want to be forced to take Aubree over there when Adam isn't spending time with her anyway."
The Ashley's source tells her that Chelsea is also pushing for another very important change.
"Chelsea wants to require that Adam NOT be present while Aubree is visiting with his parents," The Ashley's source reveals.
Despite his troubles, Chelsea still wants Adam to be in Aubree's life, provided that he's properly monitored.
"Chelsea does not feel safe having Adam around Aubree right now, so she is pushing to change it so that all of their visits have to take place at court-supervised family visitation center," The Ashley source said. "She had played with the idea in the past but it was kind of like a last-resort option. Chelsea feels like they've reached that point now."
"We exist to provide a place for safe, supervised visits and exchanges with the goal that children are emotionally, physically and mentally safe," the local Family Visitation Center's website explains. "Families spend time together in private, child-friendly rooms, monitored by professional well-trained staff."
Radar Online reported that Chelsea has also recently filed a motion to have Aubree's last name legally changed from "Lind" to "Lind-DeBoer."
"Adam has yet to respond to that motion, or the motion Chelsea filed to change his visitation," The Ashley's source reveals.
Adam has not appeared on 'Teen Mom 2' since Season 7 and will not appear in the upcoming episodes airing as Season 8B.
A court date has been set for January 8 for both the name change and visitation change to be addressed.
(Photo: MTV)