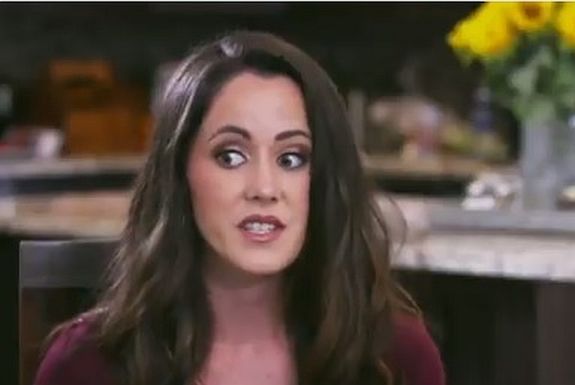 MTV decided to put together this "Very Special Episode" of Teen Mom 2  to honor all of the men who have, at one time or another, been Jenelle Evans' soulmate…all six of them.
This hour-long special is a lot like that famous 1980s "This is Your Brain" commercial. Think of it as "This is your relationship…this is your relationship on drugs" and you'll basically get the cornucopia of crap that is and was Jenelle's love life thus far.
Let's take a stroll down Jenelle's litigation-filled lover's lane, shall we?
The special starts off with the first of Jenelle's many, many loser booooyfriends, Andrew Lewis. While Andrew wasn't around long (just enough to knock her up and star on Jenelle's 16 and Pregnant episode) he played an important role in Jenelle's life because he was her first soulmate.
Because he never really got much airtime after "16 and Pregnant," you may not remember who Andrew is, so allow The Ashley to refresh your memory: He's the guy whose face always looked like he just went 10 rounds with Amber's prison girl gang.
Unfortuanely, all these years later, it's obvious that ol' Andy has still not discovered the benefits of underye concealer because he still looks like he has two shiners.
MTV tracked down Andrew, who is now living in New York City (and apparently furnishing his wardrobe with clothes he found while shopping at Chris Angel's garage sales.)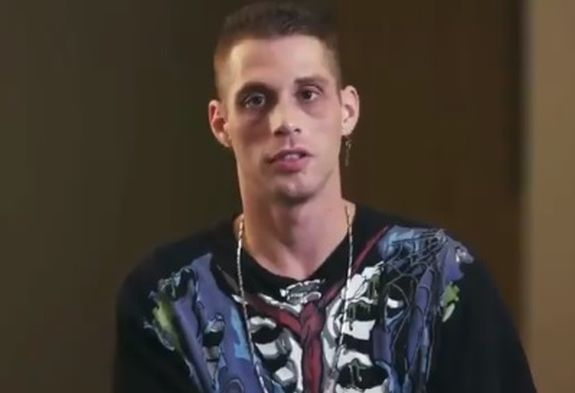 "New York is the greatest city in the world…" Andrew declares.
(Surely MTV cut off the rest of the quote that probably said, "because Jenelle lives so damn far away from me!")
Andrew reveals that he now works as an event coordinator. (So… he basically passes out flyers to weird art shows on the street or something). He also says that he hasn't seen Jenelle (or his kid Jack Jace) in over eight years.
In what should come as a shock to no one, Andrew is still single. He says he's lovin' being on his own though. Without Jenelle in his life, he doesn't have to shovel sod, pose for "family picnic" photos or end up in the back of a police car wailing about being a guy.
In between hearing about Andrew's great new life, we are treated to bits and pieces of Jenelle's "16 and Pregnant" episode. There we see Jenelle (with her long-lost cheek piercing) swooning over Andrew as he discusses how they're "gonna get married 'n' sumpthin'!"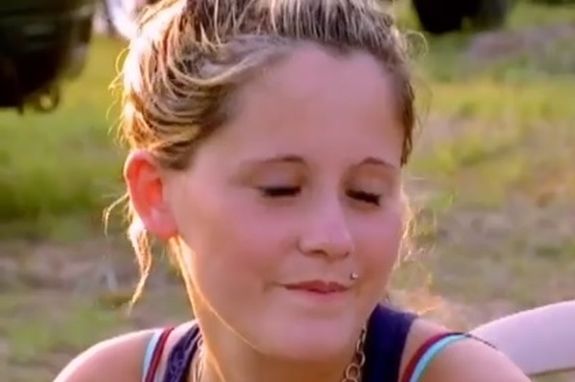 We also get reminded about Andrew and Jenelle's first in-person encounter after meeting on Facebook.
"The first time I saw you, I just grabbed you and kissed you," Andrew tells her. "I told you, 'Don't say one word.'"
Nope…nothing creepy about that at all. It sounds straight out of some creepy-ass Dateline special.
"That's a true romantics, that's facts," he tells us.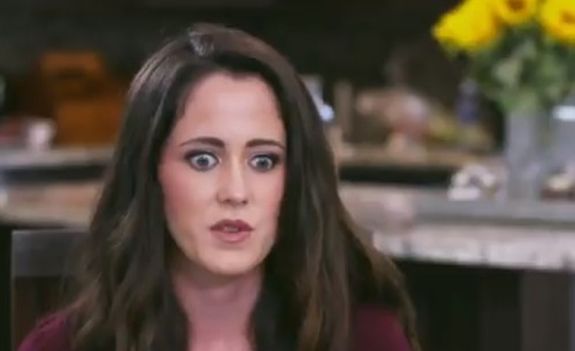 Even Jenelle has to admit that she was totally weirded out by Andrew's "romantics." Of course, she wasn't weirded out enough not to bone him and get knocked up, but still…
Later, we watch the infamous scene where an eight-months-pregnant Jenelle reassures her mother Barbara that, since she's already 16 and pregnant, "nothing worse can happen!"
Hahaha…oh, Barb, if you only knew what was to come!
In clips, we see Andrew (who, as Barb says "is a drinka" and a "sperm dona!") leave Jenelle and Jace even before they'd cleaned the cervical spurge off of the kid. He soon finds out, though, that Jenelle had been getting frisky with some other local street youth and that her other boooyfriend may have been Jace's father. Andrew tells us that he took a "paterntitity" test. (I think Andrew purposely messed up the pronunciation of that word just so he could say "titty" on TV. I really do.)
Spoiler alert: Andrew IS the father.
Andrew informs us that he has been paying child support "for Jace Evans" (does he have more than one son named Jace or…?) for the last three years. He also reveals that he'd love to get some return on his investment, like some time with Jace.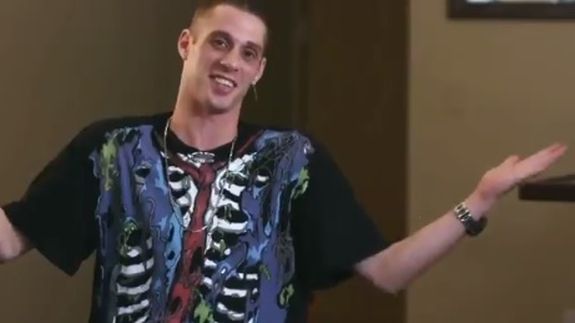 "I dream about him every day. I think about him EVERY DAY!" Andrew tells us.
Bro, stop. We all know damn well that if that kid's mug wasn't on MTV every week, you wouldn't be able to pick him out of a lineup! STOP.
Next, it's time for what may be the best segment of TV that the dumpster fire that was 2017 has offered. That's right kids, it's Kieffer time!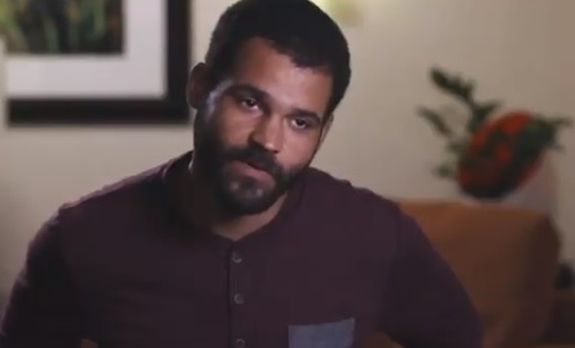 "Out of all my exes, I think the sweetest was Kieffer," Jenelle says.
Um…yeah, because he was (say it with me now) HIGH! HIGH! all the time. All you had to do was throw that guy a pipe and a couple of Twinkies and he'd tell you whatever the hell you wanted to hear.
We then get to feast our eyes on the hunk of a man that is Kieffer today. He tells us that he's living in Pennsylvania and is– again, shocking!– currently single.
"I'm playing the field!" he tells us.
Playing the field…living in the field…same/same.
Kieffer spends his days drawing (while wearing creepy gloves suitable for home invasion and/or general prowling) in someone's ready-for-'Hoarders' kitchen.
Jenelle tells us that she ended things with Kieffer because he didn't want to grow up and be a pillar of society like she is today.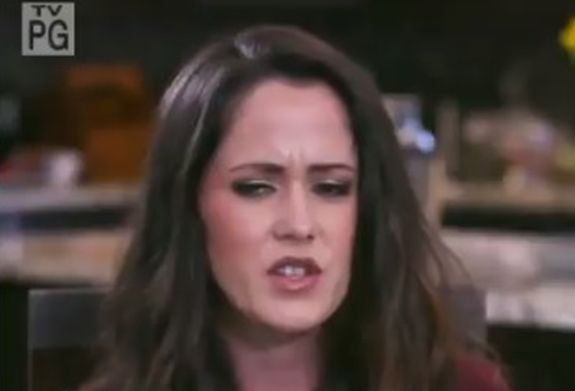 "I remember having good times with her," Kieffer tells us of Jenelle. "But I remember having more bad times."
We then get to relive the wonderful moment that was Barb's "HIGH! HIGH!" declaration.
Kieffer tells us that he still dreams of Barbara. (But, I mean, don't we all?)
"That voice was annoying as hell!" Kieffer says. "That voice haunts my dreams!"
Kieffer actually defends Barb, saying that he now realizes that everything she did was because she loved Jenelle and Jace.
We then get to watch some flashbacks that I like to call "Fun with Felons in Jenelle's Ford Fiesta." (This was back in the early days of 'Teen Mom 2,' so Jenelle didn't make the cash she pulls in today for being a trainwreck on TV.)
There's the scene where Kieffer tries to leap out of a moving car; and the scene where Kieffer gets left on the side of the road. There is also a scene where Jenelle chases after Kieffer's friend's car, her green sweatpants a'movin' and Victoria's Secret hoodie flapping in the breeze in a last-ditch attempt to catch her fleeing man!
Oh, it hurts so good!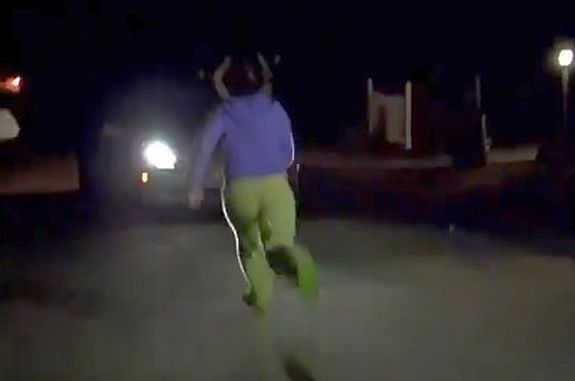 We watch as the misdemeanor-crossed lovers have to bid each other adieu, due to Jenelle being on probation. Since she wasn't allowed to "smoke the weed" anymore, she and Kieffa decided they should probably just end things so Jenelle didn't end up in the clink.
(Spoiler alert: they didn't and she did.)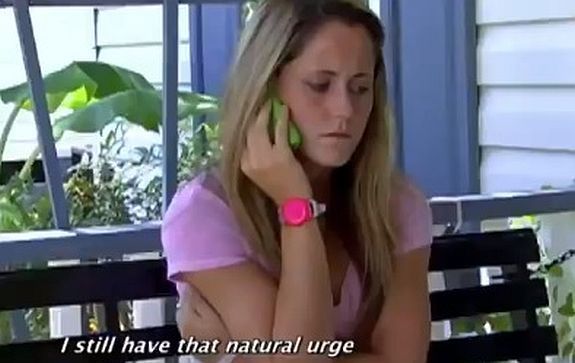 That's all from Kieffer (for now, anyway) but there are still plenty of Jenelle's degenerate ex-soulmates to get to, so let's keep it moving!
The next flunkee to be featured is Gary Head. Longtime 'Teen Mom 2' viewers will remember Gary as the military guy who started dating Jenelle and, within a few months, ended up getting matching mugshots with her after strangling her with a bed sheet…or something. (I mean…if you didn't end up getting matchy mugshots with Jenelle, did you guys really even date?!)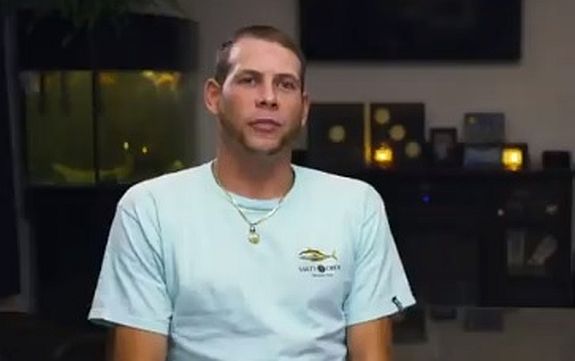 We watch a few clips of Jenelle and Gary's time together, and then we get to see modern-day Gary in the flesh. He actually looks pretty normal (although he does seem to be rocking the combover pretty hard).
He is now working as a barber. He spends his days giving people fades, wearing trucker hats (that say "Salty Crew," naturally) and thanking his lucky stars that he no longer has to put up with Jenelle.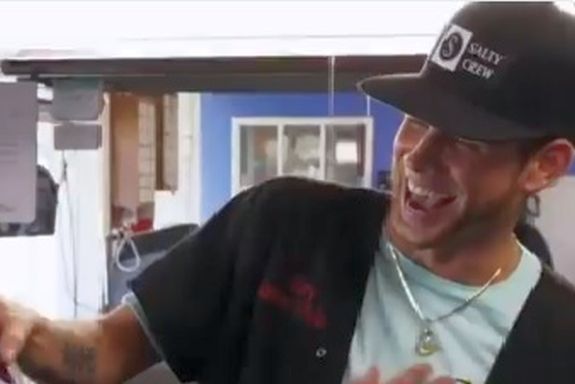 While Gary is happy to be away from Jenelle, he does mention that he misses Barb.
"Barbara is a good woman," Gary declares.
(Somewhere on "The Land," Jenelle's head is about to explode right about now…)
We watch the clip of Jenelle getting mad at Gary for banging her best friend, Trash Bag Tori. We also get to see Jenelle shove Gary and threaten to punch him, Amber-style (while wearing a delightful white tank and hot pink bra combo). He soon follows that fight up with a proposal (as you do).
That's toe-tappin' fun right there!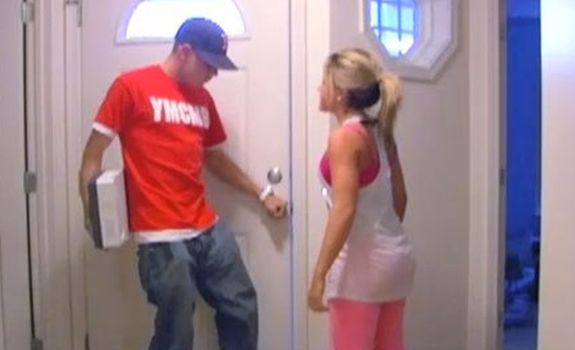 Jenelle tells us that she was mad that Gary didn't make the proposal special. (This truly is tragic. It's not like Jenelle was going to have any more proposals in her life…oh, wait…)
Things between Jenelle and Gary continued to be horrible, though.
"Jenelle came with a lot of issues," Gary tells us. (Um…tear out the front page, Gar!)
"Between the drugs and the pot, it was just bad."
Soon came the inevitable day that Jenelle and Gary got into an "altercation" where Jenelle claims Gary tried to squeeze the [low] life from her neck.
In a clip, Jenelle regales an enthralled Trash Bag Tori with the Tale of Two Bed Sheets. She reveals they both got domestic violence and drug charges filed against them. Jenelle says it's time to end it with Gary and pick things up with…you guessed it…Kieffa!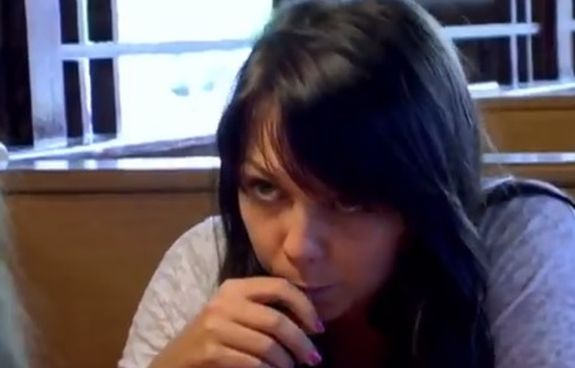 Conveniently, Jenelle had become prison pen pals with Kieffer during her relationship with Gary. Kieffer tells us that Jenelle, armed with a pen and a Ke$ha stationary set, declared her undying love for him.
Jenelle tells Kieffer the Tale of Two Bed Sheets and he gets angry at Gary. He storms the courthouse with Jenelle on the day she and Gary are facing their charges. Kieffer is intent on killing Gary in the woods.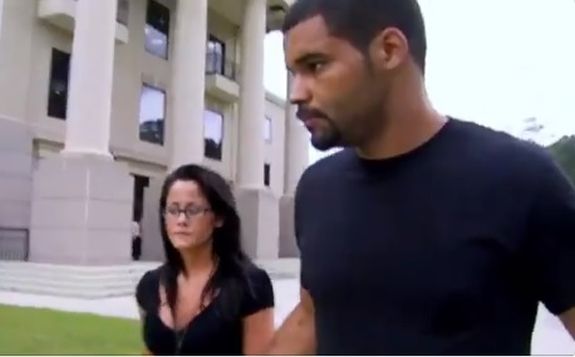 "He was wit my chick," Kieffer explains as the reason he wanted to murder Gary.
Gary didn't accept Kieffer's invitation to be murdered in the woods, but the damage had already been done. A few months with Jenelle and Gary's entire military career was in the toilet. He tells us that the Marine Corps. basically told him to take his bed sheets and go, discharging him on the spot.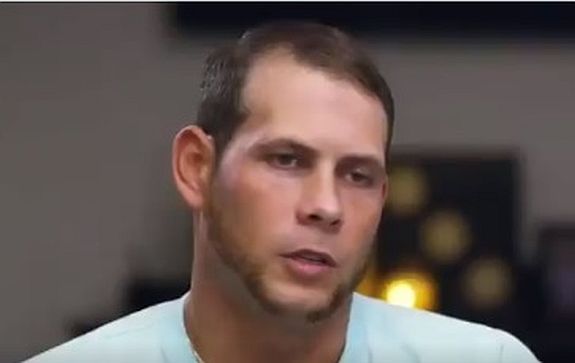 With Jenelle back in Kieffer's ripe-for-a-staph-infection arms, she quickly becomes a full-fledged heroin junkie. We watch as these two knuckle-draggers scream at each other because they can't find their drugs.
As he watches these clips back, Kieffer delivers yet another classic "Kieffer-ism."
"We were both a hot mess, but two hot messes do not make a clean…mess," he tells us.
(Can someone please put that phrase on a T-shirt and give it to The Ashley as a Christmas treat? Please and thank you.)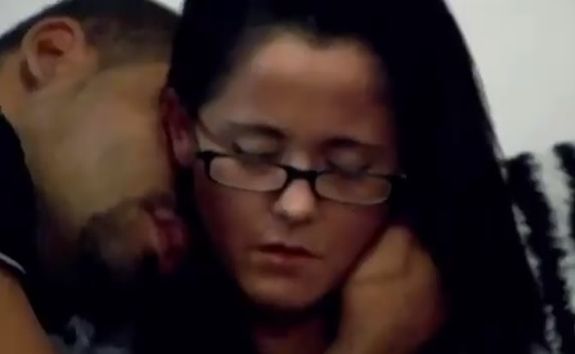 Kieffer and Jenelle's love story ended (again) when Jenelle decided to put the needle down and get clean. Kieffer tells us that, these days, he's much more mature.
"I don't do drugs anymore…well, not hard drugs," he says. "It's OK. I will overcome."
Since we're in the middle of Jenelle's smack-filled haze that was 2012-2013, let's bring out what may have been her finest catch ever: Courtland Rogers.
Courtland holds the distinction of being the only one of Jenelle's freeloaders to actually get her down the aisle (other than her current soulmate, David Eason, of course.)
Present-day Courty comes out next, proudly proclaiming to be the former Mr. Jenelle Evans. He's still got his trusty neck tattoo (and for some reason, some sort of bangs…)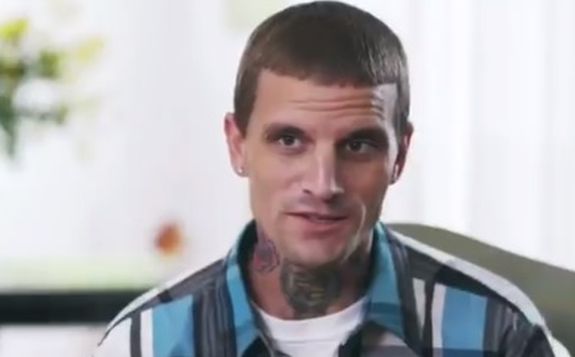 He's now got two years sober, a knocked up girlfriend and (gasp!) a job! He's currently working at a treatment center, helping people get sober.
We get to learn more about how they met. Apparently, Courty had been trying to infiltrate that MTV money for years. Jenelle tells us that when Courty found out Jenelle was single, he left his rehab, grabbed some heroin and headed back to Junkieville just to woo Jenelle. Soon, the lovers were caught with drugs and Courtland obtained the coveted "Matching Mugshot" with Jenelle.
The next logical step for Courtland and Jenelle was to get married. They went down to their home-away-from-home, the courthouse, and said "I do." (I mean, they were already there to attend Courtland's court case for a felony, so why not? No, seriously, this is actually what happened on their wedding day! You couldn't even make this crap up!)
Next, Jenelle found out she was sperminated (again), this time by Courty. She decided to get an abortion, and Courtland was locked in the clink without even knowing about the baby.
"That baby would not have had a good father," Jenelle tells us.
Um…when has that ever mattered to Jenelle?!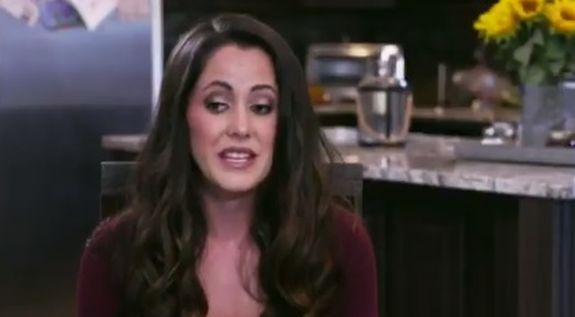 Courtland tells us that, had it not been for those pesky drugs, it would be HIM living the good life on "The Land" instead of David. Oh, and speaking of David, Courtland confirms that he and David met long before David became Jenelle's soulmate. They met, of course, while they were both in prison.
Again…you can't make this crap up!
Once Courty's spawn had been removed from her uterus, Jenelle was back to trolling the dating apps. That's where she met her next winner, Nathan.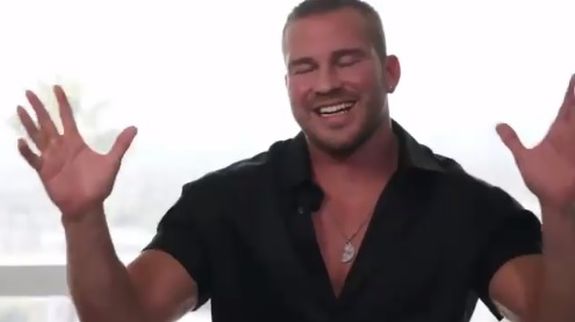 "Not gonna lie, I did rush things with Jenelle," Nate tells us. "I just got attached to that MTV paycheck Jenelle."
Before you can say "direct deposit," Jenelle was sperminated again. Nathan says that it didn't take long, though, to know he had made a big mistake.
"After about that seventh month or so we were dating I was like 'Holy hell. What did I get myself into?'" Nathan tells us.
We watch a few clips to show how fast their "perfect" relationship deteriorated. In the clips, Jenelle has her hair French-braided. That's how you know she's about to bring the lunacy. When the braids go in, Jenelle's crazy comes out!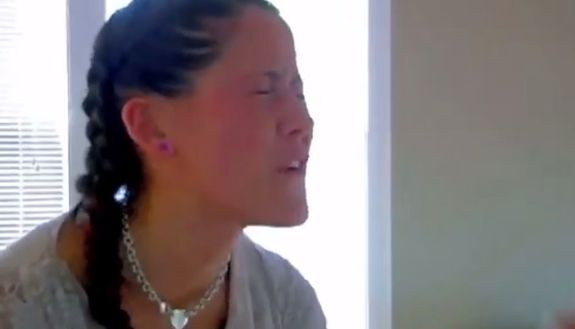 Soon, we watch a clip in which Nate is encouraging Jenelle to bust out her punchcard from "da clinic" and get another abortion…even though she was 12 weeks pregnant with Kaiser at the time.
"How is a child worth living if it doesn't have a mother and father that loves him?" Nathan protests.
Wait…what?!
Obviously, we know that Jenelle didn't have an abortion, because we soon see her strapped to an oxygen tank with Kaiser shooting from her lady garden.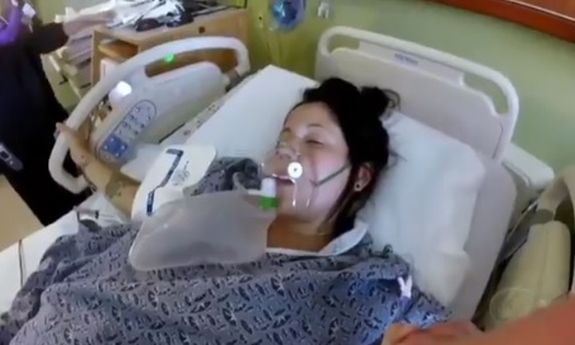 Nate talks about his time with Jenelle.
"If I hadn't met Jenelle I wouldn't have had any of the problems that I had," he said. "I wasn't in trouble with the law for about seven years…until I met Jenelle.
"It just seems like drama is always circling around her."
That may be the smartest thing Nathan has ever said, guys…
Jenelle tells us that she now knows she's way too good for Nathan.
"I'd rather be with someone who's on the same level as me," Jenelle tells us.
That brings us to someone who is arguably just as "more classier" as Jenelle: her husband David.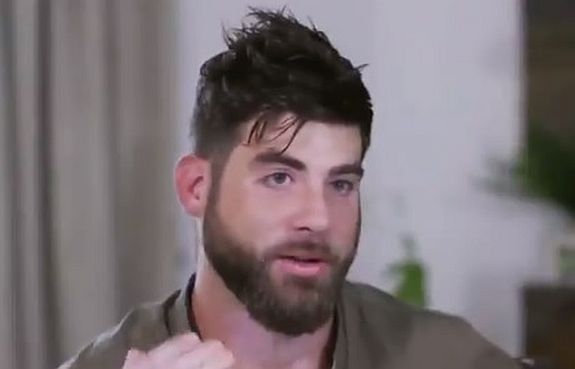 They recall their romantical meeting on Tinder and confess that they do "bicker sometimes." (Usually, their "bickering" involves garden tools, screaming in sheds and epic arguments that end with people crying in hotel parking lots.)
Jenelle then gives us some words of wisdom on relationships.
"If you aren't arguing, you don't care about each other," she says.
We then have to sit through a montage of Jenelle and David's happy "family picnic" life on "The Land." There's the birth of Ensley, the day that David mouth-breathed his way up a mountain with an MTV crew in tow to ask Jenelle to be his forever soulmate and, of course, The Wedding of The Century.
"I feel like…fate is just, happening right now," Jenelle explains.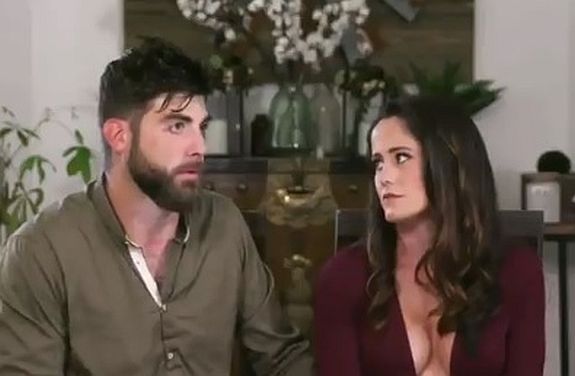 The Ashley wishes the MTV Gods could somehow combine all of Jenelle's soulmates into one person. He would have the fashion style of Andrew, the neck tattoo of Courtland, the spray tan of Nathan, the bangs of Gary, the green sweatshirt of Kieffer and, of course, the balloon-slashing skills of David.
Hey, The Ashley can dream, can't she?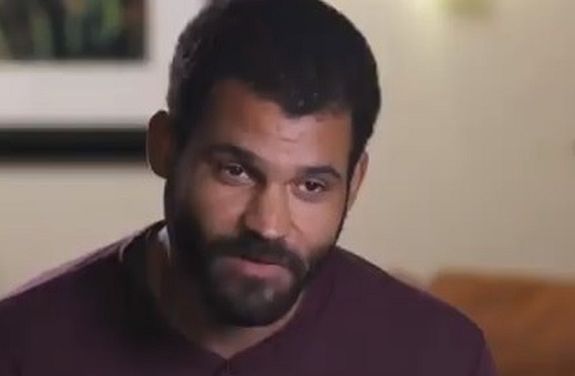 To read more 'Teen Mom' recaps, click here!
(Photos: MTV)