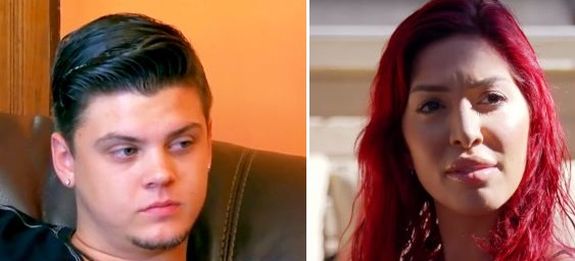 Farrah Abraham decided to start Round 485 of her feud with her Teen Mom OG co-stars earlier this week, tweeting out hateful things about several of the show's main cast members. However, her statement about Tyler Baltierra is the one that has since gotten the biggest reaction from angry 'Teen Mom OG' fans!
Farrah took to Twitter while Monday's episode of the show was airing to blast her co-stars, tweeting, "I'm just happy Amber stays in bed, Maci sits on the couch, Catelynn smokes weed in her car, Tyler's gays still doesn't admit it, I travel the world & know how to run businesses #teenmom @mtv all I can say is #WOW."
(While this tweet is in "Farrah Speak" it's actually fairly easy to understand what Farrah is trying to say so The Ashley doesn't feel the need to translate.)
While her statements about Amber Portwood, Maci Bookout and Catelynn Lowell are true (and have been proven by footage from the show), her remark about Tyler's sexuality did not go over well with fans.
"What happened to you promoting positivity, good vibes, and being a mature adult? Calling out Tyler's sexuality really seems unnecessary, unfounded, and homophobic," one person tweeted to Farrah.
(For the record, Tyler has never stated that he is gay and he is currently married to Catelynn.)
Farrah's statements brought plenty of criticism her way.
"Having businesses, money and all the plastic surgery won't make you anymore likable," one person wrote to Farrah. "It's got to be miserable to have all that and still be you. Happy people don't have behaviors such as yours."
"But like.. have you ever had a successful relationship with another human being ever? 'Cause at least the other girls can check that off the list," someone else wrote.
"You know what they all have in common??? That they all still work for MTV and you don't," another fan tweeted to Farrah.
When one fan accused Farrah of being "harsh," she zapped back and even managed to throw in a zinger at her enemy-of-the-month, Viacom.
"I'm honest not harsh throw a fit like Viacom," she tweeted (in all her Farrah-Speak glory).
(You may remember that, in October, Farrah claimed she was fired from 'Teen Mom OG,' only to come back days later saying it was the production company that produces the show that fired her, not MTV or Viacom, who are the only entities with the authority to fire her. From Farrah's latest jab, it is possible things have gone sour between her and Viacom as well.)
Farrah's father, Michael Abraham, attempted to explain where everything stands right now.
"There has no been any official announcements from MTV, Viacom, or Farrah…" he wrote on Tuesday in regard to his daughter's (potential?) firing.
Tyler finally addressed Farrah's statement about his sexuality in a (surprisingly mature) tweet posted on Monday.
"In order for her to really insult me, I would first need to value her opinion and the lion does not dwell on the opinions of sheep," he wrote.
Score one point for Tyler!
(Photos: MTV)