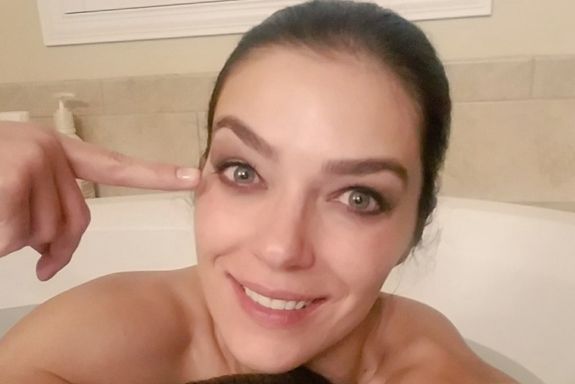 Viewers watched as Tyra Banks climatically named Adrianne Curry the very first winner of America's Next Top Model back in 2003, but nearly 15 years later, Adrianne is finally talking about what went down after the cameras were gone… and it's nothing to smize about.
While Adrianne was given the coveted title of America's Next Top Model, she said she wasn't given much else. In a blog post entitled 'The Truth About Top Model,' Adrianne stated that Tyra and the show's producers never gave her the prizes she won during Season 1.
'ANTM' fans from back in the day may remember watching a then-20-year-old Adrianne work the camera on various shoots and appear before the judging panel. For the inaugural cycle of the show, contestants were vying for a modeling contract with Wilhelmina, a contract with Revlon and a photo spread in Marie Claire magazine.
Adrianne wrote that, upon meeting with Revlon, they informed her they had no plans to use the winner of the show for ads like they had told the contestants. Revlon did, however, hire Adrianne to model makeup "in a room with 10 executives in it" for $15,000 as their way of honoring the 'ANTM' contract.
The former model claims that the show's producers even went to great lengths to cover their tracks.
"They did voice-overs on the actual aired show and changed what was being said to us while filming," Adrianne wrote.
According to Adrianne, the Revlon contract wasn't the only prize she never received. In her blog, she claimed that, because 'ANTM' ended up dropping Wilhelmina after Cycle 1 — a decision Adrianne said made the agency furious—Wilhelmina told her they didn't want her to be successful in any way just to spite the show and that they would brag about pushing Elyse Sewell (who finished in third place during Cycle 1 and also signed with Wilhelmina) for jobs instead of her.
Adrianne wrote that she was tied to an agency that she says purposely tried to make her be unsuccessful in the modeling world. She stated that she called Tyra for help, but says she heard nothing. (Perhaps she would have had better luck reaching her via Tyra Mail?)
"I reached out to Tyra and Top Model, desperate to get out of my contract and get advice as I was not being given any castings, etc by an agency that wanted me to fail," she writes. "CRICKETS. Phone calls ignored. Then, my [$]15k for Revlon? Suddenly I wasn't being paid. I had did the job, but no paycheck was coming. Revlon blamed Wilhelmina, Wilhelmina blamed Top Model."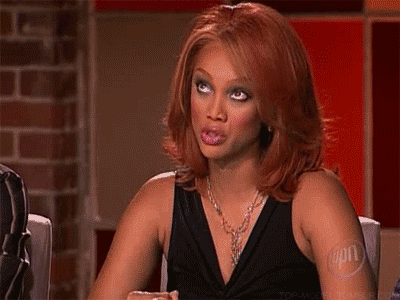 After demanding pay for her three days of work with Revlon, Adrianne was told by Wilhelmina that she'd have to take them to court. At this point, she attempted again to get in contact with Tyra, to no avail. Adrianne ended up being sent to model in Africa, though her agency still refused to pay her. She said she found herself "broke and stuck in a third world country" and forced to reach out to family for money to return back to the States.
After a year of struggling to go on castings and go sees, Adrianne ended up getting Wilhelmina's attention when she appeared on VH1's The Surreal Life — a reality show the agency and 'ANTM' wasn't too fond of her taking part in.
"Suddenly I exist again," she writes. "Then, anger. Pure betrayal and anger. I saw Tyra and the show as angels that had saved me and gave me a new life. The realization that they didn't give a f**k about me was crushing. I was so angry. Here, I was being given an opportunity to work a job and actually make money and they want me not to because it might make their show look bad. Yet, when I needed even advice, I got crickets."
Adrianne ended up joining the show in 2005 (and meeting Christopher Knight, aka Peter Brady, her husband from 2006-2011) and using it as an opportunity to purposely bother those who hadn't helped her, calling it her "ode to f**k you." She said she took every opportunity to talk badly about Tyra and the show though her anger, she said, was a mask for her broken heart.
"I took every opportunity to let press know I was never paid or given my prize," she wrote. "I'd talk s**t about Tyra just to do it…Revenge was sweet. I talked mad s**t that I wouldn't do now. I was a kid."
After 'The Surreal Life' Adrianne continued her reality TV stint on three seasons of My Fair Brady — a spin-off documenting her and Christopher's dating life, engagement and eventual marriage.
Her first blog about 'Top Model' garnered a lot of attention, so she followed it up with a second post to explain things a bit more.
"Imagine you're in Vegas. You pull the lever and you hit on the slot machine!" she wrote. "Everything lights up, a crowd forms and everyone congratulates you…you walk up to the cashier with your receipt to collect your earnings. They never pay you. You're mad about it. Then, the very people who applauded your win say you should just be grateful for the opportunity they gave you at having people look at your face and feeling that moment of winning…let it go and move on.
"Now. Times this by a zillion…and that is what it feels like when you win a big prize on national television and you never get it. Even if you get over it, as I have….it will always be something you bring up in your life…I won one of the biggest television competitions in the world and never got my prize."
Her first blog post received negative comments from fans advising her to "let it go," since it's been over 14 years since the alleged events took place. Adrianne explained that she was bringing the topic up again because 'America's Next Top Model' is returning to television, this time on VH1.
"One, I was being asked if I would make an appearance now that 'Top Model' is on VH1. I figured explaining old news would enlighten those wondering why I wouldn't [be appearing]," she wrote.
She also gave her fans an update on her life today, which is far removed from her reality TV and modeling past. These days she's living in Arizona and is engaged.
"I no longer care to pursue entertainment," Adrianne wrote. "I quit the business, run my Avon store and ran away to the mountains with the love of my life. Getting on the next show, etc. to extend my earning ability is the last thing I'd want for me or us. Hollywood destroys real love. I don't really care what the repercussions are of just tossing my truth out there. It doesn't affect my new life."
Adrianne also said she no longer has any hard feelings towards Tyra and understands that she's just a woman "looking out for herself in a world where no one else gives a s**t about you."
However, she said it would be nice to get that $15,000 she's owed.
(Photos: Twitter, The CW)