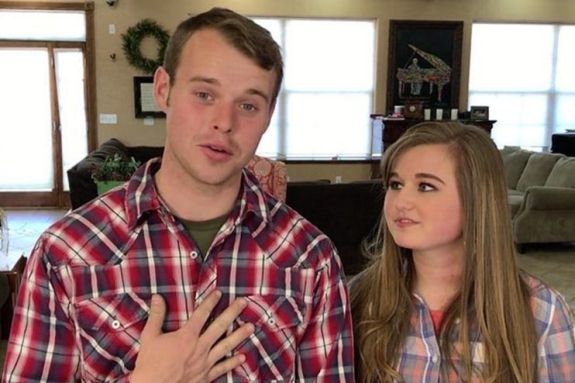 Some of Kendra Caldwell Duggar's sisters-in-law have ventured into the pants-wearing world, but it's clear that Kendra has no plans to follow suit–not even in the snow!
Kendra, who is the new wife of Joseph Duggar, held tight to the Duggar Family's dress code of women wearing only skirts and dresses, despite the fact that she went snow tubing with the family on Thursday. In a photo posted to Instagram by Duggar cousin Amy Duggar King, the Counting On star can be seen bundled up in a ski jacket, hat and gloves…and a skirt.
"Sliding into your Instagram feed with this sweet girl! Tubing & shopping today while the boys ski!" Amy captioned the photo of her and Kendra (who is pregnant, by the way.)
It appears that Kendra is wearing some sort of snow pants or leggings under her black skirt, and Amy's Instagram followers were quick to voice their opinions on how ridiculous Kendra's outfit was.
"I'm sorry but a dress on the slopes isn't modest," one person wrote. "I'm as conservative as they come but…really?"
"[Tubing] in a skirt and pregnant?? Weird," another person posted.
One follower attempted to explain why the Duggar girls (well…some of them, anyway) always wear skirts, even over snow pants.
"The skirt covers any outlines and the shorts underneath provides added modesty, especially for little girls or for doing activities that would require some extra coverage," she posted.
Kendra's skirt-over-pants ensemble isn't rare in the Duggar household, though. Both Jessa Seewald and Joy-Anna Forsyth have been photographed in the past working out while wearing a skirt over their exercise pants.
A while back, their mother Michelle Duggar explained why her daughters (and apparently, daughters-in-law) always wear skirts and dresses.
"My daughters are the second generation of modest dressing in this family," she has said. "They've grown up being dressed modestly, and in clothes that are definitely more feminine apparel. I've told my daughters this has been a joyful journey for me to learn what my Lord has called me to. I really feel like the Lord is impressing upon me that I should be modest in what I wear. And also, that I really should be defining who I am as a woman by choosing to wear dresses and skirts."
As The Ashley previously reported, Jinger Vuolo became the first Duggar girl to dare to wear pants publicly earlier this year. Her older sister, Jill Dillard, followed Jinger's lead and is now wearing pants during public outings. They are the only Duggar girls who have worn pants publicly to date.
(Photos: TLC, Instagram)