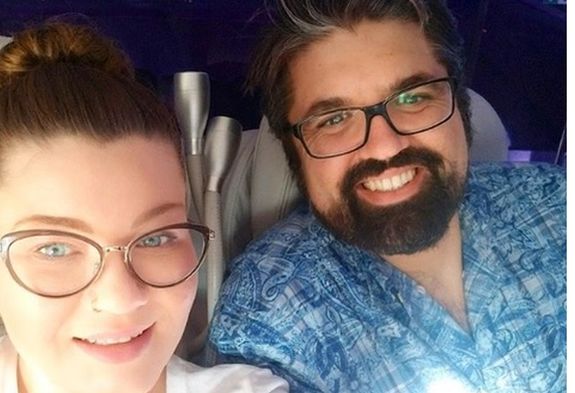 It may be a new year, but the stars of Teen Mom OG are dealing with the same old drama!
Amber Portwood took to Instagram to express her outrage at fans who criticized her for posting a photo showing her future baby daddy, Andrew Glennon, cuddling with her nine-year-old daughter Leah while ringing in the New Year.
"Bringing in the New Years right with healthy food lol, " Amber captioned the photo, which appears to have been taken in her bed. "Happy New Years everyone! Sending all our love from my little growing family to yours!"
Fans were quick to point out that Amber has known Andrew for a short time and, even though she's having his baby, some felt it was too early in the relationship for Amber to be letting Leah get close–both physically and emotionally– to Andrew. (Leah was very close to Amber's ex-fiance Matt Baier, whom Amber split with earlier this year.)
"I like Amber and I said she's come a long way. But she brings men in to her daughter's life seemingly quickly and to see this girl next to a man she knows less than 8 months I'm going to say. Even under a year," one person wrote. "It's not like they've been a family for a long time. I just felt uneasy that she'd put and or let her daughter be in the position/situation."
"She is too depressed to spend time with Leah but not to go get a new Matt I mean man," another person wrote in the comment section. "Then she pretty much forces them on Leah. And she was saying what a great guy Matt was last year."
Amber was not pleased with the negative comments and made sure her over 1.3 million Instagram followers knew it.
"Anybody saying this is weird needs to look at themselves," Amber replied on Instagram. "You are f**king disgusting if your head goes straight to filth. We are a happy and loving family. We don't need ignorant people commenting on our pictures."
She posted a second photo, writing in the caption, "I have an amazing daughter and a loving a brilliant man. Andrew is a kindhearted loving man and takes good care of his new growing family!"
Last month, Andrew and Amber announced that the baby they are expecting later this year will be a boy.
(Photos: Instagram)