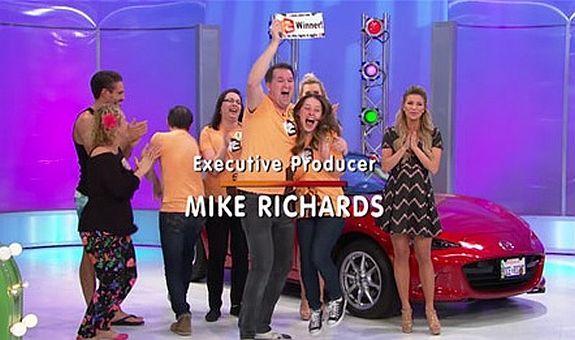 90 Day Fiancé couple Alan and Kirlyam Cox didn't just win at love…they also won on The Price is Right!
The Season 1 lovebirds, last seen on 90 Day Fiance: What Now?, recently took the long-running game show by storm, going home with an armful of assorted prizes on the episode that aired on December 29!
Alan was chosen as a contestant and made quite the splash while on the show's famed "Contestants Row." His first winning bid was on four Michael Kors watches. (He bid $1,200 and the watches were retailed at $1,225—a difference of only $25!)
After winning that bid, Alan broke out his sweet dance moves. He even hit the floor and did "The Worm" for host Drew Carey and the audience.
Alan posted a video of himself doing "The Worm" on his Instagram:
While Alan didn't end up winning his individual game, he did make it to the Showcase Showdown. Alan bid on his Showcase which included a trip for two to Fiji with a six-night stay in a premium oceanfront room at The Pearl Resort, two massages and a red Mazda MX-5 Miata convertible.
Once again, Alan showed off his ridiculously good bidding skills. He bid $34,440, and the retail price of the items was $34,911, a difference of only $471! The bid was good enough to get Alan the win. Naturally, the big win called for one of Alan's signature break dances. His wife Kirlyam (who was dressed in a matching, totally adorable Drew Carey T-shirt) ran out to celebrate at the end of the episode.
Alan took to social media to express his joy.
"I have always been a huge fan of 'The Price is Right.' I loved watching it with Bob Barker and I love it with Drew Carey," he wrote on Instagram. "It was one of the most fun experiences of my life. I would have been happy just to have been called to 'come on down,' but to actually win the showcase showdown was an absolute dream."
Alan and Kirlyam have been one of the biggest "90 Day Fiance" success stories. The couple met while Alan was on a Mormon mission in her hometown in Brazil. Kirlyam came to the United States to be with Alan and they married in the Mormon temple. They've been together ever since and in October, welcomed their first child, a baby boy named Liam.
It looks like the couple will be packing baby Liam off to the grandparents' house and hitting Fiji in style!
Watch Alan win the Showcase Showdown in the video below:
To watch the full episode of 'The Price Is Right' featuring Alan, click here!
(Photos: CBS, Instagram)