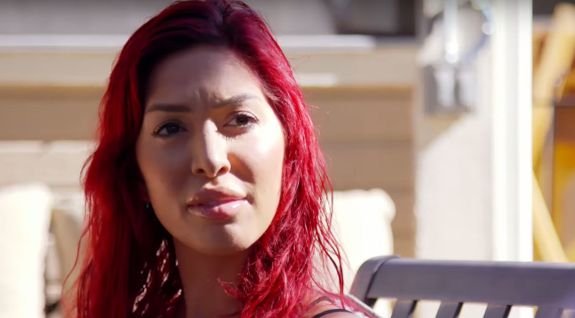 Calling all Teen Mom fans with a foot fetish! Farrah Abraham has put her feet on the market…sort of.
The 'Teen Mom OG' star, who is now an ambassador for the adult sexy-time site Many Vids, posted an ad to her social media accounts on Thursday to let foot-loving fans know that they can purchase a video in which Farrah is shown oiling up her hooves!
The cost is less than $13, and Farrah used the confusing yet entertaining title "Thank you for buying! My Feet Are For You" on Twitter.
In the description for the for-purchase video, Farrah promises buyers a toe-tappin' good time!
"Watch as I oil up my pretty feet and toes for you. I remove my sexy gold heels and start playing with my feet. It feels so good. Do you like my perfect soles," Farrah wrote. (It's nice to see that she continues to write in her signature "Farrah Speak" even when it comes to all things sexy-time.)
A preview video meant to entice folks to purchase the full video shows Farrah oiling her feet up with some special "backdoor" lube. (The Ashley is not linking to the video because…ew…but if you're into that sort of thing, you can see it advertised on Farrah's Twitter account below. Be aware that the site is NSFW!)
Thank you for buying! My Feet Are For You. Get yours here https://t.co/RNXsG8ivCQ @manyvids #MVSales pic.twitter.com/zK3s5QoLyP

— Farrah Abraham (@F1abraham) January 4, 2018
If you're a high-roller, you can purchase Farrah's lips (well, at least a video featuring her doing naughty things with her mouth) for $19.99 on the same site.
Farrah's work with Many Vids caused her some controversy last month when she posted an ad for one of her adult videos on the social media accounts she runs for her eight-year-old daughter Sophia. (The posts were taken down after an outcry from fans.)
Of course, that's not the only hubub Farrah's adult industry work has caused. In October, she claimed she was fired from 'Teen Mom OG' due to her sex industry work. (She later stated that she was fired only by the production company that produces 'Teen Mom' and not MTV or Viacom.)
It's not known yet how many people have purchased Farrah's foot video. However, her Many Vids profile is worth a read.
"Now more than ever that it is the right time to be an MV Ambassador for Sexual Positivity," she wrote. "After being degraded and sex shamed, I feel that my experience as a keynote speaker for unplanned pregnancies and safe sex is my segue into this type of ambassadorship. I feel passionate about empowering men and women to have a healthy consensual sex life. I want to advocate to end sexual harassment, hate crimes, and intimidation through falsified press. Today I'm here to change that!"
(Photos: MTV, Twitter)