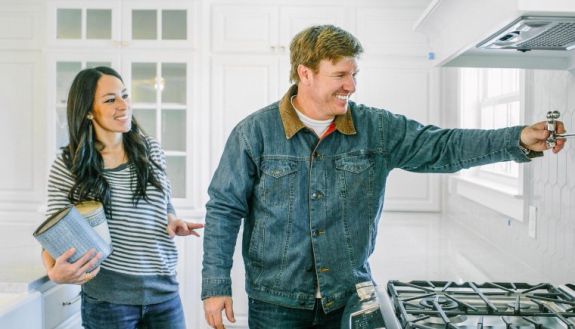 Chip and Joanna Gaines are going to have to "fix up" another nursery!
The Fixer Upper hosts announced earlier this week that they are expecting their fifth child. 
The couple announced the pregnancy via an Instagram post showing Chip and Joanna comparing bellies.
"Gaines party of 7…(If you're still confused…We are pregnant)," Chip captioned the photo.
This isn't their first rodeo, of course. The Texans are already parents to Drake, 12; Ella, 11; Duke, 9; and Emmie Kay, 7.
Chip and Joanna announced the end of 'Fixer Upper' in September, saying they were quitting the show to "spend more time with their kids." However, it looks like Baby No. 5 was not yet on the way when they made that announcement.
In fact, Chip recently enlightened his fans as to how Baby No. 5 came about. He tweeted that the couple went to a Johnny Swim's concert on October 12 and, "they put on a little too romantic of a concert…anyways, one thing led to another, and we are officially pregnant. And I could not be more EXCITED!"
The couple has yet to announce when Joanna is due.
(Photos: HGTV, Instagram)