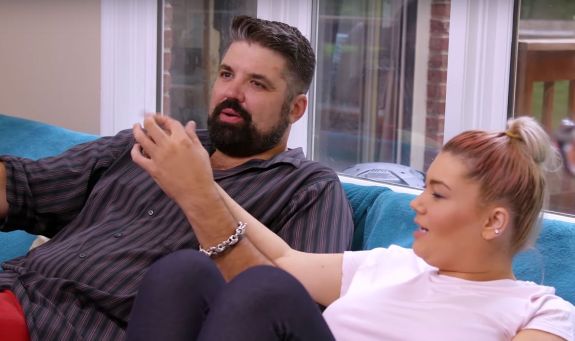 Amber Portwood's baby-daddy-to-be, Andrew Glennon, has officially left the bright lights of Hollywood to be with the woman he loves/impregnated!
The Teen Mom OG star recently confirmed on her Twitter account that her boyfriend Andrew has officially moved from his hometown of Malibu, California, and is now living with her in Indianapolis, Indiana.
Amber, who is currently pregnant with Andrew's son, responded to a nay-sayer on Instagram who noted that Andrew was spending a lot of time in Indy and was wondering if he was a clone of Amber's moochie ex-fiance, Matt Baier.
"Did he really go for a visit and never went back home just like Matt?" the fan asked.
"No? He had a whole life and career in LA," Amber replied. "He couldn't just up and leave his family. It was a big decision on his part to move to Indiana and it's been a great decision."
Andrew, Amber and Amber's daughter Leah recently went on vacation to Florida so that Andrew could meet Amber's beloved brother Shawn (aka "Bubby") for the first time.
The Ashley was the first to tell you all about Andrew, whom Amber met while she was filming Marriage Boot Camp: Reality Stars in Los Angeles with Matt. Andrew comes from a "Hollywood family," with many members in the entertainment industry. His father, James Glennon, was a well-respected and famous cinematographer and director of photography. He won an Emmy for his work on "Deadwood" and worked on more than 40 films over the course of his career before his death in 2006.
Based on Amber's social media postings, it appears that she and Andrew are planning to name their son James, after Andrew's father.
(Photo: MTV)