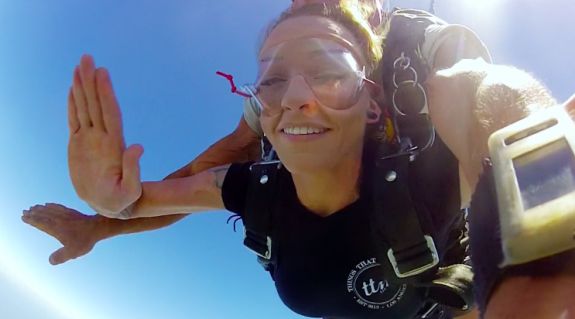 MTV blessed us with a new episode of Teen Mom OG right out of the gates in 2018… but don't worry, the whole "new year, new me" idea doesn't apply to anyone on this show. We're still in for plenty of messy drama from this OG group of baby mamas.
Speaking of messy — this week's episode kicks off in LA with Farrah, who is hanging out on the beach in a straight-from-the-swapmeet body con skirt (naturally) while Sophia takes surfing lessons. She's standing on the beach, looking like some sort of broke-down Little Mermaid, bright red wig hair glistening in the sun, watching as Sophia tries to ride the waves.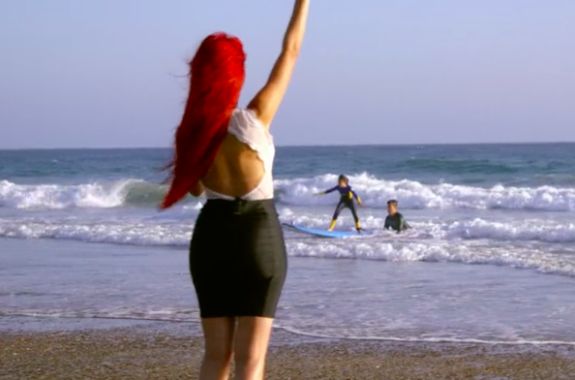 Producer Kristen (who, for the record, is not the same hapless Producer Kristen that is forced to wrangle Jenelle) asks Farrah why she isn't joining Sophia in the water and Farrah reminds her that she doesn't "do things like this" — "this" referring to anything other than Farrah talking crap about/to people and being a general nuisance to society.
Besides, y'all remember that scene in "The Wizard of Oz" right? We all know what happens when someone like Farrah gets wet…
I'm melting…I'm meeeeelting!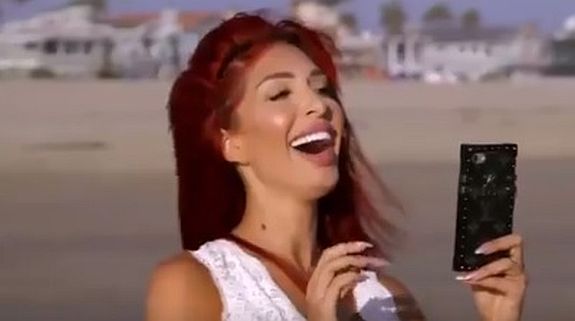 Producer Kristen changes the subject to Farrah and Sophia's upcoming trip to Omaha. (This is not the trip Farrah made for her mom Debra's wedding. This was to celebrate Farrah's grandma's birthday, by the way.)
Farrah does not wanna talk about Deb, however. She snaps at Producer Kristen for asking if she's nervous to go see Mommy Dearest.
"Kristen, I don't look at my life all upside down and s**t on it, OK?" Farrah growls. "I'm gonna have a good day today!"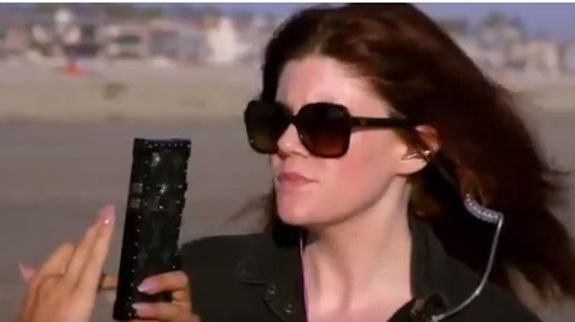 She then marches down to the shore (careful not to get a drop of water on her exposed hooves) and films Sophia's surfing adventure. Producer Kristen (who, unlike many of the other producers, has not put in years crapping in Farrah's porch Port-a-Potty and does not know how to react yet) just stands there confused.
Can someone get her a therapy horse, please?
Meanwhile in Omaha, a sparkly-romper-wearing Deb is Facetiming David to tell (well, actually warn) him that Farrah is coming into town to celebrate her grandmother's 80th birthday. It's been over a year since Farrah and Sophia have graced Grandmama with their presence so Debra is excited.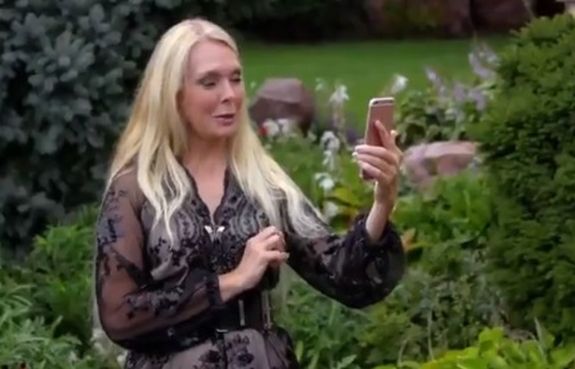 Next we see Maci take a break from hustlin' leather pocket tees to call her trusty friend Keelie and talk about global warming and the state of the economy. Hahaha, just kidding; of course she's calling Keelie to bag on Ryan, as per usual.
Poor Keelie just listens as Maci rambles on about how Ryan has yet to take a drug test so he still isn't able to see Bentley. Maci, always the martyr, climbs back on her cross and delivers her typical line.
"I've done more than I could possibly do!" she proclaims.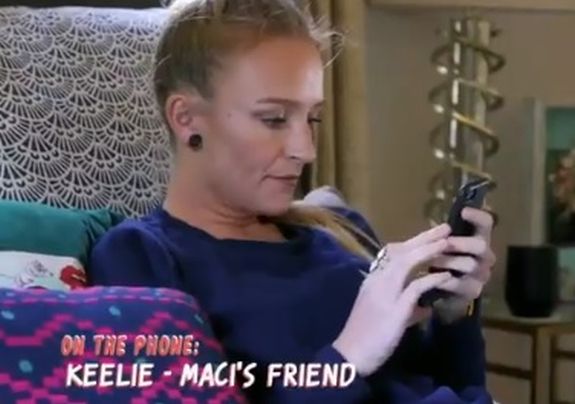 Maci says that Bentley hasn't even really noticed that he hasn't seen his dad in a long time. He is, however, wondering when he'll be able to see his grandparents Jen and Larry.
Maci says it's hurting Bentley and Jen and Larry not to see each other, and the situation is also impacting her. (Hey, who is gonna babysit all of Maci's youngins when she needs to go out and tie one on for the night!?)
While Maci is at home (lounging on her 'Teen Mom OG' pillow, we might add), Taylor goes to get a haircut and make some plans for Maci's upcoming birthday. He tells his barber, CT, that he's thinking about taking Maci skydiving and CT isn't a fan of the idea, telling Taylor "that's some white people s**t."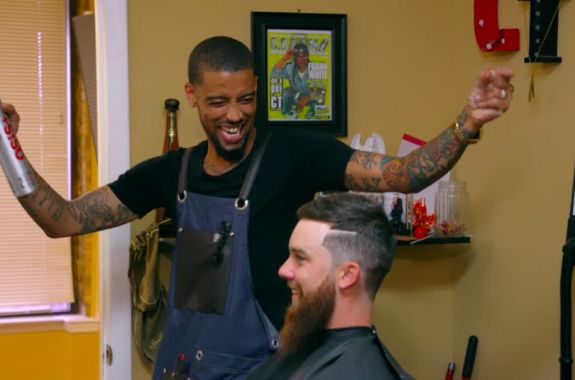 Despite CT's doubt, Taylor feels confident in his "white people s**t" plan.
We next head over to Indiana, where dogs are prowling all over Amber's house. Producer David is sitting on Amber's blanket-covered couch, getting the latest info on her and Matt.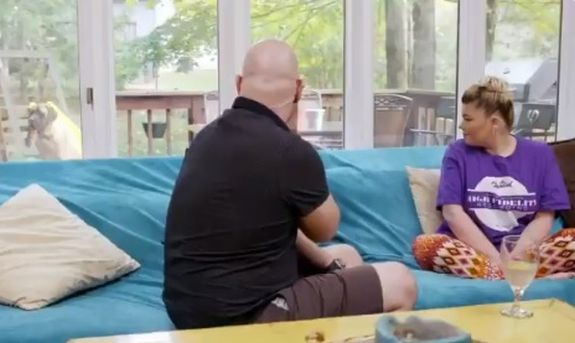 Amber tells him that she's had a change of heart about going to visit Matt in Las Vegas. She has decided to "wash her hands" (well, that's something new for Amber!) of Matt and all of the money he took from her. (I mean, most teen moms are able to "wash their hands" of thousands of dollars, ya know?)
Instead of focusing on Matt, Amber has decided to focus on other things…like her daughter. Hahaha just kidding. She's actually focusing on the new man in her life. Yes, folks, Ambie has already moved on to her next slam-piece, whom she met while filming Marriage Boot Camp with Matt.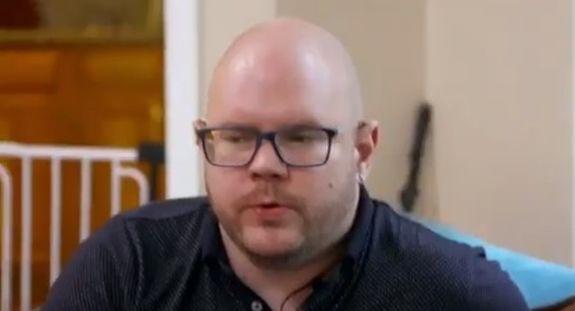 Amber tells David her new prospect is coming to visit her and David tries his best to look surprised at this news. Amber says she wants to get to know him off camera before she lets him move into her home, steal her money, make her look like a fool and give us all a wicked case of the cringe-sweats.
Producer David is doing his best to keep his composure. He very carefully ask Amber if she feels "ready to date already," given that Matt's sweat stains are still fresh on her couch.
"You're coming off an insane breakup!" he reminds her.
Despite being fresh on the market, Amber tells David she's ready to date and that she's learned her lesson after dating Matt. She makes sure to tell the producer that when New Matt hit her up on social media after filming the show, he "wasn't being weird" or "trying to f**k me." I mean, he did, most likely, but he wasn't even trying!
"I learned my lesson on that, for real," Amber says of rushing a man into her home without even knowing him.
I mean, at least she and the new man didn't jump into anything, like living together or having a baby together right after meeting…oh, wait…
Finally we check in with Catelynn and Tyler who are in a giant mansion-of-a-rental-house in North Carolina. In an extra-loud voiceover, Catelynn tells us that she and Ty are going to finally get to see Carly. It's been two years since they've seen her, so everyone is nervous.
Dawn the adoption counselor and Carly's brother's birth mom Beth are planning to join them for the visit. They're all excited for the reunion but Cate and Tyler decide this time will be harder to say goodbye because of the uncertainty of when they'll see Carly again. BrandonandTeresa have been none-too-happy that Ty and Cate continue to disregard their wishes, so it's unknown if and when they'll allow another visit.
Dawn tells them not to focus on the negative and not to let anything spoil their trip. (In other words, try to keep your entitled attitude and spoiled brat behavior to a minimum or you won't even get as much as a Christmas card from Carly next year.)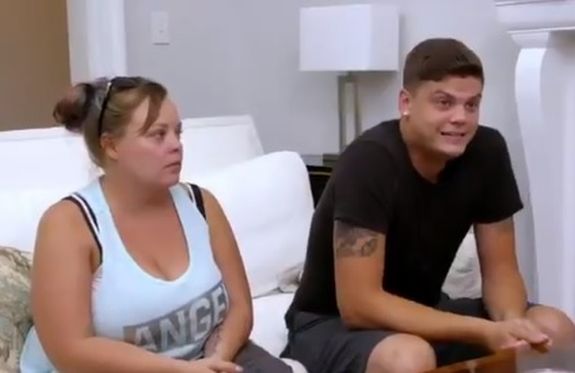 As Nova drowns her plastic therapy horses in a glass of water, Cate says she feels like BrandonandTeresa aren't reciprocating the understanding that she and Tyler have for their situation.
Cate is angry that Teresa didn't want to go to the beach with them, and instead wants to keep her family separate.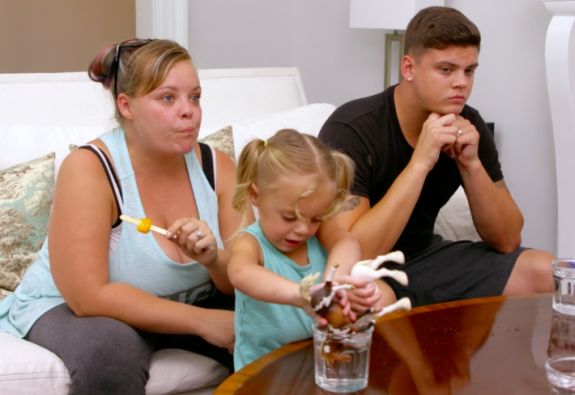 Meanwhile, Farrah and Sophia are still in LA. Before heading off to terrorize her family in Omaha, Farrah meets up with her "friend" Frenchy — as in Frenchy from VH1's Rock of Love 2. She brings Sophia along (to some sort of warehouse-like restaurant) to meet her new pal, and Sophia looks downright confused and sort of frightened.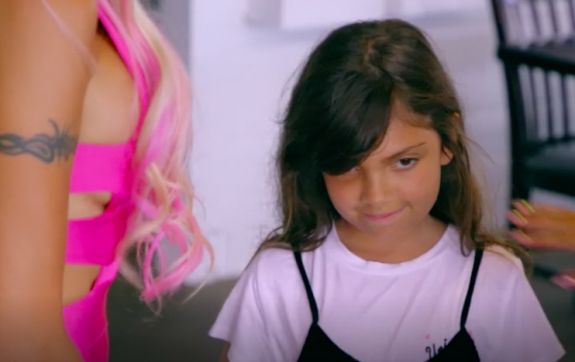 Of course, it's kind of to be expected, given that Frenchy is dressed in a skintight, bright pink cut-out dress (suitable for street walking, spinning around the pole or random luncheons to be featured on 'Teen Mom OG.') Her raspy voice is startling, and you can almost smell the Virginia Slims smoke smell through your TV!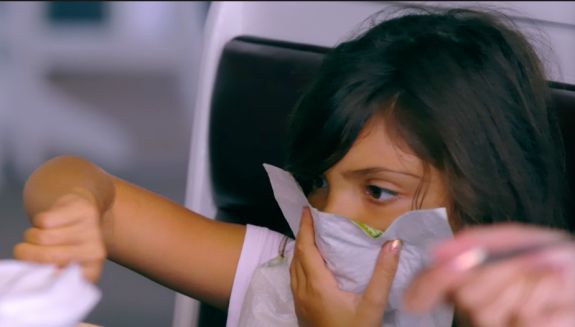 Sophia isn't exactly welcoming of the latest person to be cast as her mom's friend, but Frenchy decides it's only because she's "scared of the pink."
Yeah, we're not touching that one…
Frenchy is scaring Sophia and fellow restaurant patrons and offering travel tips to Farrah for her Italy trip. Farrah explains that it's so nice now that Sophia doesn't have to attend that pesky school anymore, so she is free to stomp all over the world with Farrah & Co.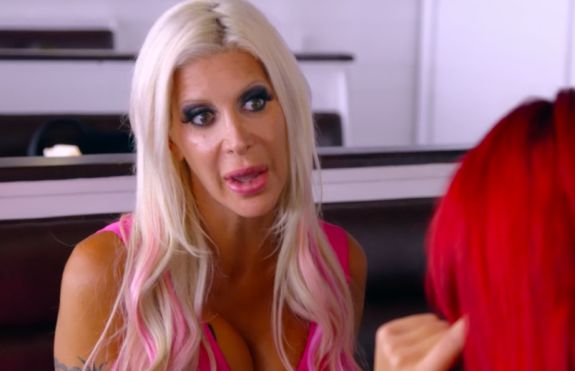 Next, the conversation turns to Farrah's distaste for David. Farrah reveals that she's invited both Debra and her dad Michael and his fiancé-to-be, Amy, on the Italy trip. She does not plan to let Deb know that her ex-husband is coming, however. David will not be invited to stomp grapes and shovel pasta with Farrah and her crew, though, because according to Farrah he is "weird."
The conversation carries on as she and Sophia arrive in Omaha… only this time, it's Sophia talking about David. Sophia comments that David better not come to the party.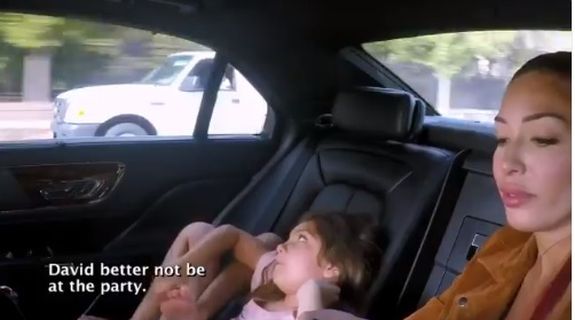 As Sophia and Farrah arrive at the party, the producers reveal that Farrah's family has refused to allow the birthday festivities to be filmed. Farrah and Sophia go inside, leaving Producer Kristen and Producer Jordan hovering awkwardly outside.
(Well, at least if Farrah and David get into some sort of physical fight, they can probably smash their cameras up against the restaurant windows to capture that Kodak moment!)
Sophia again says that she hopes David isn't at the party. Farrah responds with, "we don't associate with weirdos."
Umm… should we replay the previous lunch scene, or nah? Just sayin'…
Next we check in with Ryan and Mackenzie, who are taking their engagement photos. Ry and Mac must be, as Farrah says, "looking at their life upside down" because they are taking their engagement pics…after their wedding.
Ryan tells Mackenzie he's not excited about taking pictures so instead of getting ready he decides to put stickers on a toy truck.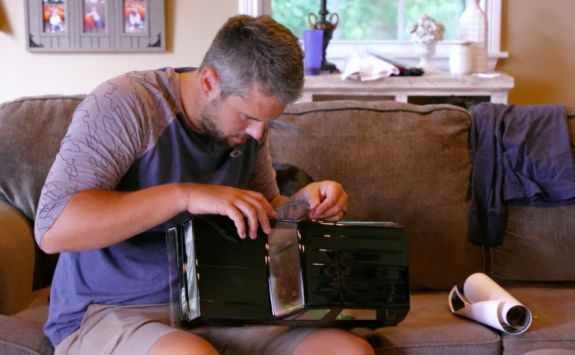 Mackenzie's patience is wearing thin and when Ryan finally gets up to throw himself into the shower, she follows him and warns him not to "do this right here" as she shoots the cameraman a look.
We've seen this look before, kids. 'Member that time she shut off the cameras in the car so the 'Teen Mom' World wouldn't see her beloved weaving down the freeway while in a Xanax-induced snooze-fest?
After Ryan debates whether or not his feet stink, the happy couple heads to the dock to take their romantical photos.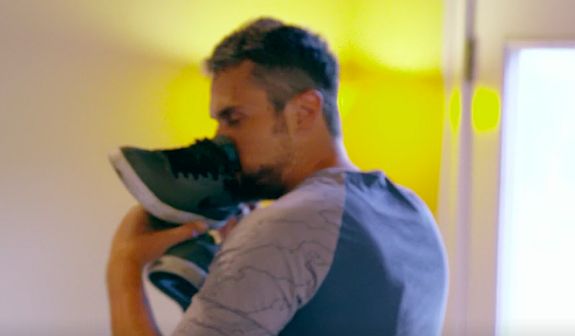 Later, the photographer captures the couple as they fake-smile, stroll on a doc and smash their faces together in an awkward kiss. Ryan says the photo shoot process is "complex" because it requires him to wear a shirt and keep his eyes open.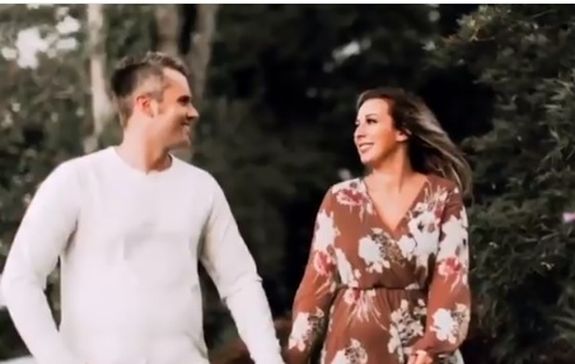 Back in Omaha, after her grandma's party, Farrah decides to "allow" Deb to go to dinner with her and Sophia. (For the occasion, Deb has added a few extra braids and feathers in her hair. It is not yet known if she went to a Ke$ha concert immediately after the dinner.) Deb immediately busts out the weird baby voice when she speaks to Sophia. Things are going fine until Deb brings up her upcoming wedding.
As Deb shows Farrah pictures of her wedding dress, Sophia literally growls across the table and punches herself in the leg (as you do). She gets this far-off stare in her eyes and it's mildly disturbing.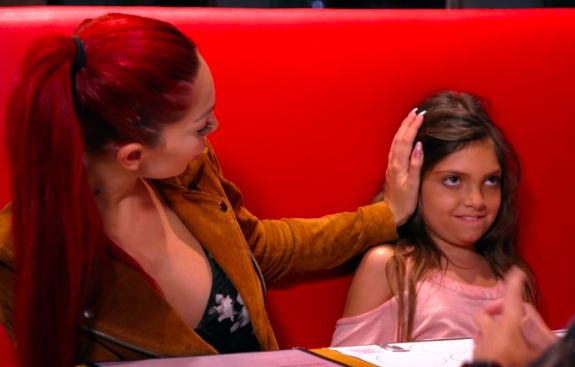 Finally, when it's bordering looking like footage from one of those Dateline documentaries, Farrah takes Sophia to the bathroom to talk it out. Sophia tells her mom she wants everyone to know she is mad that Deb is marrying David, and that she doesn't want to see her grandma again if she gets married to David. (We're assuming that statement earned Sophia a treat for performing as she was taught.)
We must give Farrah props, though, for taking hold of the situation and attempting to get to the bottom of what's bothering her daughter. It's not often that there is a display of decent parenting on this show.
Farrah and Sophia rejoin Deb and Farrah lets her know Sophia doesn't want to go to her wedding. Deb tells Sophia she's sorry that she feels that way, but her response is evidently not good enough for Farrah. She then tells Deb she isn't listening to Sophia.
"What do you want me to do?" Debra asks her daughter.
Wait..so Debra should let an eight-year-old decide who she is and isn't allowed to marry?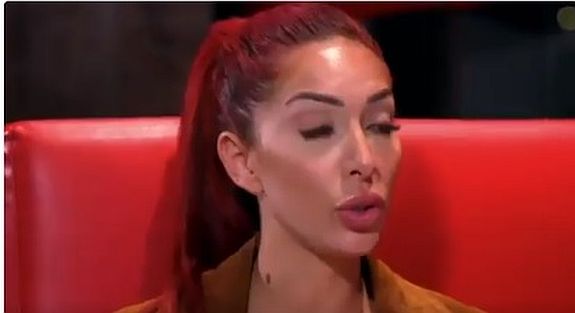 Farrah isn't here for it and says she wishes her mom wouldn't date someone so "narrow-minded and horrible." #PotMeetKettle
Farrah is basically telling her mom to call off the wedding. She then shoves a tortilla chip into her mouth as she proclaims that she and Sophia will not be attending if Deb decides to go against Sophia's wishes and have her wedding.
On the other side of town, Taylor and Maci go out to lunch for Maci's birthday. (Um…where are their three youngins? Did they saddle some poor production assistant with babysitting tasks so they could go have a boozy lunch for two?)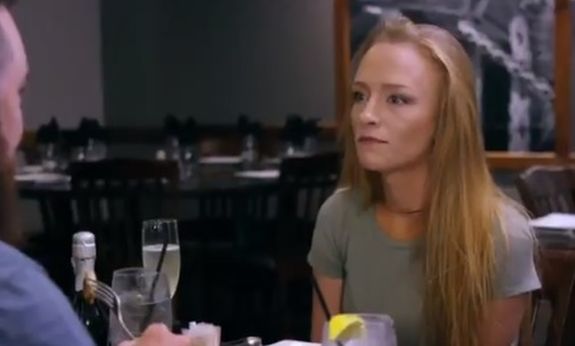 Taylor tells Maci about the skydiving surprise and she agrees to do it, though she probably wishes she could be pushing Ryan out of a plane rather than jumping out of one herself.
They go home and tell Bentley, who is worried about where he will stay while his mom is barreling toward the ground. They tell him he will be at school, since it's the middle of the week during the day. (Good thing Maci and Taylor don't have jobs or anything to go to during that time!)
The next morning, Taylor and Maci head over to the sky-diving facility. They are both suited up in their TTM gear (naturally), and Maci says that she wishes she hadn't agreed to do this "white people s**t."
Maci fears that she will pee herself, given that she's basically been a baby factory for the last few years and her bladder has weakened.
The best birthday gifts are always the one that make you face your mortality and wet yourself!
They get suited up (careful to keep the TTM logo exposed, naturally) and head up to the airplane. (The editors got fancy and did slow-mo for the part where they're walking to the plane for extra "dramastics.")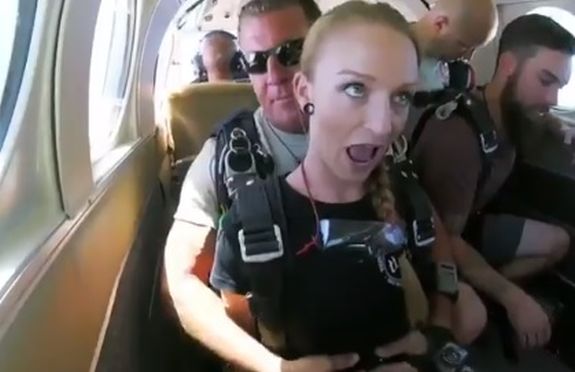 They jump out of the plane, and float toward the ground and everyone is celebrating their survival and/or Maci's ability to hold in her pee long enough so that she didn't whiz on her sky diving instructor.
In Indiana, Amber has wasted no time in bringing her new man onto her TV show. (So much for getting to know him off-camera first, eh, Amb?) She introduces the new man, Andrew, to Producer Jordan and Producer Kiki.
Andrew, an enormous bewhiskered man who wears red capri pants, tells the producers he missed his flight home on purpose. (Is anyone else having déjà vu here? We're pretty sure this is the first of two or three conversations leading to, "Guess who's moving in?")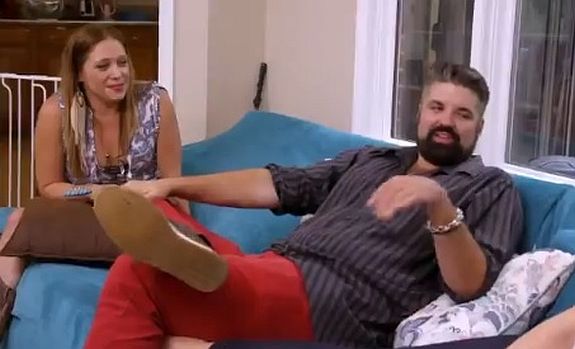 Andrew says that, while filming 'Marriage Boot Camp,' he conveniently showed up wherever Amber happened to be. (Nope…nothing creepy about that, right?) He said he was eager to get to know her bank account number.
Andy is quite the wordsmith. He regales the producers with tales of his (family's) home in Malibu, California, stating that Amber's eyes are the same color as the ocean in Malibu. Amber melts, given that the nicest thing Matt ever said to her is "I didn't charge anything on your credit card today."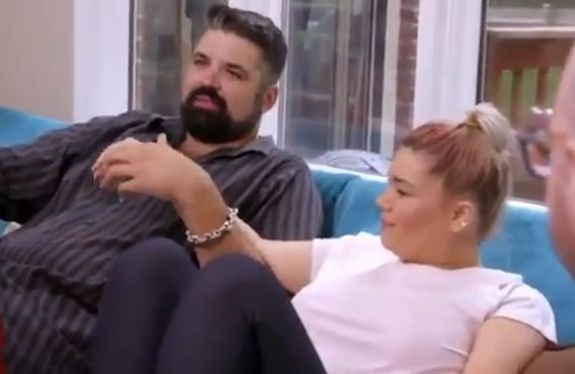 Andrew tells Kiki that, unlike First Matt, he does not have any kids.
Well, I mean, except for the one he's about to shoot into Amber within the next 24-48 hours, obviously…
Amber, being a "real woman" from Indiana, lets Andrew know that she's going to be paying for a background check to be done on him. This will be done after she allows him to impregnate her, of course.
Amber says she was depressed until Andrew got there and that the two of them are "just flowing" without a plan. (Amber will not be flowing for long, if you know what I mean! OK…no more pregnancy/menstrual flow jokes, I promise!)
Amber is having a great time shacking up with her new suitor, but she does feel bad that she hasn't seen her daughter Leah in "a while." She decides that today is the day she's going to be a mom, so she calls up Gary to instruct him to have Leah ready for her to see her.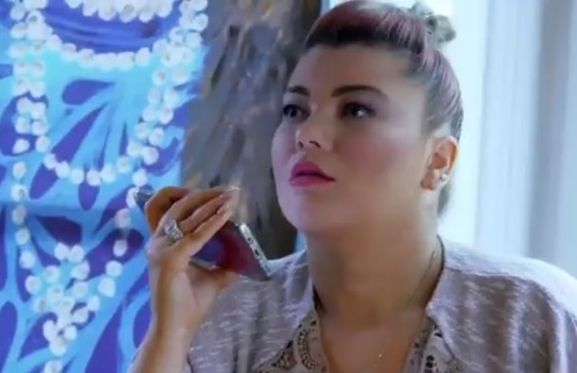 "Oh my God, you're alive?" Gary asks when she calls. (How long exactly is "a while?" It sounds like Gary hasn't heard the screechy Voice 'o' Amber in months!)
Gary is annoyed at the last minute visit request but decides to allow it.
Gary tells Kristina he's trying to take Amber's feelings into consideration given her recent break-up, although he and Kristina agree she should maybe make an appearance in Leah's life on occasion. Hey, if all else fails, maybe they can record the new season of 'Marriage Boot Camp' so Leah can see her mom!
Gary says Amber owes him over $9,000 in child support but he isn't really sweating that issue too much because he knows Amber is a "come and go" type of mom… (heavy on the go.) Gary says he can only do his part and chalks it up to some people wanting to be parents and others not so much. We know we'll hear about this one at the reunion!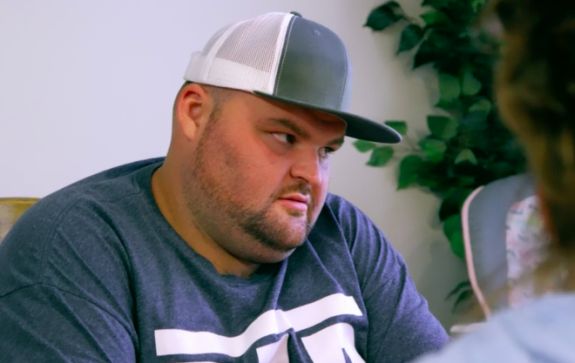 Since Andrew is still in town, Amber has him drop her off at Gary's house… driving her Range Rover, of course. Gary, who was obviously peeking out the window during Amber's arrival, comes in with the shade.
"Did you get a chauffer…or is that your new 'friend?'" he asks.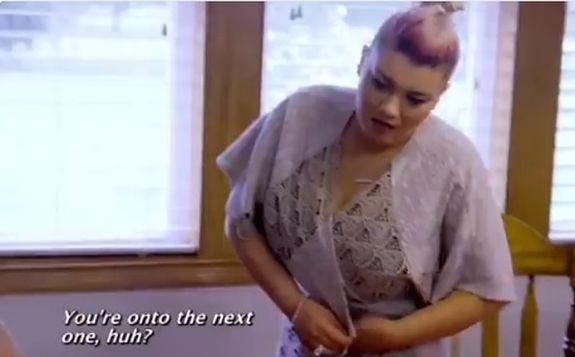 Gary asks if Amber having a new "friend" is the reason she ditched out on her daughter for a while, but Amber claims she was too depressed to see Leah. Apparently, she was too depressed to chat on the phone with her, too.
Gary doesn't want to hear it, but tells Ambie that the next time she calls him out of the blue and demands to see Leah within 30 minutes, she can make like Farrah and suck it.
They scoot Leah out of the room and Gary and Kristina sit down with Amber as she talks to them about her new man. Amber is pumped that Andrew is full of smarts, given that he's college-educated and "not a druggie."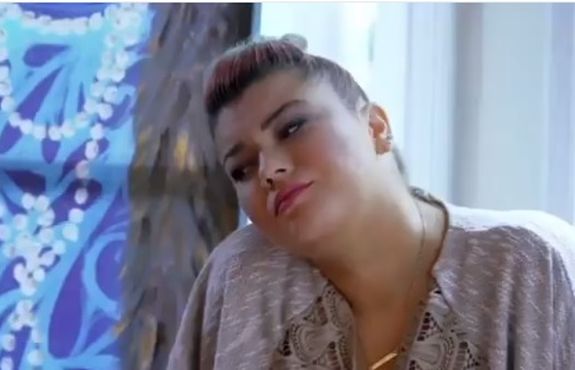 Gary warns her to take it slow and not forget about Leah. Amber tells Gary not to make her feel more guilty than she already does and explains that she hadn't been coming around because she was depressed… again, until Andrew came around to fill that spot in her heart (among other things).
"I just wasn't feeling very well…you know, like back in the day?" she asks Gary.
Gary shudders just thinking of anything that happened with Amber "back in the day." (His upper back probably starts to hurt just thinking about when she kicked him down the stairs!)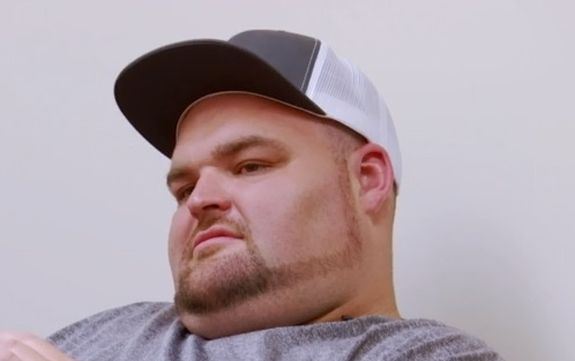 Amber also tells them Matt is still trying to work things out with her, even going as far as to threaten suicide if she won't take him back and sending her pictures of pills. Hey, at least he's not sending dick pics, right?
In North Carolina, Cate and Tyler are driving to the park for their visit with Carly and talking about how nervous they are.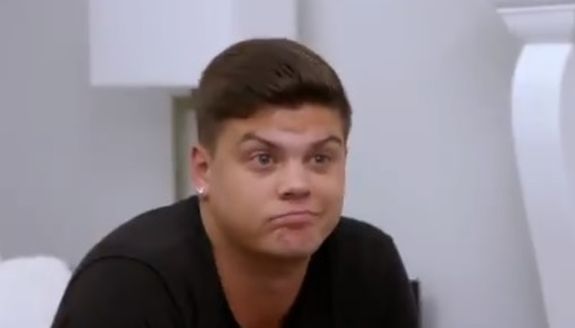 They arrive at the park, and, although we can't see footage of the visit, we do see a series of snapshots showing Carly (with her face obscured) and her interaction with everyone.
After the (un-filmed) visit, they all pile into the car for a nearly silent ride, other than Cate commenting on how tall Carly has gotten.
Back at Cate and Tyler's rental house, Tyler tells the producers that Cate was very emotional the night following their visit with Carly, adding that he had a feeling the trip would hit her hard. Later on the porch, Cate says it was tough seeing Nova and Carly together and that she could tell Carly had missed her and Tyler.
Tyler has a great solution to the problem: he suggests that he and Catelynn just start "poppin' 'em out" to give Nova a bunch of replacement siblings!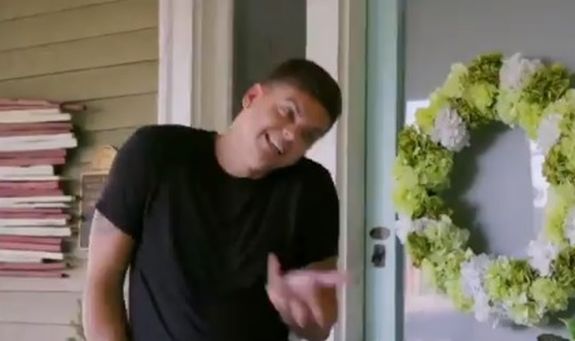 Later on, Tyler talks about how nothing ever changes when they say goodbye to Carly and that it's always difficult. It's also hard knowing they won't see Carly for at least another year.
That's it for this episode of 'Teen Mom OG!" Until next week!
To read The Ashley's other 'Teen Mom OG' recaps, click here!
(Photos: MTV)