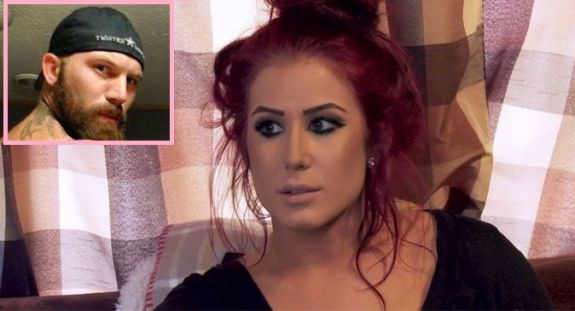 Chelsea Houska emerged from court victorious earlier this week, ending a months-long battle with her baby daddy Adam Lind— and The Ashley has all the details of what went down inside the courtroom!
The Ashley previously told you that the Teen Mom 2 starlet filed a motion in court to make changes to the amount and type of visitation Adam has with their eight-year-old daughter Aubree, and to petition to have Aubree's last name changed from "Lind" to "Lind-DeBoer." The Ashley can reveal that Chelsea was victorious and was given everything she asked the judge for. 
Chelsea was awarded the name change and the change in visitation, ensuring that Adam's only interaction with Aubree will take place at a court-approved, supervised visitation center. Previously, Aubree had been going to Adam's parents' house for visits, and they were legally required to supervise his time with Aubree. Now, Aubree's visits to her grandparents house will be once a month, and Adam is not allowed to be present during the visits.
"Adam's parents were not happy about the changes made," The Ashley's source tells her. "They are very upset."
The Ashley can reveal that Adam, who has been battling substance abuse and legal issues, made a rare appearance in the courtroom and, although he was not thrilled, he agreed to all of Chelsea's terms before the hearing even started, which means no one had to testify.
The Ashley can confirm that the hearing was filmed for an upcoming episode of 'Teen Mom 2.'
"This was the first time Chelsea and members of the production crew have seen Adam in a long time, and they were shocked by his appearance," another source tells The Ashley. "He has lost a lot of weight, and appeared pale with dark circles under his eyes. He did not look like he's in a good place."
Although Adam has refused to film for 'Teen Mom 2' for several seasons, a behind-the-scenes source tells her that Adam's contract with MTV is still valid, so he can technically still be filmed and not be blurred out, even if he didn't want to film additional scenes.
The Ashley can also reveal that Adam gave the judge an idea of what his life is like currently.
"He told the judge that he currently has no job and hasn't worked anywhere in a year," the first source said. "He also confirmed that he has no vehicle."
Adam did not say anything to Chelsea during the hearing and left immediately after it ended.
The Instagram account @TM2DeadBeat, was the first to report about Aubree's name change and Adam's change in visitation.
Stay tuned– The Ashley will have more details soon!
(Photos: Instagram, MTV)