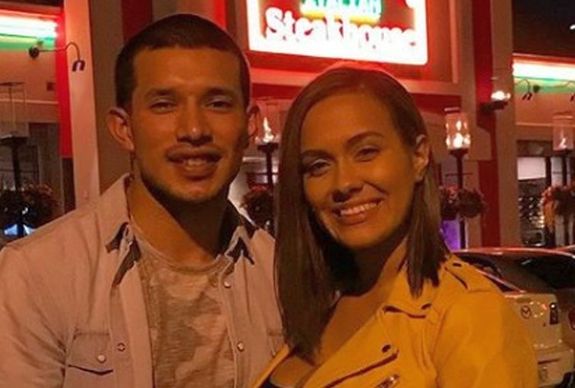 Another Teen Mom franchise has bit the dust!
The Ashley can confirm that Javi Marroquin and Briana DeJesus, who made their relationship official in October after filming the Teen Mom 2 Reunion special,  have ended their long-distance relationship.
On Monday evening, Javi tweeted that he had a "rough weekend," and The Ashley can confirm that he has changed his relationship status back to "Single" on Facebook.
Briana, in turn, has deleted all of her tweets (as per usual), and both Javi and Briana have scrubbed each other's photos off of their Instagram accounts!
Javi and Briana's relationship has been full of controversy since they became "Facebook Official." In addition to Briana feuding with Javi's ex-wife, Kail Lowry throughout the relationship, Briana's family struck out at Javi last month via social media.
The Ashley has reached out to Javi for comment. In the meantime, let's take a moment of silence to mourn the death of "Javiana!"
UPDATE! As The Ashley suspected, Briana and Javi each spoke with a different media outlet about their split. It appears that Briana's upcoming plastic surgery with Dr. Miami and their different plans for the future were the two main factors in their breakup.
"Javi and I are not together anymore," Briana told Blasting News. "Our future just doesn't line up. He doesn't want me to get my surgery for a breast lift, lipo and tummy tuck (which I'm doing in two weeks) because it'll look bad on his name at work."
(As The Ashley has previously reported, Briana is getting her surgery done for free, in exchange for allowing Dr. Miami to broadcast the surgery on his Snapchat account in full gory detail. In January 2016, Briana allowed the Doc to film her getting a new butt, as well as having her lady parts trimmed…as you do.)
In his own interview with Radar Online, Javi admitted that he was not cool with his Air Force bosses seeing his girlfriend's booty sliced open (again) on The Internets.
"I didn't agree with some of her future plans being exposed for the world to see for our future and any future employers and I wish we could've compromised. Maybe I was overthinking but I couldn't figure out a way to answer some of those questions," Javi said.
The distance between them was also an issue, and it appears that Javi wanted Briana to move from Florida to Delaware to be with him in the near future. Briana told Blasting News that she wasn't ready to settle down yet.
"I don't plan on moving in with him in the summer and for these reasons, he broke up with me," she said. "I have no bad things to say to about him. He wanted a wife and home right now and I didn't see a reason to rush. I wish him the best going forward, and I am sad things panned out this way, but this is where things currently stand."
"Some questions about our futures couldn't be answered because we both do have kids and live two different lifestyles, her being in Florida and me in Delaware," Javi agreed in his interview with Radar.
In a statement to Us Weekly, Kail talked about her ex-husband's split.
"It's none of my business, so my mouth is closed," she said. "I wish Javi the best, as always,"
(Photo: Instagram)