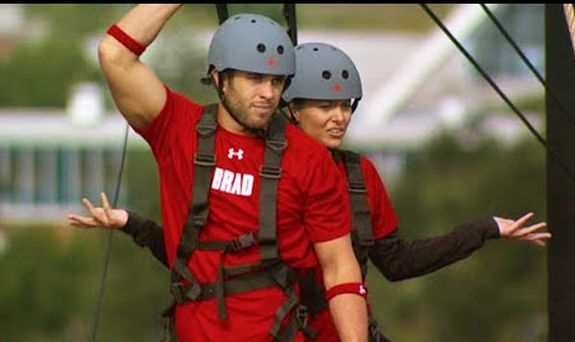 With her ex-husband currently making his first post-divorce appearance on The Challenge: Vendettas, Tori Fiorenza Hall is speaking out about her split with Brad Fiorenza, including how she feels about his new on-screen romance with Britni Thorton. Needless to say, Brad is not happy about his ex-wife's sudden need to share!
While the couple has been divorced for over a year, Brad's return to 'The Challenge' and his nearly immediate hookup with Britni has some viewers accusing him of cheating during his marriage. (Tori has been quick to dispel those rumors.)  As for the real reason the two called it quits, Tori said they have a mutual agreement not to discuss the details, though she admitted it was "horrific for everybody involved." 
"We met really young," she told Us Weekly in one of her first interviews since her divorce. "I was 20 years old when I met him and I grew up with him. I gave him a decade of my life, a third of my life. When we grew up and realized the things that we wanted in life…we realized we agreed on nothing. The only thing we agree on is our two kids."
Longtime fans of 'The Challenge' may remember watching Brad and Tori fall in love during 2008's "The Gauntlet III." The couple went on to compete together in "The Duel II" in 2009 and "Cutthroat" in 2010. That same year, the reality star pair tied the knot. During their time away from the MTV cameras, Brad and Tori welcomed sons Brady, 6, and Chase, 3, but ultimately broke up in August 2015. Their divorce was finalized in December 2016.
Tori said she isn't watching Brad compete this season on 'The Challenge' because she feels that tuning in would take her "back a million steps."
"I'm still healing. Divorce is horrific for everybody involved," she said. "It's the loss of identity, loss of the person that's still alive. I worked really hard to get into the place that I am in now."
Tori explained why many 'Challenge' fans weren't aware that she and Brad had divorced. (The Ashley was one of the first to report it last year! )
"We kept [our divorce] really, really quiet for the kids," Tori told the magazine. "I think that I lost my identity when I lost my marriage."
While she's not watching what's going down with Brad and his new relationship (which continued after Vendettas wrapped), Tori said she has met Britni, albeit briefly, and feels the new couple is actually a better match than she and Brad were.
"Here's the deal: they just have more in common," she said in a second interview with the magazine, calling her ex "a fun guy."
Despite being supportive of Brad's return to 'The Challenge,' Tori said learning about his new relationship, namely the setting in which it began, was difficult.
"The conversation we had prior to him leaving was: 'I'm going to focus on winning and playing the game, I'm not there to hookup and do that kind of thing,'" she said. "I was fine with him going back and doing the show. It was such a big part of our life. But never did I believe that our story was that replaceable to him. That was the hardest part.
"When he was filming and the pictures leaked and all of that … I was like, 'Wow. I was just another step in the road,.' which is healing and hurtful at the same time. To me, that was our story and it was very replaceable to him," she said.
Tori told the magazine that she decided to go public with her story in hopes that it helps other women in similar situations.
"A year ago, I was in a dark place," she said. "I had people come along side me, scoop me up, give me hope and help me to go from barely surviving to thriving. It's not lost on me that there are women out there who are not as fortunate and if my story helps or gives hope to one person, then it gives purpose to my pain."
After Brad got wind of Tori's interview with Us Weekly, he took to Twitter on Monday to add his own narrative and reveal what he says is Tori's part in their divorce.
"There is 'another side' to this story," Brad tweeted. "buried deep in the pain of Tori's choice to dissolve our family. I'm surprised she is acting surprised."
He continued his statements in the comments, adding that Tori has been "posting immature, dishonest statements" about him online for the past year and after her recent comments made to Us Weekly, he's now considering response story. After a fan suggested he keep his relationship off of social media, Brad said he was trying to.
"I agree & am trying my best," he tweeted. "If I do a response article I'll make sure to add the screenshot evidence of the way she has provoked this."
Another person on Twitter accused Brad of not paying child support, which he denied.
"I've NEVER been behind on child support & funded my kids' entire Christmas this year! Prime example of why I'm considering a response. #honesty."
In response to Brad's original tweet, Tori defended what she said in the interview.
"I missed the part where I was negative or bashed anyone? Can you help me understand…just because I didn't go film a show doesn't mean I'm not allowed to speak when asked a question," she wrote to Brad. "I kept it positive, and plan on keeping it that way. #TeamKids."
(Photo: MTV)