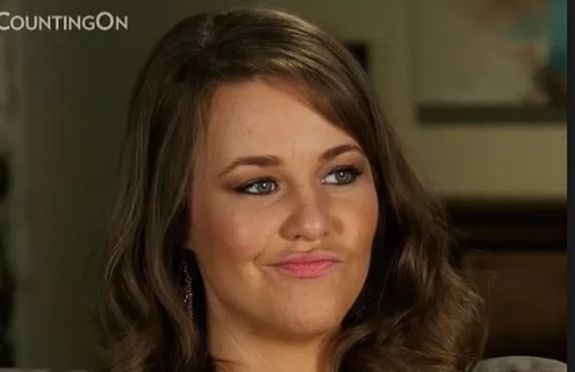 Jana Duggar became the butt of her father's joke during a speaking engagement the Duggar Family did last week in Australia— and The Ashley has the video to prove it!
Jana, her father Jim Bob, mother Michelle and several of the younger Duggar boys and girls headed Down Under last week to speak at the IBLP Australia event. During the event, which took place at the Kilsyth South Baptist Church on January 13, the Duggars made speeches, sang religious songs and answered questions for the crowd. The event was held one day after Jana's 28th birthday, and her father made sure to point out that, even at that "mature age" (by Duggar standards, anyway), Jana is still not married.
In a video obtained by The Ashley (via direct permission from the Duggar Family News: Life is Not All Pickles & Hairspray Facebook page), Jim Bob can be heard mocking his oldest daughter.
"Jana is now 28 years old…still single," Jim Bob tells the crowd as Jana gets visibly embarrassed and attempts to hide behind her brother. "So she's still praying for the one the Lord has for her."
The large crowd can be heard laughing at Jim Bob's jab and Jana looks like she's wishing she were anywhere but up on stage at an Australian church getting made fun of by her father.
Jim Bob goes on to tell everyone what a "fine young lady" Jana is.
Unlike her younger sisters– Jill Dillard, Jessa Seewald, Jinger Vuolo and Joy-Anna Forsyth— Jana has yet to get married and start a family. While she has stated various times over the years that she has just not found the right person for her yet, the media has continued to speculate as to why she's not married yet. The media has also created fake courtships for her, pairing her with everyone from pro football player Tim Tebow to family friend Caleb Williams, who recently made it very clear that he and Jana are just friends and are not courting.
"We've always gotten different ones asking, 'When is it going to be your turn [to get married]? When is it your time?'" Jana said in 2014. "I just think for me I am just waiting and we'll see. When God brings that one along it will be his timing."
Watch the exclusive video of Jim Bob's jab below:
(Photo: TLC, Video: Courtesy of Duggar Family News: Life Is Not All Pickles & Hairspray)