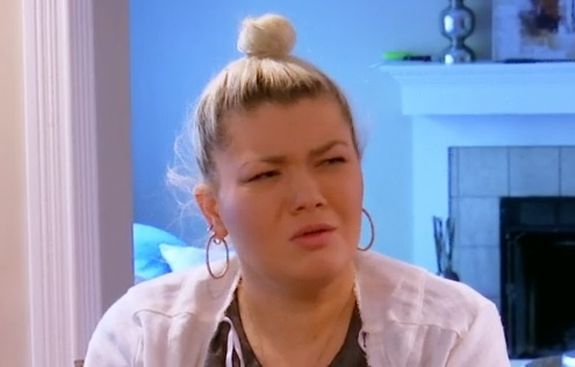 Amber Portwood is not thrilled with how her latest relationship and pregnancy is playing out on Teen Mom OG!
The pregnant reality star took to Twitter on Monday, criticizing the show's producers and editors, as well as her ex Gary Shirley and his wife Kristina in yet another one of her signature online rants!
"I've been on this show for 10 years. I've been through hell!" Amber wrote. "MTV has turned my pregnancy and this relationship into a joke in one of the happiest times of my life."
In recent episodes, Amber confessed that she hadn't seen Leah, the nine-year-old daughter she shares with Gary, while she was struggling with depression over her breakup with Matt Baier. Viewers were critical about Amber staying away from her daughter but starting up a new relationship with Andrew Glennon during the same period.
(The Ashley is posting the tweets as they were posted, complete with grammatical errors.)
"Apparently my life is just for people to tell me how horrible I am as a mother because I went through depression!" Amber wrote, adding sarcastically, "Remember if your going through hell make sure you keep it all inside. And people should be able to say whatever they way about you. Especially your ex!"
For the first time, she also admitted to being suicidal after her breakup with Matt.
"Make sure when your suicidal that you always have your kid right next to you the whole time! It's very healthy for them!! Idiots," she tweeted with more sarcasm. "Andrew is the reason I was able to pull myself together! He showed me that life was worth living! I'm thankful to have him because now I will be ALIVE for my daughter and family!"
She then went in on Gary and Kristina, claiming that they are living the good life thanks to Amber being on 'Teen Mom OG.'
"Make sure to watch Gary and Kristina tonight talking s**t about me! It must be hard making money off of me! Being such a bad mom and all. Where would they be? Wait..in a 1 bedroom shack in the ghetto of Anderson where he was before I got out [of prison] and the show came back on!! Ignorant!"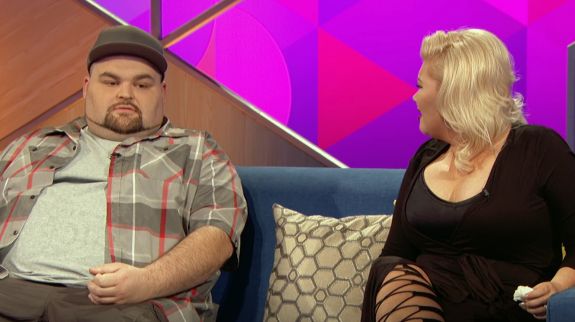 When a 'Teen Mom OG' viewer pointed out that Amber had been absent from Leah's life for an extended period of time, Amber denied that was the case.
"That never happened once!" Amber tweeted. "I've never just been gone for weeks and months ever! Wtf are you talking about? This was 2 months and I saw her right when I got out of [Marriage] Boot Camp! Once again talking s**t ignorantly with nothing to back it up!!!"
Amber added that the show's producers are to blame because they try to make the show juicier.
"It didn't use to be like that," Amber tweeted. "Now if there's no drama then it will be created."
After Amber ended her rant, Gary hopped on Twitter to respond to his exes' claims.
"I stayed where I was cause I'm no better than the next person I saved up to put 20% down [on a house]," he wrote. "I didn't wanna move and feel like I was struggling, and I wanted to think out all options and find where I wanted my kids to grow up. You can talk poo about me, but plz not about Kristina."
He then retweeted the following tweet:
"@amberlportwood, you are a disgrace to all moms out there. You should be kissing the ground @ItsGaryTime & Kristina walk on. They are the reason why Leah will grow up having a somewhat normal childhood."
Amber was not having that at all. She came back at Gary with vengeance.
"You are a liar lol," she wrote in a tweet to him. "You were broke doing pills and drinking constantly! Thank god for Kristina or Leah would have been in hell! I sent you money Gary! You begged and said you had no money to take care of her!!"
She then told a fan, "You guys have so many opinions? We're on TV so everyone is aloud to know every detail about our lives right? We have no rights for privacy."
After Amber made claims that Kristina "broke up her family" to be with Gary and get on TV, Gary defended his wife.
"Sorry for the wonderful drama you see or don't seem," he tweeted. "My wife Kristina is amazing we had a rocky start and we made Thru and honestly I love her and she is one hell of an influence. Please don't judge us by what someone else says there is always more to it. We love you all."
Kristina also responded to Amber's claims about her.
"I am an active mother to my children so quit hating," Kristina tweeted. "I've never stepped on your toes as a mother nor will I ever. I care for Leah when she is in our care. Love don't hate."
Stay tuned…this battle appears to have just begun!
(Photos: MTV)