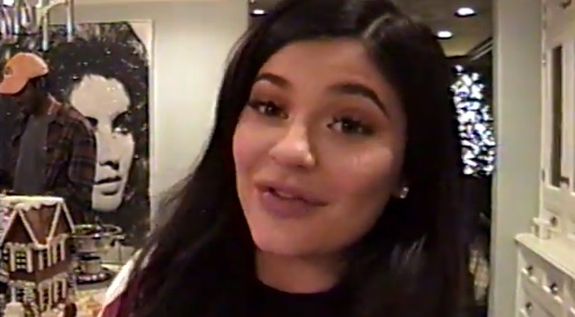 UPDATE! Kylie has apparently revealed the name of her baby girl! Scroll to the bottom of the article to see her name reveal post!
Life of Kylie star Kylie Jenner has finally confirmed her pregnancy, three days after giving birth to her first child.
In a series of social media posts, the reality star revealed that she did, indeed, give birth to a baby girl on February 1, as the media speculated. She also apologized to her fans for keeping them "in the dark" throughout the course of her pregnancy. (News that Kylie was pregnant broke months ago, but Kylie and the rest of her famous family refused to confirm the reports.)
"My pregnancy was one I chose to not do in front of the world," Kylie wrote. "I knew for myself I needed to prepare for this role of a lifetime in the most positive, stress free and healthy way I knew how. There was no gotcha moment, no paid reveal I had planned…
"My beautiful and healthy baby girl arrived February 1 and I just couldn't wait to share this blessing," Kylie continued. "I've never felt love and happiness like this. I could burst!"
— Kylie Jenner (@KylieJenner) February 4, 2018
While Kylie never mentioned her baby's father, Travis Scott, in her message, she did post a touching video entitled, "To Our Daughter." She captioned it "Here's a glimpse of the last 9 months."
The video starts out on the day that Kylie's mom, Kris Jenner, gave birth to her. Various friends of Kylie discuss Kylie's relationship with Travis and describing how they found out Kylie was pregnant. The video also included private moments from Kylie's pregnancy that were not broadcast to the world.
"She was born to be a mom," Kylie's friends say about her in the video.
We also get to see the moment that Kylie gets to meet her sister Kim Kardashian's daughter, Chicago, and the day that Kylie gave birth. (Viewers can hear audio of her in labor, but don't see any footage.)
Kylie and Travis' daughter was born at 4:43 p.m. on February 1 and weighed in at 8 lbs., 9 oz.
Watch the adorable video below:
On Tuesday, Kylie revealed the name of the baby on her Instagram account. The photo, which shows the baby's fist holding on to one of Kylie's fingers, was captioned "Stormi."