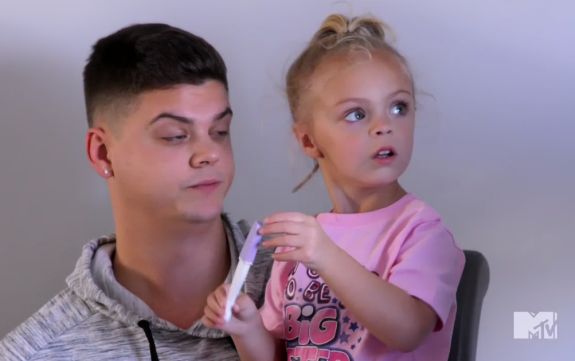 Throw on your maternity pants—and throw out your sense of good judgment because…it's time for another episode of Teen Mom OG!
On this week's episode, the hormone levels are HIGH! HIGH!, what with two out of the four girls knocked up. (Oh, wait…spoiler alert but…not really.)
The episode starts off with Maci (who, for once, is not one of the people who ispregnant). She and Taylor are getting ready to celebrate Bentley's 9th birthday by surprising him with a trampoline. (How is this kid already nine?! That means it's been nearly a decade since we watched him shoot from Maci's underage hoo-ha. This is depressing.)
Ryan is still refusing to take a drug test, but Maci, ever the martyr, agrees to let Jen and Larry pick Bentley up for his big day. What a saint she is, that Maci…
With Bentley heading off with Jen and Larry, Ryan and Mackenzie get pumped for the visit by sitting around and criticizing Maci's communication skills.
Ryan says he's passed drug tests since leaving rehab but Maci hasn't asked for the results. Mack suggests Ryan pee in Maci's yard to prove a point.
See guys? Drug addiction can be funny!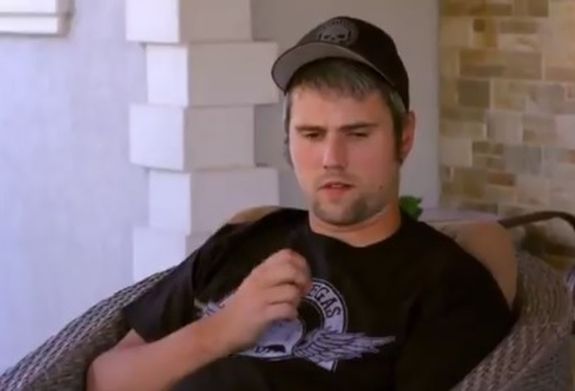 Speaking of people who are plenty familiar with the ol' "piss in a cup to prove you're no longer a degenerate" game, we next check in on Amber. She and her new Matt man Andrew are legit spending their day playing a riveting game of "I Spy." (See guys? Unemployment can be fun!)
Andrew tells Amber he spies something that starts with the letter "T" and we assume he's thinking "Teen Mom Pay Check" but actually he's talking about her "titties," so… there's that.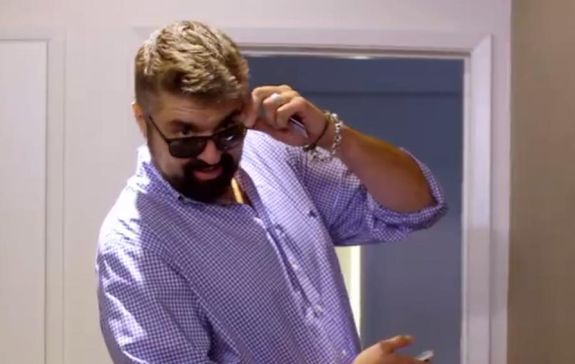 Amber says Gary knows about the giant Andrew fetus that's currently lounging on her couch womb. She says that he's happy for her, but when we check in with him and Kristina, we learn that Gary is actually weary (like the rest of us) about the fact that Amber only knew her new man for about 3 seconds before letting him shoot spawn rockets inside of her.
Gary tells Kristina that Amber won't be able to "sleep her way through" this baby's life like she did with Leah's. If Amber has shown us anything since this show started, though, it's that her dedication to the craft of sleeping is strong!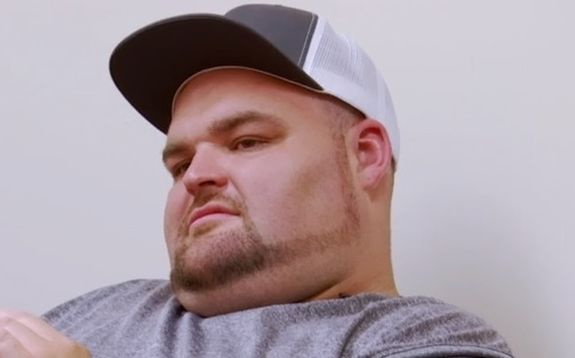 Meanwhile in Michigan, Catelynn still hasn't told Tyler that she had her IUD removed. (We fans are still recovering from having to witness Cate up in the gyno stirrups and then talking about having the birth control ripped from her loins. Shudder.)
Nova seems to be doing her best to keep her parents from wanting to have another baby. She's throwing tantrums, pouring milk on the floor and basically doing anything she can (besides shoving the birth control back up into Catelynn's baby-shooter) to tell her knucklehead parents that they should not have another kid. Still, Catelynn is hopeful she'll get pregnant soon.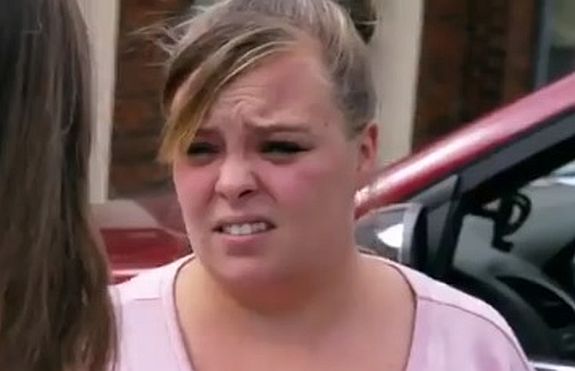 The three of them decide to take a trip to the pumpkin patch and on the way, Cate tries to get Tyler in the mood to mess up her side bangs later that night.
Catelynn is behaving like a woman who just got out of prison. She's not trying to hide the fact that she wants the Baltierra Beef Injection (also…ew). She asks Ty if they can "have a party in his pants later," to which he says it's closed for a prior engagement. (We can only assume that the "engagement" is with his hand and a vanity mirror.) All this goes down while Nova is in the backseat looking for the eject button on her carseat.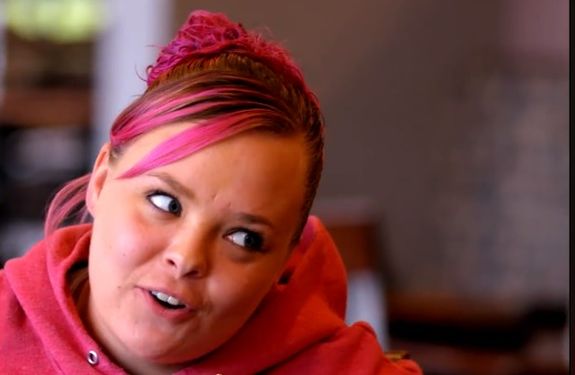 We next head back to Italy, where Farrah and her crew are on what may be the longest European vacation ever.
But tonight is a real treat, guys! We are heading to a karaoke bar, where Debra is planning to bring her "DebzOG" rap songs to the creepy dungeon-like karaoke bars of Italy.
It's the DEBZ OG WORLD TOUR, y'all and we're all invited!
After a few sips of champagne, Debz OG decides to share her gift of rap with the lucky patrons of the bar and gives them a "live" performance of the new Debz OG rap single which is, of course, also entitled "Debz OG."
There's lip syncing! There's pole dancing! It's everything The Ashley has ever wanted in life!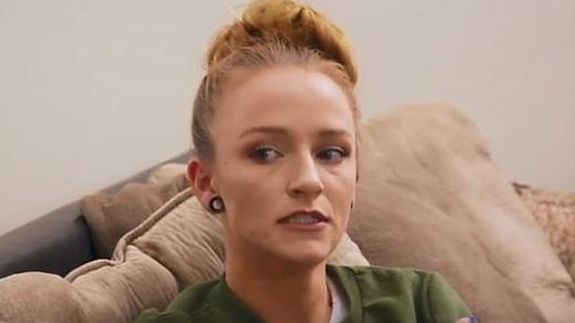 As awkward as Deb's display is to watch, seeing the discomfort it brings Farrah makes it not only tolerable but also enjoyable.
The next day, Deb knows how sad it must have been for Sophia to not to have been old enough to get into the Italia Karaoke Dungeon to bear witness to the Debz OG World Tour, so she surprises the tot with some new dresses. (These may or may not have just been dresses that Deb borrowed from Sophia and is now giving back, however.)
Debz tells Sophia that she bought the dresses in the hopes that Sophia will wear one to Deb's wedding. (As we know, "Sophia" has decided that she doesn't want to go to her grandma's wedding and "Sophia" is making a big deal out of it because "Sophia" doesn't like Deb's fiancé, Dr. David.)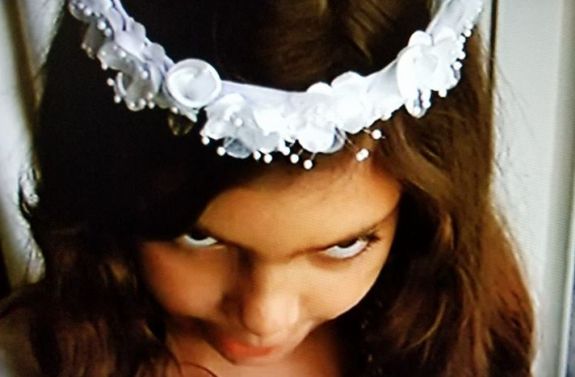 Farrah tells her mom it's Sophia's decision to not attend the wedding, which makes Deb get emotional. Deb asks Sophia herself if she'll attend, but Sophia confirms what Farrah said/told her to say, that she's not going because of David. Deb tells Sophia she'd come to her wedding if she were the one getting married, to which Sophia replies, "It's not about my wedding, it's about yours."
IN.THE.(Liquid Facelifted) FACE.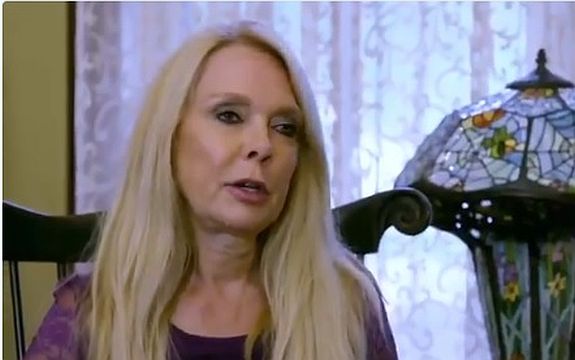 Farrah then proceeds to accuse Debz OG of trying to manipulate Sophia for her own gain. This is, of course, basically what every single adult in this little girl's life does, so it's business as usual.
The next day, Farrah heads to lunch with her dad Michael and his fiancé Amy. Over pasta, Farrah continues to talk about how "mentally unstable" her rappin' mom is, and fearing they too will suffer Farrah's wrath, Michael and Amy don't exactly come to Deb's defense. However, when Farrah leaves the table to make sure her lips are still attached, Michael tells Sophia it would be nice if she went to her grandma's wedding. This is a very kind gesture on Michael's part. (Of course, he may just be concerned that if Sophia stands firm and doesn't go to the wedding, he'll somehow get swindled into being Deb's wedding dress train holder!)
Across the sea, in the pits of Indiana, Amber and Andrew are meeting up with assorted members of Amber's family at a pumpkin patch. Amber's cousin Krystal is meeting Amber's new boo for the very first time, and is marveling at how big Andrew is.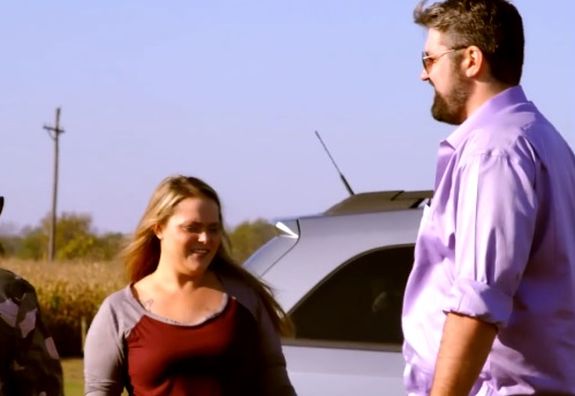 Also resurfacing after being lost in the underbelly world of Missing Teen Mom Parents is Tonya, Amber's mom. She's gotten all done up for her reappearance on camera,  slathering on layer upon layer of Coppertone "Sun Goddess" self tanner for the occasion.
In case you've forgotten, Tonya was on set with Amber while filming Marriage Boot Camp: Family Edition, so she likely met Andrew before, but she doesn't remember him. (That's probably because Andrew spent most of his time on-set Googling useful phrases such as "How to Snag A Teen Mom Star Without Losing Your Self Worth.")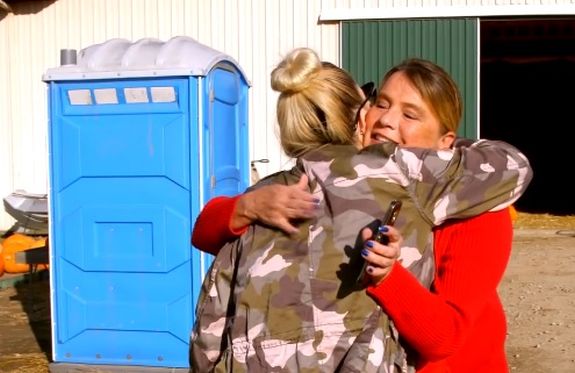 The entire clan piles into the hayride wagon (with Cousin Krystal seductively asking, "So where does the big guy sit?" Jesus, keep it in your pants, girl! This is your cousin's Insta-Baby Daddy! Get your own!)
Tonya remarks at how "awkward" this whole situation is. Oh, girl, you haven't seen anything yet!
As the Hillbilly Hay Ride of Haphazard Family Planning continues, Andrew appears nervous. In fact, he's sweating through his snappy lavender button-up like he's just been told that he has to battle Gary for the last Krispy Kreme donut.
Tonya seems to know the drill when it comes to her daughter's choices in men-folk.
"So, what are you stayin' here, or…" she asks Andrew. Of course, he confirms that he is. Tonya doesn't even try to hide her disapproval, which is fantastic.
When Amber comments that this hay ride is "starting to hurt," ol' Tonya gets a knowing look, but seems to be praying that her daughter hasn't taken her out to the sticks of town to reveal she's knocked up by some rando she just met, all under the guise of getting Halloween pumpkins.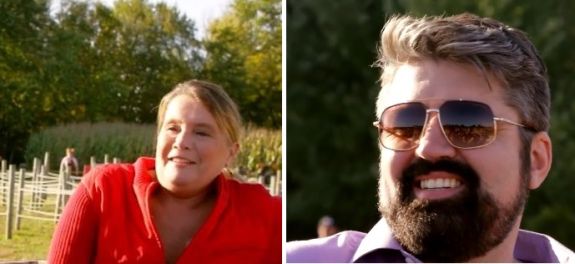 It's time for Amber to make the big reveal.
"OK, I guess I'm gonna tell you guys," she starts.
"OH GOD!" Tonya blurts out.
Amber seems offended. It's not like she continues to make horrifically poor choices throughout her adult life or anything! Oh wait…
Well, one the bright side, at least she's not going to prison again, so there's that…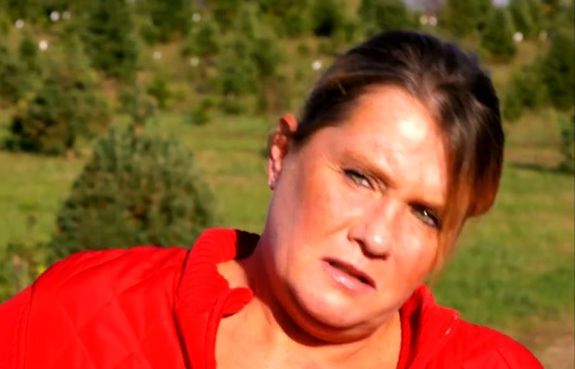 "I'm pregnant!" Amber declares.
Both Cousin Krystal and Tonya are in disbelief. Krystal even keeps screaming, "No you're not!"
Tonya is almost in tears, begging Andrew to tell her that Amber's joking.
"Not one bit!" Andrew replies.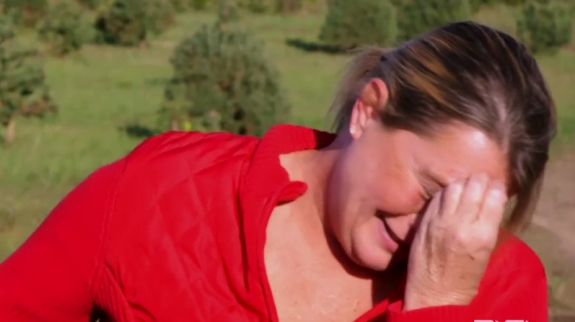 Cousin Krystal, the shining light of the Portwood dynasty, looks on the bright side of things. She remarks that, hey, it could be worse: it could be Matt's baby.
Tonya isn't as concerned as to which of Ambie's gentlemen callers has knocked her up. She's more interested in making sure that Andrew treats Amber right. In other words, don't shovel Amber's cash into a backpack and flee and/or have 2,049 children show up out of the woodwork and we should be good.
At a different pumpkin patch, Tyler's mom continues to talk about her potential future grandchildren and even wishes twins upon Cate and Ty. That makes total sense, seeing as how well these two blockheads handle stress. Let's give them not one baby but TWO MORE BABIES! Yeah, sure, and while we're at it, we can leave that whole pesky "curing cancer" task in the hands of Butch.
Later, Catelynn goes to lunch to chow down on some quesadillas and chat about how she may already be "with child." She then forces us to listen as she talks about her "flow" and how she tracks her sexy time on her phone. Also…ew.
She says she can't take a pregnancy test at home, though, because she's worried Tyler, that rascally raccoon, would rummage through the trashcan and find it.
I know this is a drastic suggestion but…couldn't Catelynn just take the test in the privacy of her own bathroom, and then take her garbage out before Tyler sees it?
Catelynn's friend suggests that Cate just head on into the restaurant bathroom and piss on a stick right then and there! (Catelynn and Tyler's friends have, for the 100 seasons this show has been on the air, continued to prove that they are among the classiest kids that this country has to offer.)
Anyway, Catelynn scurries off into the bathroom to take the pregnancy test. After she lets it flow, she throws the soaked stick onto the baby changing table (as you do) and eagerly awaits the results.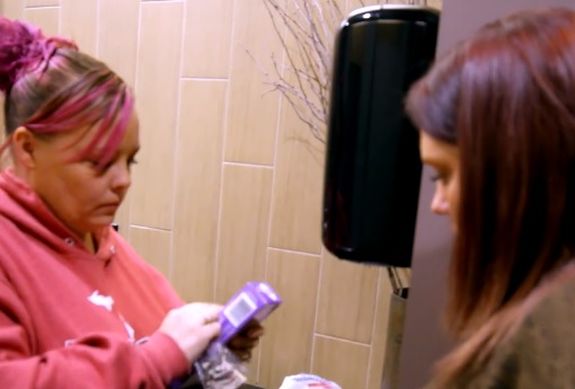 Hell, while we're at it, can we just get Ryan down to the restaurant bathroom too? He can pee in a cup, Catelynn can pee on a stick, and we can file Maci, Taylor, Tyler or whoever the hell else needs to see the assorted urines into the bathroom, and we can be done with all these piss-themed storylines. It's getting weird.
Meanwhile in Tennessee, Jen and Larry come back to the house with Bentley. He's greeted by Ryan, Mackenzie and Mackenzie's son Hudson (who we learn has the unfortunate nickname of "Huddle").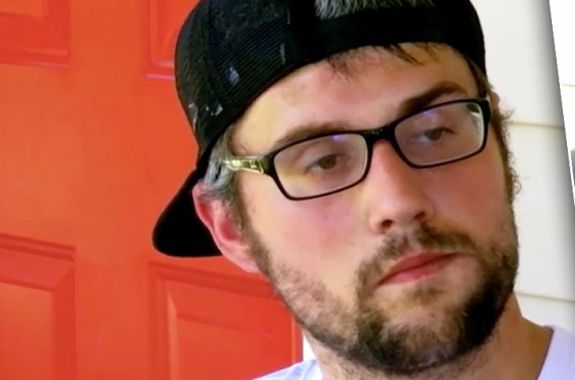 Ryan and Mack greet Bentley by hating on his Christmas sweater. They then make fun of his football glove and call him Michael Jackson. Bentley looks like he'd rather be anywhere—hell, he'd even rather been in that bathroom watching Catelynn's piss stick turn positive—than spend another minute with his father and his wife.
Jen and Larry say they are looking forward to the future when Ryan can again babysit his own child without them having to supervise.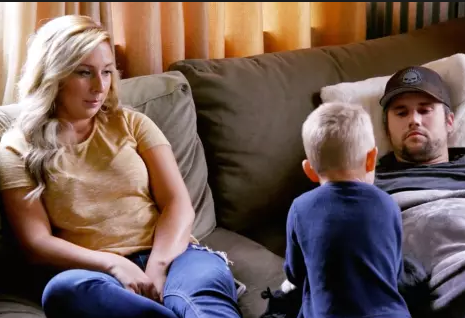 Meanwhile, while Maci and Taylor sort through leather pocket t-shirts, Maci says Mackenzie sent her a text letting her know Taylor, Jayde and Maverick's names had "accidentally" been left off of the wedding invitation she sent to Maci.
Um…yeah. Sure, Jan.
With the incident resolved, Maci confirms the RSVP and forewarns her liver of the copious amount of free beer she'll be downing on the night of Ryan and Mackenzie's blessed affair.
Back in Italy, Deb takes Michael aside to speak to him during a group outing. Deb tells Michael she doesn't understand why Sophia doesn't want to go to her wedding and Michael more or less says it's Farrah's influence. Michael tells her that he and Amy have tried to encourage them to attend, but to no avail because, well… Farrah is Farrah and she's basically awful.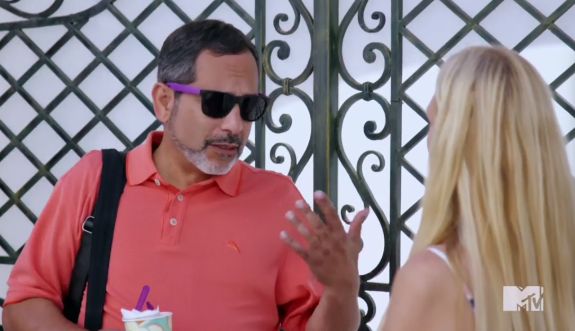 Farrah and Sophia sit down for a heart-to-heart — assuming of course that Farrah has one of those — and Sophia says she's still not down to show up at her grandma's wedding. Farrah tells Sophia she's glad she's expressed her feelings. She then showers the poor kids with some other sort of butchered Tony Robbins gibberish.
In Indiana, news of Amber's pregnancy leaks before Andrew has a chance to tell his friends and family. (Welcome to reality TV, Andy!)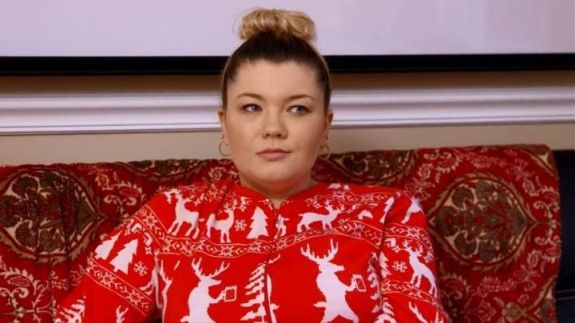 Amber says she doesn't know who leaked the info but Andrew is convinced that it was Gary. Amber denies that her Baby Daddy #1 was the culprit, and takes it in stride. She seems more focused on relaxing in her onesie on the couch than figuring out who blabbed the news.
Andrew is sad that he didn't get to announce the pregnancy the way they had planned. Amber had promised to shovel herself off the couch and head to California for Thanksgiving, where she and Andrew would tell his family about the baby.
"Like, look down the table and let them know about the bun in the oven," Andrew said.
Andrew says he didn't even have a chance to call his own mother. (Apparently there are no phones in Indiana?) This dude legit filmed numerous scenes about the pregnancy for 'Teen Mom' before even telling his own mother. COME ON.
Finally, we head to Michigan one last time to check back in with Cate and Ty. He's busy trying out different filters for his next Instagram selfie when Catelynn appears with Nova. She's got Nova dressed in a shirt that says "I'm Going To Be A Big Sister."
Tyler notices the shirt but doesn't believe Catelynn until she produces the positive pregnancy test as proof.
"Oh my God!" he proclaims. "Fertile Myrtle!"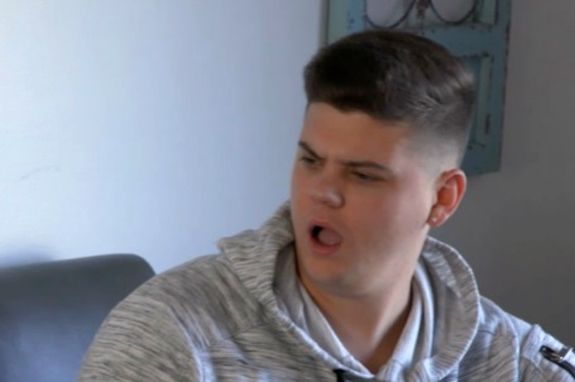 Nova then snatches the pee stick and starts waving it around like a magic wand (as you do) as Cate and Ty celebrate. Well, to be fair, Catelynn is celebrating while Tyler looks absolutely miserable, even though it was him who was pressuring Cate to have another kid.
Let's just hope Nova doesn't use the stick as a jump for her plastic therapy horses.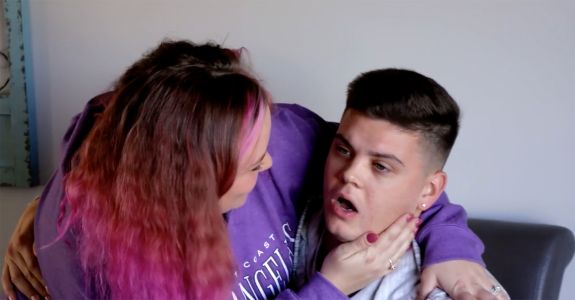 Until next time, kids, hold on to your IUDs!
To read The Ashley's previous 'Teen Mom OG' recap, click here!
(Photos: MTV)