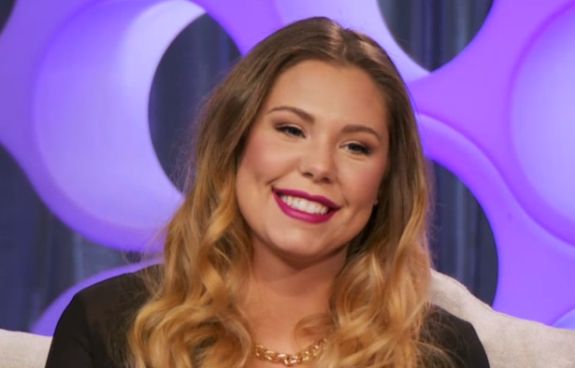 Make some room on your Teen Mom book shelf because yet another Teen Mom 2 star-authored book is coming our way soon!
Kail Lowry announced on Wednesday that her fourth book– called A Letter of Love— is now available for pre-order. According to an interview Kail did with Radar Online, the new book is for her three sons Isaac, Lincoln and Lux. She first announced the book in November 2017 on Twitter, but at the time it was going to be called A Letter to Lux.
"The book was an apology letter to Lux for basically the mess he was born into and how bad I feel," Kail told Radar Online. "But now it's to all three of them."
(As The Ashley has previously reported, Kail and Lux's father, Chris Lopez, have been involved in plenty of drama since Kail became pregnant with Lux.)
"I feel bad and I'm nervous about how a lot of my decisions will impact them or affect them," she told the site in January. So I'm apologizing to all of them and I want them to know how much I love them and I'm working now to pick up the pieces."
Kail revealed more about the new book in a post on Instagram.
"I'm so so so excited for this one," Kail wrote. "Any & all moms will be able to relate to this. From the hardest of times to the happiest of days, it's in here. Single moms, working moms, married, everyone."
Her other books include two autobiographies- Pride Over Pity in 2014 and Hustle & Heart in 2016, as well as the children's book Love Is Bubblegum in 2015.
Interestingly, Kail has ditched the publishing company Post Hill Press, which published her previous three books (as well as most of the other 'Teen Mom' stars' books). She is now working with the publishing company 13th & Joan, which was due to publish the joint tell-all she was working on with her ex-husband Javi Marroquin last year before it got squashed.
Anyway, Kail has announced that she will be embarking on a book tour to promote A Letter of Love. The first signing will take place at the Los Angeles Book Festival on April 21.
While most of the stars of the 'Teen Mom' franchise have released books, Kail is now second to only Farrah Abraham for most titles to her name. To date, Farrah has published five books: an autobiography, a children's book and three sexy-time novels.
To pre-order Kail's new book, click here.
(Photos: MTV, Instagram)