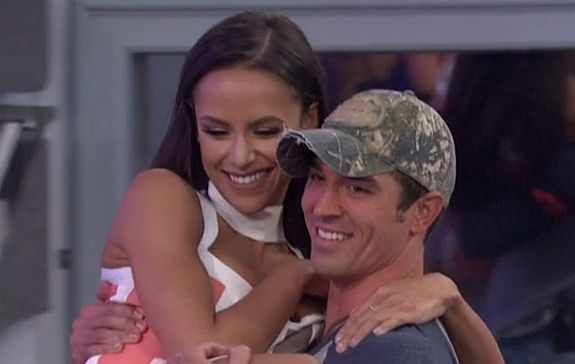 After getting through a season of Big Brother and The Amazing Race together, Jessica Graf and Cody Nickson have decided to be teammates for life!
The 'Big Brother 19' stars are officially engaged, according to TMZ. The site reports that Cody proposed to Jessica while hiking in Los Angeles on Tuesday.
In a video shot seconds after Jessica said "yes" to Cody's proposal, she can be heard sobbing and appears to have been completely surprised. TMZ reports that the video was shot by a fellow hiker.
"We're told Cody ran ahead of her to make it a surprise, and told the group of people in the area his plan … which is how he had a nice cheering section," the site reported.
Cody and Jessica met while filming 'Big Brother 19' last year and became one of the most controversial "showmances" in the show's recent history. After filming wrapped on 'Big Brother,' Cody and Jessica signed on to star on the 30th season of 'The Amazing Race.' They are currently one of four teams still in the running for the million dollar prize.
Jessica seemed to be hinting that something big had happened on February 13.
"Going to sleep the happiest girl in the world!" she tweeted.
On Thursday, she posted the video of the proposal on her Instagram, along with a sweet caption.
"I said yes! On Tuesday, February 13, my best friend asked me to marry him," she wrote. "He's made my dreams come true every day since we met! I love you + there's no one else in the world for me. You're my person and I thank God for you coming into my life! We were trying to keep it under wraps until we could tell our families but you guys beat us to it!"
Watch the proposal video below:
(Photo: CBS)