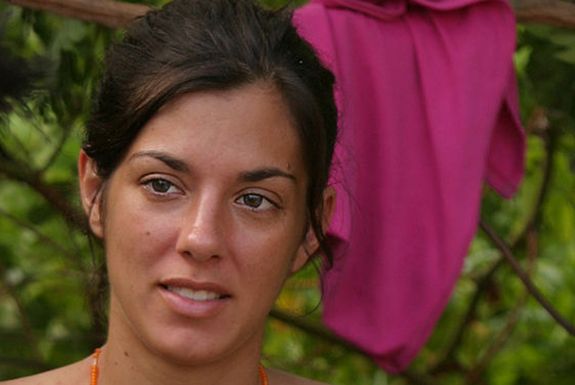 A Survivor winner and fan favorite has fallen from grace, according to a new report by TMZ and US Weekly.
The sites are reporting that "Survivor: The Amazon" winner Jenna Morasca was arrested in late January for DUI and possession of narcotics paraphernalia after allegedly being found passed out at the wheel of her SUV while stopped at a traffic sign in Pennsylvania. Her car (with its custom vanity license plates that read "AMAZON"), was still running when cops approached.
"Upon arrival, cops determined [Jenna] was under the influence…They administered Narcan but she woke up on the way to the hospital," US Weekly reported of the incident, which occurred on January 25. "When an officer tried to subdue her, the reality star allegedly bit [the cop] on the forearm."
TMZ obtained the police report from the incident, which stated that a passenger in Jenna's car was allegedly seen by cops "trying to hide several syringes in a large Ziploc bag in her purse."
Jenna, 37, was reportedly taken to the hospital, but on the way there she allegedly tried to bite paramedics as well.
Both sites report that, in addition to the possession and DUI charges, Jenna will also likely be charged with assaulting a police officer for the bite.
Jenna is best-remembered for taking home the $1 million prize for winning 'Survivor' in 2003. During the season, Jenna and her co-star Heidi Strobel memorably got naked during an immunity challenge in order to get peanut butter and chocolate. (They both went on to pose for Playboy.)
After winning 'Survivor' in 2003, Jenna appeared on 'Survivor: All-Stars' in 2004. She also starred on the 19th season of The Amazing Race in 2011 alongside her then-boyfriend (and fellow 'Survivor' contestant) Ethan Zohn. The couple finished in 10th place.
Jenna and Ethan dated for 10 years, with Jenna supporting Ethan through two battles with cancer. They broke up in 2013, and Ethan is now married to Lisa Heywood. He has not yet commented publicly on Jenna's arrest.
Over the years, Jenna has appeared on a variety of reality TV shows, but more recently, she has kept a low profile. Her Twitter account has not been updated since September 2017, and her last post on Instagram was from October 14, 2017. At the time of the post, she was a veterinary school student.
According to local newspaper Observer Reporter, no charges have been filed against Jenna as of Thursday. However, that will likely change.
"Police will obtain a search warrant for Morasca's medical records to determine if she should be charged with driving under the influence," the newspaper stated.
Several former 'Survivor' players who know Jenna expressed their shock over the situation.
"I am heart broken," Coby Archa, who competed on "Survivor: Palau" tweeted after the news broke. "I have reached out to her many times the last month and never heard back….now I know why…"
"TONS of love, Jenna. Call me," Richard Hatch, another 'Survivor' winner who competed on "All-Stars" with Jenna, tweeted. "Come spend time with me in Rhode Island. I'm lonely."
(Photo: CBS)