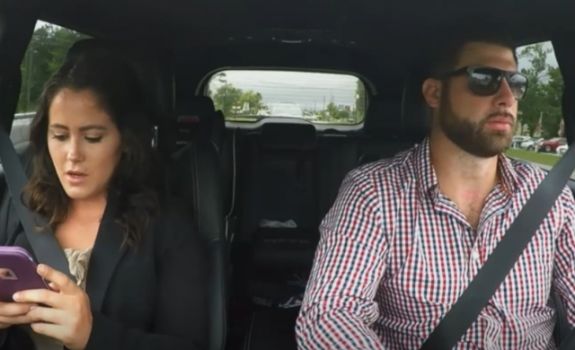 David Eason caused quite a stir when he posted a series of homophobic tweets to his Twitter account on Monday, causing Teen Mom 2 fans to express their outrage (and even start a petition to have David and his wife Jenelle Evans kicked off the show).
Fans weren't the only people upset by David's tweets (in which he compared gay and transgender people to dogs and called them "abominations," among other things). In the hours after the tweets went viral, members of the Teen Mom casts took to social media to express their anger about what David said.
"I'm absolutely disturbed by the comments David made regarding gay & transgender parents," Kail Lowry tweeted. "People are removed from shows for comments like that."
Randy Houska, the father of 'Teen Mom 2' star Chelsea Houska, also used Twitter to respond to one of David's comments, in which David stated that he'd "rather be totally radical than to walk around acting like I'm perfect."
"Being an intolerant, homophobic racist is not being 'radical,'" Randy tweeted to David. "It is being stupid. In the meantime, I suggest you all report @davideportcity to @Twitter for the racist, homophobic hateful garbage he is posting."
It should be noted that Kail and Randy have been at odds with Jenelle and David for a while now. However, David's comments were enough to make cast members who haven't battled with the Easons in the past speak out.
Leah Messer retweeted Kail's statement, then added her own in a separate tweet.
"They need HELP! Something needs to happen! This is all disturbing to say they least, but not surprising!" she wrote.
"This is not the example we should be setting for our youth," former Teen Mom OG star Simon Saran wrote. "I have many trustworthy and hardworking individuals that are gay and lesbians. They are outstanding individuals. I'm proud to have them on my team. This is actually embarrassing to see someone say this."
"What a f**king idiot that's all I'm saying lmao," Jeremy Calvert wrote right after the news of David's tweets went viral.
Lindsey Nicholson, who starred on 16 and Pregnant, also used Twitter to voice her anger.
"Disgusting. Who the hell is he to judge?!" she wrote. "Some of the nicest people I know are gay. How could someone be married to a guy like that."
Farrah Abraham, who was fired from 'Teen Mom OG' for a variety of things, including her continued participation in the adult industry, retweeted a fan's comments that stated it was unfair to get rid of Farrah but keep David on the show.
"If they fired @F1abraham they should fire David and Jenelle! Homophobia is not acceptable! #FireJenelle," Farrah retweeted.
The Ashley hears that members of the crew and production team who work on the show were also upset by what David wrote, and the show's top producers are definitely aware of the situation.
The Ashley has reached out to the network for comment, but has yet to hear back.
(Photo: MTV)