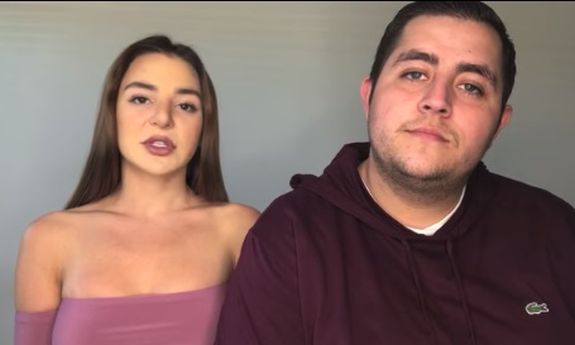 In a new YouTube video, 90 Day Fiance stars Jorge and Anfisa Nava are speaking out about his recent arrest, her immigration status, those breakup rumors and more!
As the show's fans may have heard, Jorge was arrested earlier this month in Arizona for allegedly "carrying 293 pounds of high-quality marijuana in his vehicle." Starcasm broke the news that Jorge—who we first met on the fourth season of the show—was booked in Mohave County, Arizona, on marijuana possession and distribution charges.
Although Jorge is a licensed marijuana dealer in California, he was in Arizona at the time of his arrest, which means he has to contend with the state's notoriously tough pot laws.
After the news of Jorge's arrest went viral, Jorge and Anfisa decided to set the record straight about what was circulating in the media about them.
"Hey guys, I'm sure a lot of you have already heard the news of Jorge's arrest," Anfisa says in the YouTube video. "And I've seen so many different versions of what happened online. And not all of them are correct. I had various media outlets reach out to me trying to get my comments on the matter. But I've decided to just make my own video to tell you everything. And you know, who can tell you about this situation better than Jorge?"
Then, Jorge grunts onto the screen.
"The only thing I can confirm is that I was arrested on February 7th and I was bailed out by my wife two days later," Jorge says. "So I had to spend two days in jail. Other than that, due to the delicate nature of my case, I can't really talk to the media. I can't interview [with] anybody. I can't talk about the details until this is over."
Anfisa added that we should not believe everything we read in the media.
"The only people who have facts is me and Jorge," she said. "So if you have questions, unfortunately we can't answer all of them. But you'll find answers only coming from me or Jorge. Because if you find something somewhere else, it may not be true."
Jorge's wacky-tobaccy arrest wasn't the only topic the couple discussed in their video. Fans have been speculating that a possible conviction could put Anfisa's immigration status at risk, but Jorge debunked that rumor.
"Anfisa's green card would not be affected by what happened," Jorge assures us. "So she ain't going anywhere on my watch."
Anfisa also addressed the rumors that she and Jorge had split in recent months.
"Some time ago I made a post on my Instagram saying that I would like to keep my personal life private but due to the crazy amount of speculation that's going on, I just decided it's better to share with you that we're still together," she added. "Obviously as of 2018…"
Jorge interjected to clarify the last part of Anfisa's statement.
"As of 2018? We've never not been together!" he said.
"We've never really broken up," Anfisa added. "Yes we had our fights just like any other couple but we're working through it. You know, everybody fights. Everybody is crazy."
Jorge and Anfisa told their fans that they would continue to post new YouTube videos. They then encouraged the show's viewers to try to get the groan-inducing couples' hashtag of "#Jorfisa" trending.
Watch the video below:
(Photo: YouTube)