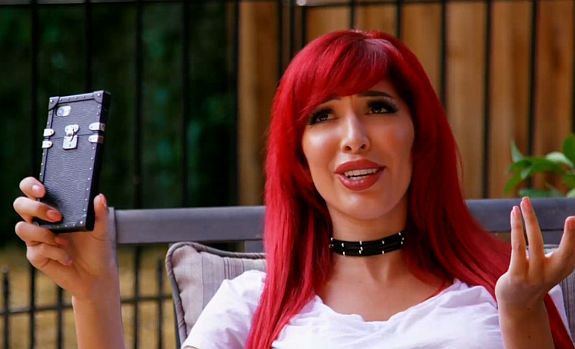 File this under: "WTF Farrah?"
Teen Mom OG fans are expressing their shock online over an interview that Farrah Abraham gave TMZ on Thursday night. The news outlet's team, who caught Farrah coming out of a Los Angeles restaurant, asked Farrah to comment on a photo that Kim Kardashian recently posted online that shows her four-year-old daughter North snapping a pic of her topless mom.
Farrah did, indeed, comment on Kim's pic…and offered some insight into her life at home with her own nine-year-old daughter, Sophia, that some 'Teen Mom' fans found disturbing.
Farrah said that she saw nothing wrong with Kim's daughter taking a topless photo of her because it sounds like a typical day at her own house.
"My daughter and I, we run around the house naked and we just live life free," Farrah said before adding the part that some people found creepy.
"I mean, we have naked pictures on our phones of each other because we're like a mom and daughter crew," Farrah stated.
The people that Farrah was with seemed to find that statement surprising, so Farrah added something to try to make what she had just said a bit less…awkward.
"My mother has pictures of me, being a baby, running all over the yard naked," Farrah said.
As soon as TMZ posted the interview on Friday night, fans quickly added their thoughts.
"She is basically admitting to a crime as far as I'm concerned," one person wrote on Twitter, insinuating that having naked photos of a child of Sophia's age was illegal.
"Please tell me she's talking about baby pictures of Sophia on her phone or something. Please tell me that is what I am hearing about, not pics of a nine year old," another person tweeted.
"Wait a second did she just say she has naked pictures of her child on her phone? Wow she is truly the dumbest person on earth," one person wrote in the comments section of the TMZ story.
In the same interview, Farrah made several other interesting  statements. While discussing the lawsuit she has pending against Viacom and the producers of 'Teen Mom OG,' Farrah stated she was ready to do battle in court over the producers firing her from the show for what she says was her continued work in the sex industry.
"I've never lost any lawsuit I've ever been in," she said. "My legal team is ready, Viacom's not ready."
She also stated that having a sex tape is no big deal. After all, she claimed, "every celebrity has a celebrity sex tape."
Um…
Farrah also told the interviewer that she knows her lawsuit against Viacom, etc. will have a global impact.
"Women aren't treated equally so I just do what's right," she said. "If nobody else wants to change the world for the better, then that's fine but I want to and that's my prerogative I guess."
Watch the interview below:
(Photo: MTV)