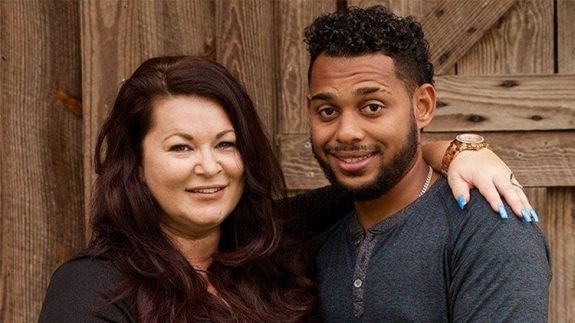 Another 90 Day Fiance couple is heading to Divorce Court!
Season 5's Molly Hopkins and her Dominican-born husband, Luis Mendez, have begun the process of divorcing. Reality Blurb broke the news that Molly filed for divorce from Luis on January 23 in her home state of Georgia using her married name, Molly Mendez. Luis was reportedly served with the divorce papers on the same day.
The split seemed inevitable, given that Luis posted to Instagram in January that Molly was divorcing him. When a fan asked for his contact information he replied, "I can't give my social media now bc she is divorcing me, and I have to respect now but when she is done about that I can give it so…"
Molly and Luis' marriage was short-lived. Starcasm was the first to reveal that the couple got hitched on July 20, 2017, and that they officially separated on January 5, 2018.
The divorce papers revealed that Molly stated that she was "entitled to a divorce from Defendant in the statutory grounds that the marriage is irretrievably broken with no hope of reconciliation."
Molly is also trying to keep their finances separate. (It is not known if the couple had signed a prenup.) In the divorce papers, she stated that the "parties have acquired no marital property" and asked that "all material assets and debts, if any, be equitably distributed by the court."
Molly also seemed concerned about what will happen to her stuff. She asked the court that Luis be "restrained from transferring or disposing of the property of the parties."
Luis doesn't seem to be too distraught over the matter, however, because he is busy posting topless Instagram pics and trolling for ladies.
Molly and Luis are just the latest couple from the "90 Day Fiance" franchise to split. In January, Season 2's Jason and Cassia Hicks announced that they are divorcing. Several other couples from Season 2 have already headed to divorce court including Danielle Mullins and Mohamed Jbali, whose nasty split has played out on TV and on social media for over a year. Chelsea Macek and Yamir Castillo, also of Season 2, are officially divorced as well. Their split was finalized in December 2016.
(Photo: TLC)