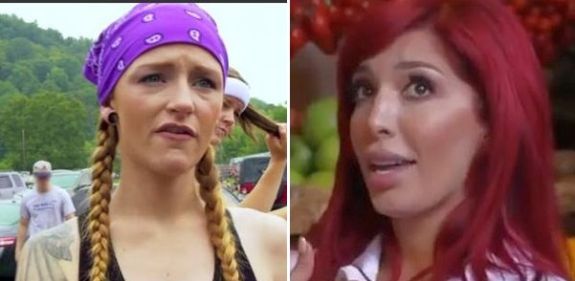 Teen Mom OG fans were surprised when The Ashley broke the news on Monday that Maci Bookout will be appearing on the upcoming season of Naked and Afraid— a show in which Maci will strip down and try to survive in the wilderness without food, shelter or clothing.  While some fans were excited to see the 'Teen Mom' compete on the show, not everyone had encouraging words for Maci.
Farrah Abraham, Maci's former 'Teen Mom' co-star and current nemesis, told The Ashley that she found the situation humorous.
"The irony of this is hilarious," Farrah told The Ashley in a statement.
"Hopefully she has fun on her p0rnographic show; [it] sounds tragic," she added.
Of course, Farrah's feelings may be the result of Maci reacting negatively to being on a show with Farrah after Farrah's sexy-time Backdoor film was released in 2013. At the time, she was very outspoken about not wanting her son on a show that promotes p0rn, etc. because of how Bentley's classmates would react.
Obviously doing 'Naked and Afraid' is very different from starring in adult movies, but some fans called Maci a hypocrite after the news broke.
"What the hell? She gave Farrah s**t for doing p0rn and banning Bentley from filming. Now she did a naked TV show?! Lost respect for her," one viewer tweeted.
"I like Maci but that's a bit hypocritical," another fan wrote. "Isn't she worried that Bentley's classmates will talk about his mom being on 'that show where they're naked'…?"
Farrah's father, Michael Abraham— who has also battled with Maci in the past– told The Ashley that he's looking forward to watching Maci's episode.
"'Naked and Afraid' is actually one of my all-time favorite shows; I love it," he told The Ashley. "I wish Maci nothing the best and I hope it was a positive experience for her. I'm excited to watch it. Out of respect to [Maci's husband] Taylor [McKinney], all I'll say is that I'm excited to get to finally see all of Maci's tattoos!"
Maci will be competing on some sort of "Celebrity Edition" of the show, but Michael says he doesn't predict that Farrah follow suit any time soon.
"As far as [Farrah] doing a survival show, I don't see that happening, but you never know," Michael said. "Farrah's not a very good swimmer, so that would make something like that hard. But you never know."
No air date for Maci's episode of 'Naked and Afraid' has been given yet; however the new season of the show premieres March 11 on Discovery.
(Photos: MTV)