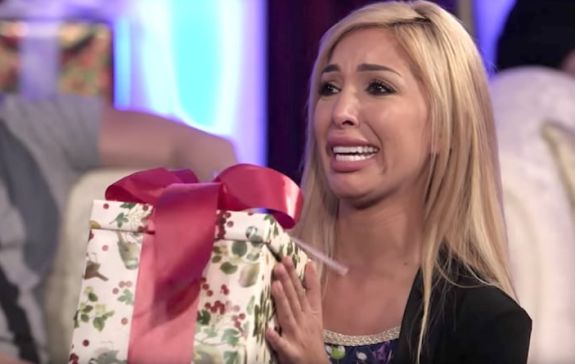 Prepare to be shocked: Farrah Abraham and stuntman Aden Stay have called it quits.
(Hey, they lasted longer than a lot of us thought they would!)
Their "relationship" made it less than a week, even though the former Teen Mom OG star called what she had with Aden "love at first sight" and "rare."
Radar Online broke the news of the split, while People spoke to Aden, who revealed his "relationship" with Farrah only consisted of two dates!
"She's a nice person from what I got to know on the two dates we went on," Aden told People. "But that's as far as it went. I think the whole thing got blown a little out of proportion because of her role on her show."
Obviously, Farrah was making it seem like there was much more to her relationship with Aden than there really was. In her interviews last week, Farrah was boasting that she knew this "relationship" had staying power, and that she was planning to go to Hawaii to meet Aden's two daughters.
When confirming the split to People, Farrah (naturally) put the blame on Aden,insinuating that he was only using her for her fame.
"I need to watch whom I date as many men target me for my success. I'm focused on work right now between TV and film projects," Farrah told the magazine. "I wish him well, but I'm not rushing into relationships and I like to take my time to do it right for myself and my daughter. Being the best parent I can be is my priority."
In his statement, Aden denied he was using Farrah for her fame.
"Our split had nothing to do with success. I have zero desire to be famous," he said. "I never even knew she was on a reality TV show that I've never even seen, or heard of. No offense to the show."
Before Aden, Farrah had dated Simon Saran on-and-off for several years. (Click here to see how Simon reacted when Farrah announced her "relationship" with Aden.) After news of Farrah and Aden's split broke, Simon tweeted a link to the story along with the caption, "This is my favorite kind of circus! #clowns #brokebitches"
As for Aden, he was in a relationship with actress Rebel Wilson before "dating" Farrah.
(Photo: WEtv)