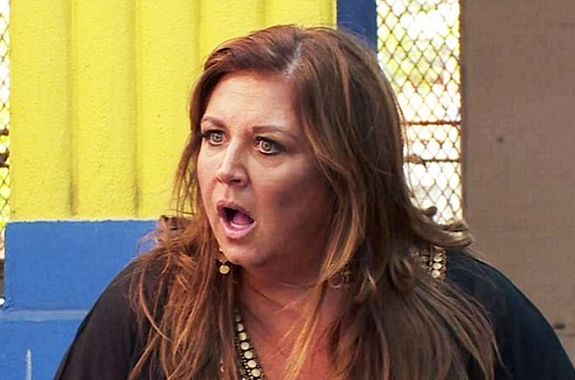 It looks like former Dance Moms coach and current inmate Abby Lee Miller will be doing eight-counts to "Jailhouse Rock" a little longer than expected, due to her planned early release from prison getting delayed.
As The Ashley previously told you, Abby was set to be released from the slammer on February 20, with plans for her to transfer to a halfway house for an unknown period of time. Had she been released on February 20 as planned, Abby would have served less than half of her 366-day sentence for bankruptcy fraud.
However, it looks like her tap dancing will be limited to the prison concrete for the time being due to what her prison consultant and coach Jennifer Myers is calling a "shift in the protocol of the Bureau of Prisons."
"Basically, the prisons pay for the inmates to go to halfway houses," Jennifer told ET last week. "In the past, let's say each warden had a budget for 80 halfway house beds per month, they were often releasing 20 women to beds instead because they wanted to help get them out. But the director of Federal Bureau of Prisons, Mark Inch, started a crackdown on the budgets and is making sure they don't go over budget anymore."
Jennifer confirmed that February 20 was the intended release date for Abby and that papers for her release were issued, but the prison's budget (or lack thereof) is the reason she remains in the Victorville, California, Federal Correctional Complex.
Apparently Abby wasn't privy to the last minute change of plans and is upset over the delay.
"Abby just didn't get out, that's how she found out about it," Jennifer continued. "It was a pretty upsetting thing for her over the weekend to not be able to talk to anybody and find out what was happening. It didn't make any sense. She had her halfway house plan and they just weren't communicating with her that it wasn't happening anymore."
According to Star magazine, Abby is furious about the situation and feels as if she is being targeted.
"Abby had a nuclear meltdown over this," a source told the magazine. "She had her bags packed, so to speak. She was ready to go."
Jennifer said Abby is now awaiting new release papers, but it's unknown just how long that wait will be.
"At this point they are trying to figure it out," she said. "They are submitting to get her a new out date and get her another bed, but it has to go through many different places in the Bureau of Prisons to even get that new out date."
With her reported 100 pound weight loss following gastric bypass surgery last year, we're sure Abby is anxious to make her return to civilization… and maybe even to reality TV. The dance instructor has reportedly requested quite a few surgeries post-release, including a tummy tuck, breast lift and excess skin removal.
As of right now, though, Abby is still behind bars in Victorville. According to online inmate records, Abby's current release date is listed as June 21.
(Photo: Lifetime)