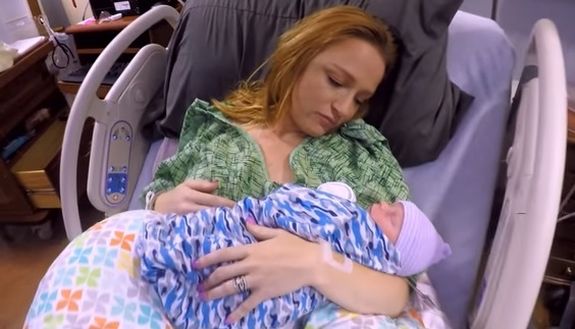 Note: This post has been updated as of October 2018! 
Babies are a big part of the Teen Mom franchise. After all, the girls from the show became famous for getting knocked up in their teens. The 'Teen Mom' stars all gave birth to their first kids on 16 and Pregnant, but there have been plenty more trips to the delivery room for them in the years that they have been filming 'Teen Mom.'
This seemed like a good time for The Ashley to take a look at all of the 'Teen Mom' franchise babies…by the numbers!
(Note: The following data includes the eight original girls from 'Teen Mom OG' and 'Teen Mom 2' only. It does not include the casts of 'Teen Mom 3' or 'Teen Mom: Young + Pregnant,' or the cast additions to 'OG' or 'Teen Mom 2.') 
0          Number of 'Teen Mom OG' babies that were born in wedlock. (None of the babies belonging to the female stars of the show have had parents that were married at the time of their births.) 
1          Number of 'Teen Mom' babies that came very close to being named Saychelle (It was Farrah's daughter, Sophia, by the way.)
 1          Number of 'Teen Mom' babies that share a middle name with their mother (It's Amber's daughter Leah, whose middle name is LeAnn like Amber's.)
1           Number of 'Teen Mom' babies that share a birthday with their mother. (It's Chelsea's daughter, Layne. Both were born on August 29.)
 1          Number of 'Teen Mom' girls who have had C-sections (Leah Messer has had two—one with her twins and one with Addie.)
 1        Number of 'Teen Mom' girls who were pregnant on their actual wedding day (It was Chelsea…Kail was not pregnant on the day she officially married Javi.)
1          Number of 'Teen Mom' girls who were filmed taking a pregnancy test…on the toilet (The toilet-sitter was Catelynn, in case you were wondering.)
 2          Number of 'Teen Mom' babies born in 2008 (They are the show's oldest kids, Bentley and Leah.)
2           Number of 'Teen Mom' kids who have their father's name as their middle name. (They are Chelsea's son Watson Cole, and Amber's son James Andrew.)
3          Number of 'Teen Mom 2' kids born in the month of January (They are Chelsea's son Watson, Kail's son Isaac and Jenelle's daughter Ensley.)
3          Number of times Maci refused to allow cameras into the delivery room to film her births (During Bentley's birth she purposely waited to call producers so that they would miss filming the birth for "16 and Pregnant." For her other two births, she just refused to have it filmed.)
4          Number of 'Teen Mom 2' kids born in wedlock (Leah's daughter Addie, Kail's son Lincoln,  Chelsea's son Watson and daughter Layne were all born while the mom was married to the baby's father.)
4          Number of 'Teen Mom' kids that weighed less than six pounds at birth (They were Leah's twins, her daughter Addie and Chelsea's daughter Aubree.)
4          Number of hours Catelynn spent in labor with Carly
5          Number of weeks premature Chelsea's daughter Aubree was
7          Number of 'Teen Mom' moms who have at least one tattoo for their kid(s). (Chelsea has tattoos but none that are kid-related, while Farrah has no tattoos.)
 7        Number of years after Aubree's birth that Chelsea waited to have Watson
 7        Number of months pregnant Kail was during her second wedding to Javi
 8        Number of children that have been born to (or are about to be born to) the 'Teen Mom OG' girls (by 6 different dads)
8          Number of weeks it took Kail to finally name her son Lux after his birth
9          Number of years Amber waited after having Leah to have another child
10        Number of years old the oldest 'Teen Mom' kid (Bentley) will be in 2018
12        Number of pregnancy tests Maci says she took before she finally believed she was pregnant with Jayde
 12        Number of people present in the hospital room when Kail gave birth to her son Isaac (This included two cameramen, two producers, Kail's mom, Jo, Jo's mom, a doctor and several of Kail's friends.)
12       Number of babies born to the original 'Teen Mom 2' girls (by 10 different dads)
16        Number of hours Kail spent in labor during Lincoln's birth
21        Number of weeks pregnant Maci claims she was when she found out she was expecting Maverick
30        Number of hours Maci labored with Bentley before finally getting an epidural
80        Number of minutes (!) Chelsea's labor with Watson lasted, from start to finish
200      Number of miles Barbara drove Jenelle to get her abortion in 2013
367      Number of days between the birth of Maci's daughter Jayde and her son Maverick
581       Number of days between the birth of Chelsea's son Watson and her daughter Layne
33,655    Number of babies named Bentley in the six years after Maci's "16 and Pregnant" aired
42,500  Number of Twitter follower 'Teen Mom' kid Sophia has
1.88 million    Number of 'Teen Mom 2' viewers who watched Jenelle give birth to Kaiser in a 2014 episode
If you enjoyed this "By the Numbers" post, click here to read The Ashley's "Teen Mom Weddings: By the Numbers!"
(Photo: MTV)