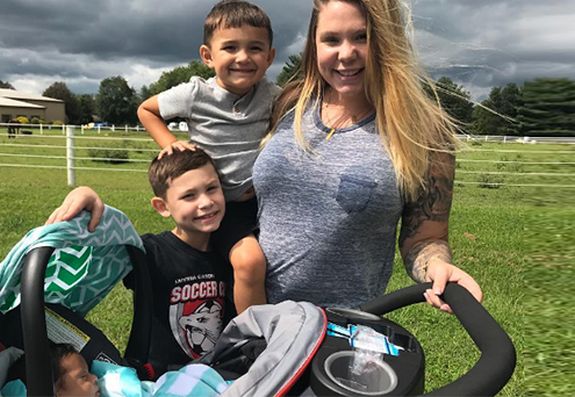 Kail Lowry may be the first girl from the Teen Mom franchise to become a mom of four!
The Teen Mom 2 star spoke candidly on the latest episode of her podcast Coffees & Convos about wanting another baby. Kail, who is already the mother of eight-year-old Isaac (with ex Jo Rivera), four-year-old Lincoln (with ex-husband Javi Marroquin) and seven-month-old Lux (with Chris Lopez), revealed that if she does have another kid, she'd like to do it soon!
"I want more kids, and it's crazy because you're like, 'Kail you have three kids by three people, why the hell would you want more kids?' But I don't know, I feel like I want one more," Kail said during the episode.
Her co-host, Lindsie Chrisley was not in favor of Kail having a fourth baby.
"You already have a zoo!" Lindsie joked.
Kail–who is not currently pregnant–stated that she thinks it would be best to have another baby while her youngest son, Lux, is still in the baby stage.
"I feel like having kids [two years apart] makes more sense for them to be best friends, but Isaac and Lincoln are best friends," she said. "I just feel like if I had another one that was close in age with Lux they could be buddies. It's also insane of me to think that way, but why am I going to wait another four years to when Lux is grown to have to start over?"
Kail is no longer with the fathers of any of her children, but she said she's considering cutting the man out of a future pregnancy.
"I'm going to start looking at sperm donors online and just freeze my eggs," she said. "I'm not opposed to freezing my eggs for the future."
She did acknowledge, though, that having four kids from four different places might make it hard for her to have a relationship in the future.
"My fear, if I get pregnant or adopt, my fear is that one day I'm going to be with someone in a committed relationship hopefully for life and if I have all these kids from all these different places, someone is going to be like, 'What the f**k? Why would I get involved with you with all these children?'" she said. "So I guess I should wait—I'm only 26—so I guess I should kind of wait it out and see what the future holds. But I do want another [kid]."
The majority of the 'Teen Mom' girls currently have three children. (Jenelle Evans, Leah Messer and Maci Bookout all have three, and Chelsea Houska recently announced that she's expecting her third.) However, none of the girls have had a fourth child…yet.
Listen to the rest of the Coffee & Convos episode below:
(Photo: Instagram)