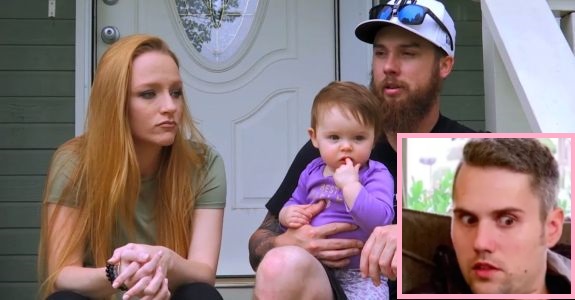 Maci Bookout and her husband Taylor McKinney have had enough of Ryan Edwards and his antics. As The Ashley previously reported, the Teen Mom OG couple filed Orders of Protection requests, asking the court to protect them and their children from Ryan.
Yesterday, Maci's reasons for wanting the protective order for her and her kids were exposed. Today, Radar Online obtained Taylor's protective order request where he describes a chilling threat Ryan allegedly made on his life recently!
In court documents, Taylor claims that Ryan threatened to shoot him just a week before Ryan was arrested for breaking probation from a previous heroin possession charge.
"He called me on Tuesday, March 20, 2018 and threatened to show up at my house and put a bullet in my head," Taylor wrote in his protection order request that was filed on March 23. "The police were called and they suggested to seek an order of protection."
Taylor also claimed that Ryan has threatened to use his son Bentley's sporting events as a way to come face-to-face with Taylor and Maci.
"He has also said he would show up at our son's baseball game and confront us, my wife and I," Taylor said.
Taylor also wrote that Ryan had a "history of drug abuse," and asked that the court keep Ryan away from him and stop him from contacting him.
Taylor's claims are similar to those of Maci, who wrote that Ryan "has left voicemail messages threatening to show up at my house and take my son. He has made threats to show up and hurt me if I don't answer my phone."
A judge continued both cases–Taylor's and Maci and the kids'– until May 21. However, a temporary restraining order remains in place until then. Maci has stated that Ryan has no custodial rights to Bentley currently.
Ryan (and his crew) have yet to speak publicly about the Orders of Protection or the incidents that Maci and Taylor claim occurred. We can assume that the last time Maci and Taylor were near Ryan was at the 'Teen Mom OG' Reunion taping earlier this month in New York City.
(Photos: MTV)