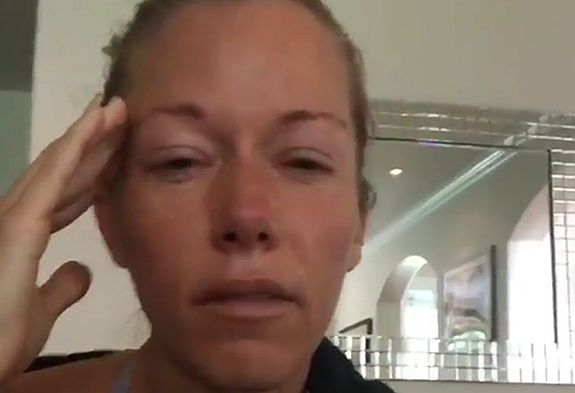 It appears that Kendra Wilkinson and Hank Baskett are finally getting that divorce that they've been talking about for multiple seasons of their reality show Kendra On Top!
On Monday, Kendra posted a tearful video to Instagram Live in which she seemed to be saying that this was the day she was filing for divorce.
"I'm so scared, but I have to get strong for my kids," the former Playboy star said. "I believed in forever, I really did…I guess it's just not meant to be."
While crying, Kendra panned over to a photo from her wedding, which took place nearly nine years ago at the Playboy Mansion.
"I believed," she captioned the image.
Kendra's video (which also featured footage of her just crying silently for the camera…as you do) continued with Kendra talking more about the end of her marriage.
"I never thought I'd see the day, really."
Later, she showed her 2.6 million Instagram followers an outfit she had laid out, captioning the photo, "Picking this outfit was hard.  shaking the whole time." Her next photo showed what appeared to be some sort of conference room (perhaps in a lawyer's office?). Kendra captioned that photo with, "Here we go" and a sad face emoji.
As we've previously reported, Kendra has been airing her marital problems out on social media for months. In January, she wrote that this year "has been the hardest of her life."
While Kendra has cried "divorce" before, (such as when Hank allegedly had an affair with a transgender model back in 2014), this time it appears to be the real thing.
"Today will be the saddest, scariest day of my life," Kendra tweeted on Monday. "I will have to be the strongest I've ever been. Today my rebirth begins."
According to People magazine, Hank has moved out of the house that he shares with Kendra and their two childrren.
Hank has remained silent on the topic. At press time, his Twitter profile photo still features him with Kendra.
After Kendra's emotional posts, her mother Patti Wilkinson (whom Kendra has been estranged from on-and-off for years) tweeted a message that seemed to be aimed at her daughter.
"This life we all live throws us curve balls that tests our strength & abilities," Patti wrote. "Being surrounded by love and support we can do anything we set our minds to. The heart will heal & life will go on. It's going to be OK."
Watch Kendra's tear-filled Instagram Live video below:
UPDATE! Kendra has confirmed her divorce on Instagram.
(Photo: Instagram)