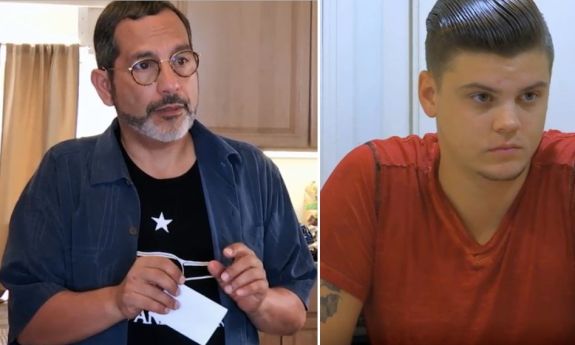 Farrah Abraham's father, Michael is fightin' mad over a story that Tyler Baltierra and Catelynn Lowell told during a recent appearance on Kail Lowry's Coffee Convos podcast!
Last week, the 'Teen Mom OG' couple regaled their fans with a story about Michael confronting Tyler at a 'Teen Mom' Reunion taping over something Tyler said onstage about Michael's parenting. Ty and Cate claimed that the situation escalated to the point where Michael had to be stopped by the show's security team, after going nose-to-nose with Tyler.
"Michael is actually a very interesting character," Tyler said on the podcast. "I never actually told anybody this but he physically got in my face and wanted to fight me about two reunions ago!"
However, Michael claims that Tyler and Catelynn made up the story. In an emailed statement sent to The Ashley after she posted the original story, Michael denied Tyler and Catelynn's story.
"The reason why Tyler 'never actually told anyone' is because it NEVER HAPPENED," Michael wrote in his statement. "Everyone knows that if that would have happened the production company and MTV would have aired it as a public relations stunt. The world knows that MTV films everything and everybody at all reunion shows."
Michael also denied that he ever had to be stopped by MTV's security while trying to fight Tyler, as Catelynn stated on the podcast.
"I have NEVER been pushed down on a couch by security at any reunion show filming," Michael wrote. "The only time reunion security had to do anything with me physically was when they were protecting me during the time that Matt Baier attacked and assaulted me three reunion ago.
"It's a shame that Tyler and Cate have to make up stories like this," Michael's statement continued. "The last time I was face-to-face with them I shook his hand and hugged her to mend our relationship after the strain that Matt's assault on me caused between everyone on the show.  It's even more troubling that they would say something like this after how kind [my fiance] Amy and I were to Tyler's father Butch at the "That's a Wrap" ['Teen Mom' Special] filming last October in LA. We were the first people to come up and shake his hand and say hello! I've also gone to the extent of complimenting him (Tyler) as being an excellent father this last year repeatedly on social media as he cared for Nova during the time Cate was in rehab."
Michael seemed particularly bothered by the statement Tyler made stating that Farrah and her family were "a whole different breed."
"Tyler and Cate's dad Dave are just like me– we will do anything to love, care and protect our daughters," Michael said. "It's so sad that even after we (Farrah and her family) have moved on and have wished everyone the very best, the hate from others continues and there is no valid reason for it. We are extremely happy and living our lives in a healthy and positive way, why can't everyone else do the same?"
No other cast members (on either side) have spoken out about the alleged Michael-trying-to-box-Tyler incident. The incident was not filmed and did not air, therefore The Ashley does not know if it occurred (as Tyler and Catelynn said) or did not occur (as Michael is stating).
To listen to the episode of the Coffee Convos podcast featuring Cate and Ty, click here!
(Photos: MTV)