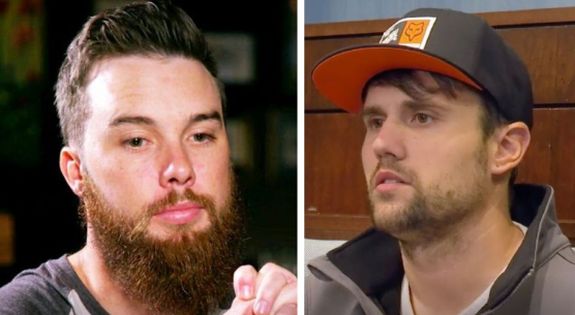 Last week, The Ashley broke the news that Teen Mom OG stars Maci Bookout and Taylor McKinney had filed Orders of Protection against Maci's ex, Ryan Edwards, in a Tennessee court. Taylor had filed his own request against Ryan, while Maci had filed one for herself and her three children: Jayde and Maverick (whom she shares with Taylor) and Bentley (her son with Ryan).
Both requests were to be heard in a Tennessee courtroom on Monday afternoon. While Maci's hearing results are pending, a Hamilton County Circuit Court rep tells The Ashley that Taylor will have to wait nearly two months to have his case heard!
"[That case] has been reset for May 21st," the clerk stated. "It does not appear that [Taylor's case] was heard today."
The clerk also stated that the temporary protection order remains in place
On Monday, The Blast reported that, in the documents that Maci and Taylor filed against Ryan, they requested that their two dogs, Bonnie and Clyde, also be protected by the Order. She reportedly checked the box requesting that Ryan "must not hurt or threaten to hurt any animals owned or kept by the Petitioner/Petitioner's children."
In addition, Maci reportedly alerted the court that Ryan does own a gun. The site reports that Maci also checked the box on the form that indicates "a weapon was involved in the threats made by Edwards, but the exact details are unclear."
(As Roundup followers know, Ryan was investigated by his local police back in August 2016 after he posted numerous disturbing photos of himself to social media, showing off his weapons and bragging about using them to shoot cats. He was not ultimately not charged.)
Radar Online obtained the Order of Protection forms that Maci filled out for her and her kids. On the forms, Maci explained why her family needed protection from Ryan.
"He has left messages threatening to show up at my house and take my son," Maci wrote. "He has made threats to show up at my house and hurt me if I don't answer my phone."
She also detailed a scary incident that went down at one of Bentley's sporting events.
"In May of 2017 [Ryan] showed up to my son's baseball game under the influence of heroin and got in my face, yelling and threatening to hurt me," Maci wrote. (This alleged incident took place the same month that Ryan married Mackenzie the first time.)
"I fear for my son's safety because of these threats and proof that [Ryan] drives while under the influence. His behavior and actions are getting worse," Maci added. "I am fearful for my three children and myself, and what he may do, based on his threats."
She also indicated that, currently, Ryan has no custodial rights to Bentley.
Taylor and Maci have yet to speak publicly about the Orders of Protection requests they filed. Ryan has also remained quiet about the pending requests against him.
However, last month, Taylor bashed Ryan and his pregnant wife, Mackenzie on Twitter. It marked one of the first times that Maci's husband spoken out publicly about his wife's ex.
Well when you have 2 jobless adults, one of whom is 30 years old and still needs his ass wiped, what do you the dinner convos to be? ??‍♂️ They should thank Maci for paying their "nursing school"….but that's none of my business ☕? https://t.co/Ij2Ay83Pz6

— ™ (@tmon3yy) March 20, 2018
The Ashley will update this story when more info is available.
(Photos: MTV)