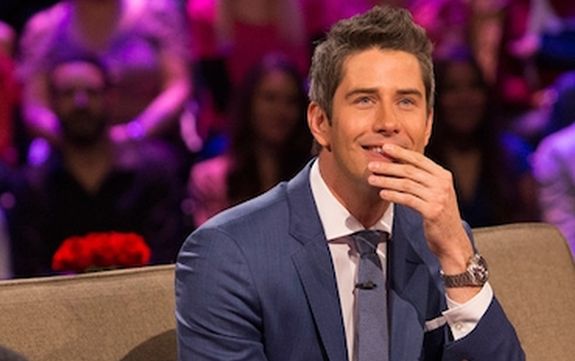 Much like Arie Luyendyk Jr.'s personality throughout his season of The Bachelor, his April Fool's Day joke fell flat.
The former 'Bachelor' star managed to piss off a large number of his followers when he posted a photo to his social media accounts on Sunday of his fiance Becca Kufrin Lauren Burnham sticking her belly out while wearing a cocktail dress, along with the caption, "Secrets finally out, we have a bunny in the oven!" (Sunday was also Easter, hence the 'bunny' reference.)
Secrets finally out, we have a bunny in the oven! @laurenburnham91 pic.twitter.com/Mmx50ePDaB

— Arie Luyendyk Jr. (@ariejr) April 1, 2018
Although he tagged Lauren in the post, she did not actually repost it herself. 'Bachelor' fans sensed that Arie was attempting to make an April Fool's joke and that Lauren (who had been drinking on social media just days ago) was not really pregnant.
Even 'Bachelor' guru Reality Steve commented on Arie's "joke."
"This is a joke," Reality Steve tweeted. "And a horrible one at that. But then again, look at who you're dealing with. The replies to this tweet are all you need to know what people think of this bad April Fools joke."
Eventually, Arie revealed that his post was a joke and that Lauren was not pregnant. He later apologized (sort of), writing on social media, "Sorry if you were offended but we really are making a Dutch baby." He then posted photos of a recipe for a "Dutch Baby" dessert.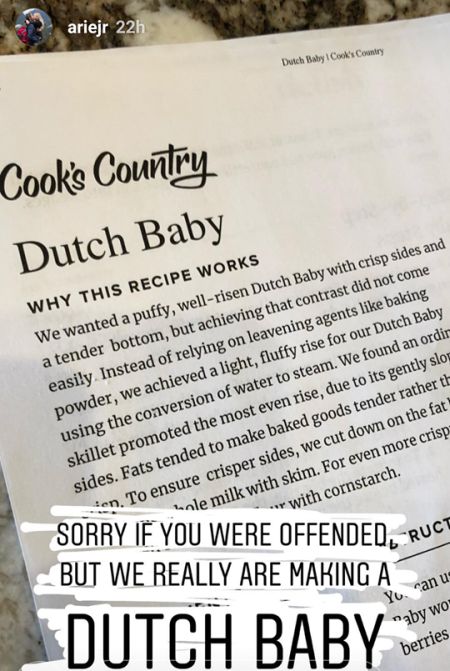 Apparently Arie never got the memo that it's no longer appropriate to fake pregnancies for April Fool's Day, but his followers scolded him for being so insensitive to those struggling with infertility and miscarriages.
"This just in: If Arie and Lauren weren't already the most hated couple in bachelor history, they certainly are now! Come on dude, do you live under a rock?!" one person tweeted to Arie.
"Hope this isn't a joke, a lot of people cannot have children, have lost a baby, struggle with infertility. This is cruel April Fools Day joke if a joke," another Twitter follower wrote.
One person even reminded Arie that his pal, Sean Lowe, and his wife Catherine Guidici once attempted this same April Fool's Day joke…and got racked over the coals for it.
"Well that backfired, guys. Any PR team would've told you not to do this. Or Sean and Catherine — did the same thing years ago and it backfired," the person tweeted.
On Monday (after he had been ripped by numerous media outlets and social media followers), Arie finally made a real apology.
"I do have sympathy for women struggling from infertility," Arie tweeted. "My April Fools prank was in no way meant to offend women who struggle with that. I apologize if you were effected personally by my post."
(Photos: ABC, Twitter, Instagram)