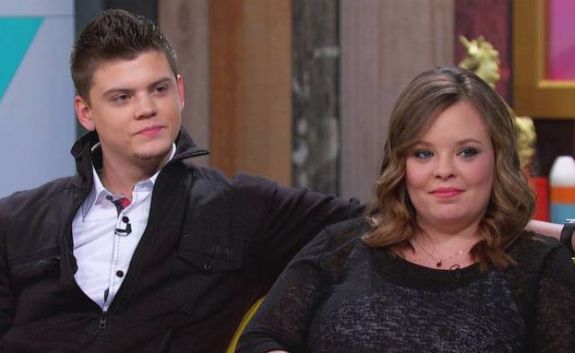 Catelynn Lowell and Tyler Baltierra's appearance on Kail Lowry's Coffee Convos podcast last week sparked quite a bit of controversy (what with them talking about a time where Farrah Abraham's father Michael allegedly tried to fight Tyler, which Micheal later denied happened). However, the Teen Mom OG couple shared a lot of interesting info on the podcast that has gone unnoticed so far, including the ventures they have planned for the future.
Cate and Ty told Kail and her co-host Lindsie Chrisley that they have a few things in the works that focus on two topics that are dear to them: mental health awareness and adoption.
Tyler and Catelynn, who have both been open about their mental health struggles on 'Teen Mom OG,' shared that they are currently attempting to convince MTV to turn its spotlight on mental health issues, given that many of the 'Teen Mom' stars have mental health issues. (Kail has stated she struggles with bipolar disorder, while Amber Portwood has bipolar disorder and borderline personality disorder.)
"We're talking to MTV and trying to come up with a couple different pitches for a mental health special," Tyler said. "Ironically 'Teen Mom' has had a lot of mental health [issues] that have been covered on a lot of the stories. We really want to do a public thing, possibly with Dr. Drew [Pinsky].
"The hard part is crafting a message and making it be genuine and not just trying to cash in on this thing we've got going on," Tyler added.
Catelynn opened up about her recent struggles. At the time of the podcast interview, she was three weeks out of her most-recent rehab stay.
"I feel way better," Cate said. "I did a whole med switch and genetic testing. I found out that the medication I was on for five years doesn't even work for me. They put me on different medications and they seem to be working really well. It all stems from the trauma of my past so I'm going to have to keep digging into that."
The couple also revealed that they are planning their next book. (As we know, the 'Teen Mom' franchise stars love to write books!) Tyler and Catelynn released their joint autobiography, Conquering Chaos
, in 2015, but said their next book would focus on the topic of adoption, which they have been advocates for since they placed their daughter Carly in 2009.
"Me and Catelynn have been talking lately about doing an adoption book for kids who are adoptees and for kids who have siblings that have been adopted," Tyler said. "I think it would be cool to explain to the kids, in their language, how [adoption] works."
For more about Catelynn and Tyler's Coffee Convos interview, click here!
(Photo: MTV)