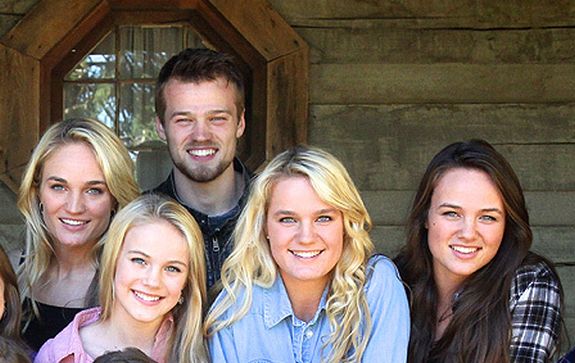 The girls of The Willis Family are finally speaking out.
It's been nearly a year since the family's patriarch, Toby Willis, was sentenced to over 40 years in prison on child rape charges. While news of his crimes and legal drama kept him in the headlines, his family (including his daughters, who were his victims) have remained relatively silent…until now.
For the first time since the arrest of their father, Jessica Willis Fisher and her younger siblings are detailing the harrowing sexual and physical abuse they endured at their father's hand.
As fans may remember, Toby and Brenda Willis and their 12 musically inclined children appeared on the TLC reality show 'The Willis Family' from 2015-2016. However, the show was canceled in September 2016 when Toby was arrested and charged with four counts of child rape. Toby pleaded guilty of the charges in July 2017 and received a 40+-year prison sentence.
The eldest Willis child, Jessica, had mysteriously stepped away from the family band before the news about her father was brought to light. At the time, the family claimed Jessica had departed to focus on a jewelry business, but Jessica took to her website this week to clear up some of the speculation surrounding her story, including the painful events that led to her father's arrest.
"As far back as I can remember, I was sexually abused by my father," Jessica wrote in a long, detailed post. "I figure I was around three years old in some of the earliest memories. Initially, I had no way to know that anything was wrong. When I did eventually come to realize the fact, I had no way to accurately express what was happening to me. There followed immense shame, distrust and hurt throughout my childhood — even in the happy times. Thus ran the two parallel storylines that became my life."
Jessica wrote that, at the age of 9, she began to question her father's behavior after her mother brought forward her own suspicions. She said her mother asked her some general questions, which she responded to with head nods, and she remembers hearing her mother raising her voice at her father for the first time in her life. However, the abuse continued.
"I didn't understand that my father simply denied any wrongdoing and became more secretive and dangerous from then on," she added.
Jessica's letter touched on her father's controlling nature over her and her 11 younger siblings, all of whom were home-schooled, as well as the "constant current of manipulation, domination, fear and favor" they endured. For Jessica, the abuse from her father came and went throughout the years and into puberty. She said the most graphic sexual abuse "faded off" when she was around 17 years old; however, the inappropriate actions and attentions continued, and not just toward her.
"I feel like I truly knew that certain other members of my family were being sexually abused and I felt they knew this about me too," Jessica wrote. "Conversations were had, tears were cried and we questioned how to 'deal' with the 'situation.' But I now realize that since we all were different ages with completely different viewpoints, separate experiences and limited vocabularies, even when we tried to speak to each other, each person thought they were talking about something different."
(Some of Jessica's younger siblings, who were also being abused by Toby, recently told Daily Mail that they did not know that their siblings were suffering in the same way they were.)
In her post, Jessica wrote that her "disturbingly sick" family system got worse as the family's fame grew thanks to their reality TV show. Jessica's now-husband, Sean Fisher, came into her life at the beginning of 2015, causing some strife between her and Toby, who considered the relationship a threat to his own control.
In April of 2015, Jessica wrote that she became aware that Toby was still abusing some of her siblings.
"I came into my hotel room that night to find my mother and some of my sisters sitting on the bed crying with that look on their face I had seen so many times before," she wrote.
"The coolest, blankest pit opened up in my stomach because no words needed to be said for me to know something had happened. How was I here again? I could not stay in denial about my past because it obviously wasn't staying in the past even though at times I had tried so hard to forgive and forget. Things were not over. They had never been over. Sexual abuse was still happening. And I knew it. Deep in my gut."
Jessica said that was the night she told her father she would "not ignore it this time" and would leave as soon as she found a way to do so.
At this point, Jessica was in a relationship with Sean without her parents' consent and while Sean "struggled to make sense of the situation," he shared books and resources with her which helped her understand what she had endured.
"I came to view what my father had done with increasing horror. I was less and less cooperative with him and had to face the mounting consequences," she wrote.
Sean, too, began putting the pieces together and in August of that year, he told Jessica he thought he had "figured out what had happened" in her past. Jessica said until now, she had not shared the details of her abuse for fear of retaliation from her father, but she realized she needed to tell her story. Her first step was writing down the worst abuse in a 14-page document.
"It poured out of me in terrible detail and it was the first time I felt the power of its story," Jessica wrote. "I showed the letter to my mother who was rightly outraged. My father refused to read it and accused me of lying. I had taken the first step towards speaking out, but I had shared my story with another victim trapped in the same prison as me. My father lashed out at both of us with whatever threats necessary to maintain his control and began consistently threatening my mom with the lives of the entire family. I continued to look for a way out on my own but it can seem impossible to jump off a runaway train."
By the fall of 2015, Jessica said she her father stripped her of all forms of communication after she was caught with Sean. She writes that she was basically under house arrest, and often faced violence at the hands of Toby.
Jessica wrote that, in January 2016, Toby physically assaulted her on the tour bus in front of the entire family, though her siblings and mother tried to interfere. The police were ultimately called but when an officer entered the bus, Jessica hid in her bunk to hide the injuries she had suffered. She said her family put on their show faces, too.
In April 2016, the TLC crew had packed up for the season and they weren't the only ones with plans to leave. After an altercation with her brother Jeremiah, Jessica was confronted by her father and beaten with a belt. She was told by Toby it was his "god-given responsibility" to punish her.
"It was in that moment I knew. The threats and violence stopped working. No matter how it happened, I would leave by tonight," she wrote. (The photo below was posted the same month this incident occurred. Jessica had already left by this time and fans were asking what happened to her.)
Jessica said she had tried to leave many times before, but this time was different. Despite threats of further violence and legal repercussions from her father and emotional and religious appeals from her mother and siblings, Jessica stood her ground and moved forward with her escape.
"I had no plan but the immediate steps eventually took shape," Jessica wrote. "Two of my siblings offered to drive me. Sean had gotten me an emergency phone that I had been too afraid to use. I now dug it out from between my mattress and box spring and sent a message saying I was coming out. In every moment of that car ride, I felt I was about to wretch my guts out. I had never felt so physically sick with fear and a grimacing determination."
After Jessica left, she turned to friends, support groups and a therapist where she learned about trauma, abuse, recovery and dysfunctional families. Four months after her departure, a friend of Jessica's reported Toby for suspicion of sexual abuse, which began the official investigation with the Tennessee Bureau of Investigations.
Jessica then explained why she temporarily cut herself off from her whole family.
"I was warned not to speak to my family at this time and if they reached out, I should let the TBI do their job," Jessica wrote. "There was great concern on how to keep everyone alive and safe while trying to apprehend my father. It was no exaggeration to fear a violent confrontation, standoff, kidnapping or worse. It was a harrowing few weeks but my father was finally arrested."
While the investigation unearthed additional things that the family as a whole had been unaware of, Jessica considers healing to be a lifelong process and remains dedicated to her recovery and pursuing an education to ensure she is never held prisoner in such a situation again. She said as she and her mom and siblings move forward with their lives, she is grateful for the chance they've had to heal and continue growing closer to one another.
In an interview with Daily Mail in February, Jessica's sisters, Jasmine, 16, and Jeanette, 22, and Jennifer 23, talked about the abuse that they, too, suffered. At least four of the Willis girls have said that they were "removed by [Toby] from bed and raped" while growing up.
"I didn't speak up because it was like, 'This is so crazy, who's going to believe me?" Jeanette said in a video interview with the site. "I was like, 'How are people going to deal with this?'"
Jeanette credits Jessica coming forward and finally talking about the abuse as the reason she was able to do the same.
"The first time I was able to tell my story is when one of my sisters told her story," Jeanette said. "And it was like, 'Wow, Oh my gosh, I'm not the only one?'"
None of the Willis children have had contact with their father since his arrest and legally, he cannot make contact with them. Each of the Willis children is, however, working to forgive him for their own well-being.
"Every time I wake up in the morning it's a conscious choice and sometimes I don't make it and sometimes I get it right," said Jeremiah, 25. "It's a process I will do for the rest of my life."
"I get to live my life and I get to be joyful and I get to be happy," Jennifer said. "Now there's a whole other side of someone seeking forgiveness and redemption and asking for that and that's something my dad is going to have to deal with on his own."
Despite the hardships she and her family have dealt with, Jessica is grateful for her "beautiful life" and said though she's no longer part of The Willis Clan, she'll always be part of the Willis family.
"I'm excited by the possibilities of the future and the beauty of the now," she said.
"You can view yourself as a victim or you can view yourself as a survivor," Jeanette said in the Daily Mail interview. "I choose to view myself as a survivor and go forward to live a beautiful life after all of this."
The Willis kids are certainly moving forward with their lives. Jeanette (who goes by "Jett") got married in January, while Jennifer is set to get hitched later this year.
Watch the Willis siblings' powerful interview with Daily Mail below.
(Photos: TLC, Instagram)