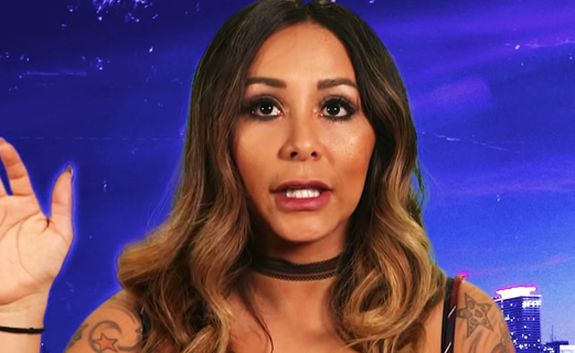 The second season of Jersey Shore Family Vacation is already in the works, but if Nicole "Snooki" Polizzi has her way, Season 2 will have a very different format than the Miami-based season we're currently feasting our meatball-loving eyes on.
While walking the red carpet earlier this month, Nicole said that, while she is committed to doing Season 2, she would likely pull out of the next "Family Vacation" if the season wasn't filmed close to her New Jersey home.  
"Season 2, I would like to be home with my children," Nicole told a reporter for E! News. "I don't want to be away from them again. That was like the worst mom guilt I've had in my entire life."
Since watching Snooki take her kids to the grocery store just doesn't provide viewers the same excitement as, say, watching her rage in a nightclub with her roomies, Nicole said she's willing to compromise.
"Supposedly, it's going to be like a '[Real] Housewives' format where we film three days a week and then we go about our lives and are not sequestered in house for a month without seeing my family," Nicole said.
"If it's like that again I'm pulling out of Season 2," she added. "But yeah, being a mother comes first. So, hopefully they will work with me on that."
At the same event (which took place in early April), Jenni "JWoww" Farley told reporters that filming for Season 2 is "starting in a couple of weeks" and that the cast has not been told where they're going yet. It does not appear that filming has started, though, as the cast has been posting to social media from their homes and appear to be living their regular lives. (Also, there are no paparazzi photos of them filming…yet.)
While Nicole wants to stick close to Jersey, others in the cast want to venture out a bit. Pauly D says he would like to the crew to come to Vegas so he could take them to his house and show them where he DJs. Vinny Guadagnino seconded a vacation in Vegas.
'Jersey Shore Family Vacation' is currently airing on MTV with smashing ratings. It seems everyone wants to relive simpler times when all we had to worry about was our gym, our tans and our laundry.
To read our 'Jersey Shore Family Vacation' recaps, click here!
Watch the 'Jersey Shore Family Vacation' cast talk about Season 2:
(Photos: MTV, Instagram)