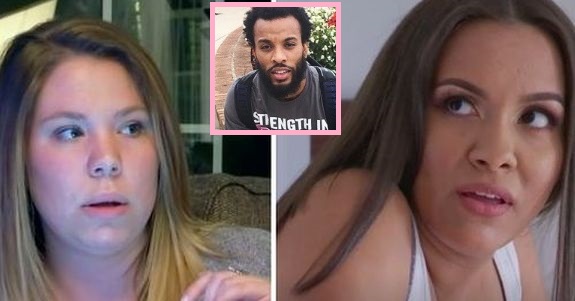 The battle between Teen Mom 2 stars Briana DeJesus and Kail Lowry continues!
Although most of Briana and Kail's fights have been over their mutual ex, Javi Marroquin, this time the online jabs were about another one of Kail's baby daddies, Chris Lopez.
Briana posted a selfie to Instagram on Sunday. By Monday (after the new episode of 'Teen Mom 2' aired), the post's comment section was filled with comments regarding Briana's behavior on the episode. When a fan called Briana out for talking trash to Kail in front of her kids, Briana clapped back with some pretty serious accusations about Chris, who is the father of Kail's youngest son Lux.
The fan said she would have smacked Briana if she was Kail over the recent 'Teen Mom 2' reunion drama.
"Too bad she didn't and would never lol and I wasn't talking s**t and shut the f**k up 'cause she gets beat the f**k up by Chris in front of her kids," Briana replied.  (The comments have since been deleted.)
Eventually, Kail and Chris became aware of what Briana had posted, and each reacted in a different way.
Kail tried to take the high road, posting on Twitter, "Some people aren't even worth the time and energy. I've worked too hard on my books and degree to throw it away on someone who runs their mouth for a living."
Chris, who has made it clear that he wants nothing to do with the show (or its drama), denied Briana's claims that he was an abuser.
"Let's keep my name out of the teen mom drama ok?" he wrote on Twitter. "1 more thing lol I never beat my BM." (For those of you who aren't hip to the "kids' lingo" these days, "BM" in this case stands for "Baby Mama." #TheMoreYouKnow)
While Kail has never accused Chris of hitting her, a source close to her spoke to The Ashley in October 2017 and said things have gotten tense between Chris and Kail in the past.
"Chris was violent with Kail multiple times, once while she was holding the baby," the source, who claimed to be present for at least one of the incidents, told The Ashley. The source also claimed that Chris (allegedly) tried to break into Kail's house at least once to see the baby and left damage on her door frame and window.
"Some of the film crew noticed a hole was punched in Kail's garage door, and she confided in someone on the crew that Chris did it," the production source told The Ashley. "Nothing was filmed about it, though."
Kail and Briana are due to meet up next weekend in New York City, where the girls will be filming the 'Teen Mom 2' Season 8B Reunion special. Kail has already predicted that fists may fly between some of the show's cast members.
Related Story: Kail Lowry Says Ex Javi Marroquin Is Ditching 'Teen Mom 2' Reunion to Avoid Briana DeJesus: "He's Basically Bitching Out"
(Photo: MTV)