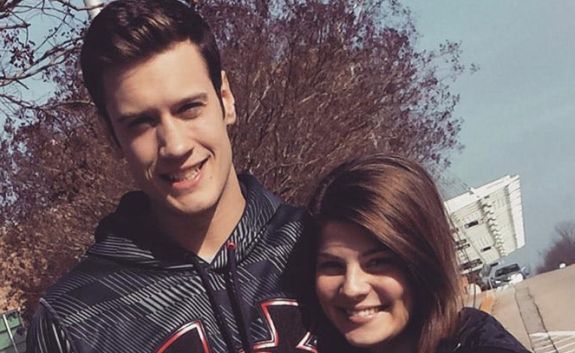 Tori Bates and her new husband Bobby Smith have wasted no time adding to their family.
The newlywed Bringing Up Bates stars announced on Thursday that they're expecting their first child. The couple, who got hitched in December 2017, told Us Weekly that Tori is due in the fall.
"We're having a baby!" Tori told the magazine. "We are thrilled that God has blessed us with this amazing privilege, and we cannot wait to meet our precious little gift from Him. We're on the edge of our seats to see whether it's a boy or a girl!"
Tori and her family are good pals with the Duggar Family, and adhere to most of the same strict guidelines the Duggars do when it comes to courting, no pre-marital physical contact and (reportedly) no birth control. Like the Duggars, the Bates generally leave the number of children they have "up to God."
Unlike the Duggar girls, though, several of the Bates girls have attended college. In fact, earlier this week 22-year-old Tori graduated from The Crown College of the Bible with a Bachelors degree in Elementary Education.
Tori's mom, Kelly Bates, congratulated her via the Bates Family official Instagram account on her graduation and pregnancy, and for sticking out her college finals while suffering from severe morning sickness.
"She graduated from college and now she has graduated into motherhood!" the photo caption reads. "These last few weeks of school have been very trying with constant morning sickness and Bobby has been so overwhelmingly thoughtful. You both make a mama proud! I'm so excited that this is going to be such a special Mother's Day as you both celebrate the new life God has given! Congratulations!"
The caption of another post to the Bates' Instagram account states that Tori graduated Magna Cum Laude from the Powell, Tennessee-based college.
According to Us Weekly, Tori and Bobby will make their on-air pregnancy announcement during the 'Bringin Up Bates' Mothers Day Special on Thursday, May 10 on UPtv.
(Photos: Instagram)