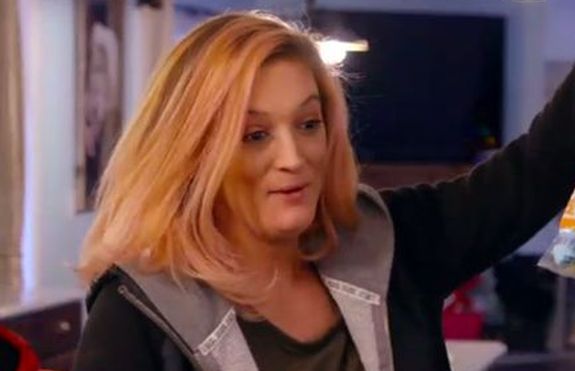 Another Baltierra is heading to rehab!
Teen Mom OG star Tyler Baltierra has supported both his wife, Catelynn and his dad, Butch, during their stints in rehab and now his sister, Amber Baltierra, is also checking herself into a treatment center. Amber, who we have seen a lot more of on recent episodes of Teen Mom: OG, recently split from her husband Billy Elkins Jr. (Billy has modeled his court-ordered tether on several episodes of the show as well.)
Amber posted on Instagram that she is following in her dad's footsteps and going off to try to kick her demons.
"These two. They're my rock," she captioned a photo of her young son and daughter. "Mommy loves you more than you guys may know right now…You both deserve nothing but the best and I will give that to you. I'm gonna miss you these 90 days. Just know I love you both with every fiber in me."
She wrote that she was doing this for her two kids.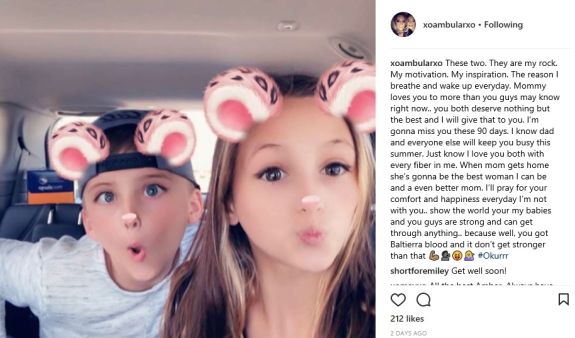 "When mom gets home she's gonna be the best woman I can be and a even better mom. I'll pray for your comfort and happiness everyday I'm not with you. Show the world your my babies and you guys are strong and can get through anything…because well, you got Baltierra blood and it don't get stronger than that."
Radar Online spoke with Amber's estranged husband Billy and he confirmed that Amber is going to rehab.
"She's going to Texas. She leaves Friday," he told the site earlier this week.
Butch, who recently completed treatment himself in Austin, Texas, also confirmed to Radar that Amber was going to rehab. (Butch is still in Texas, though, and appears to be living at some sort of sober living facility.)
Fans of 'Teen Mom: OG' shouldn't be too surprised that Amber is going to rehab. Many accused Amber of being on drugs after seeing her disheveled appearance on recent episodes of the show. Even Butch expressed concern about her in one episode.
"Your sister got me really kind of worried," he said to Tyler. "She's living with me so I see a whole lot nobody else sees."
Amber is, unfortunately, no stranger to the drug scene. In 2013, she was arrested for possessing drug/narcotic equipment. At the time the responding officer wrote, "I observed a woman's purse on the front seat and I could see a glass smoking pipe in the cup holder on the center console. I made contact with the driver and immediately I could smell a strong odor of burnt marijuana. We only located a black marijuana smoking pipe under the front passenger seat. The pipe had residue in it that appeared to have just been used."
Amber was arrested for drug paraphernalia and driving on a restricted license. She pled guilty and was sentenced to 20 days in jail.
No one has confirmed exactly what substance/ailment Amber is rehabbing from, but Radar has a source that believes her intentions aren't honorable.
"She's just irresponsible, immature, so maybe it'll get her act together," the insider said. "I think it's an excuse to ditch her responsibility as an adult. Not really get any help. I'd be very surprised if she came out changed for the better. Amber in my opinion is only going to therapy for attention and what it does for the show."
It is also unknown who is paying for Amber's rehab stay. In the past, MTV has paid for its cast members to attend treatment; however, Amber is not a regular 'Teen Mom OG' cast member. In one recent episode, Tyler stated that he was paying $48,000 for his father Butch's rehab stay, so it's possible that Tyler and Catelynn were the ones who shelled out the dough for Amber's rehab stay as well.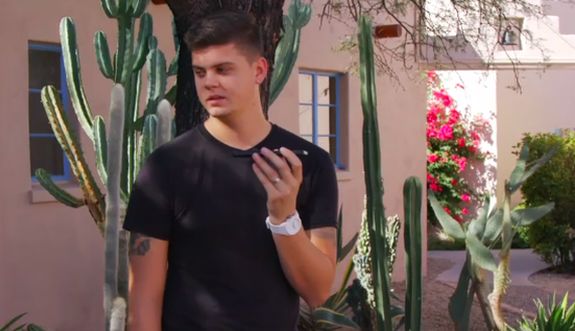 However, Amber recently blasted her famous brother and sister-in-law in a Facebook post, called Tyler and Catelynn "fake," among other things. (The Ashley is doing her best to clean up the post to make it readable.)
"They don't care about s**t but money," Amber wrote earlier this month. "Cate and Tyler are f**ktards, wanna-be Kanye West and a Kardashian [which] Cate is far from. She can't even take a natural surgery. Dumb bitch. F**k brother. F**k them. [They're] so fake. Sorry you witnessed what you assumed imagined they would be. [They're] NOTHING like normal."
Amber didn't reveal what set her off on her siblings; however she eventually deleted the rant. She later (sort of) explained her actions.
"My depression has taken over my life and I'm acting like a child fighting on social media with people who just don't know the real story," Amber wrote on Facebook earlier this week. "I'm going to Texas this Friday for 90 days to clear my head and finally get me back. I have never been this bad in my life and I'm losing myself and I just can't do it anymore. I can't keep fighting myself. I'm tired and I can't do it alone. I need help. Nothing wrong with admitting you need help and taking the [action] to do so."
Watch Amber and Tyler tour Butch's rehab facility while filming an episode of 'Teen Mom OG.' No word if Amber will be heading to the same Texas rehab facility that Butch went to.