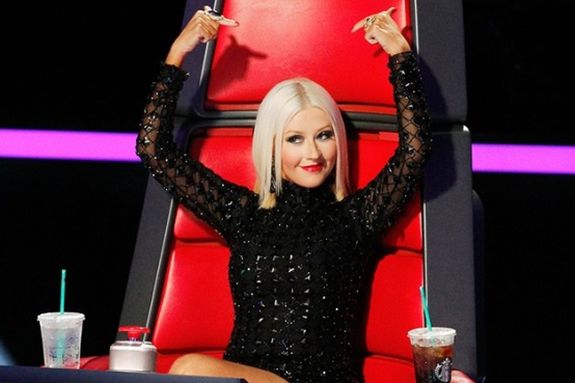 The Voice is known for having a (mostly) revolving panel of coaches throughout its 14 seasons, but one coach that won't be coming back to claim their big red chair is Christina Aguilera.
Christina—who helped launch the singing competition's first season in 2011 and went on to coach five more seasons—has made it clear in recent interviews that appearing on 'The Voice' was not a very positive experience for her.
In a new interview with W magazine, Christina blasted the singing show for the second time this month. (In a Billboard story published May 3, Christina stated that 'The Voice' was "not about the music" and only about "making good TV moments and massaging a story.")
While she was reluctant to discuss 'The Voice' in her Billboard interview, she was much more talkative about the show while chatting with W.
"It was such a hamster wheel," Christina told the magazine of the show.
While Christina was apparently happy with how the show came off during its first season, she said, gradually, the show's original premise—where a singer's looks were not as important as their voice—did not carry through into the later seasons.
"I felt like things really started to shift and change," Christina, who last coached in 2016. "I signed on to a show where the blind audition element was something interesting, something genuine. After a while, though, you start to see that everyone is good-looking.
"It wasn't a comfortable place for me to be, where I'm just part of a money-making machine. When I stop believing in something, then it's like, 'What am I doing here?'" she added.
Christina discussed the real reason she left, in the process dispelling one of the biggest rumors that circulated when she left 'The Voice': that she left because the romance between coaches Blake Shelton and Gwen Stefani was taking the spotlight away from her.
"Oh my God, no!" she told the magazine, adding that she was never feuding with Gwen as the tabloids stated. "No, it never had anything to do with any one person at all. And I actually think it's really cute Blake and Gwen found love in that chaotic environment."
"I fought for a long time to get two females in the chairs. And, for a long time, I was just told it wasn't the demographic," she added.
Eventually, in Season 11, two women were allowed to sit on the coaching staff.
"Just know that I was a fighter [for that] behind the scenes."
The "Genie In A Bottle" singer told W that the real reason she quit 'The Voice' is that she didn't want to follow the rules that come with appearing on a network television show.
"Once again, I found myself in that place where I'm being told what to do, what's going to be acceptable or unacceptable, what's okay or not okay," she said. "It's like, God, you know, I'm a mother of two now. The genie is out of the bottle."
'The Voice' is currently in its 14th season. This season's coaching lineup includes Blake and Adam Levine— panel fixtures since the show's inception, each with three wins —as well as three-time coach and one-time victor Alicia Keys and panel newbie Kelly Clarkson.
(Photos: NBC, Instagram)