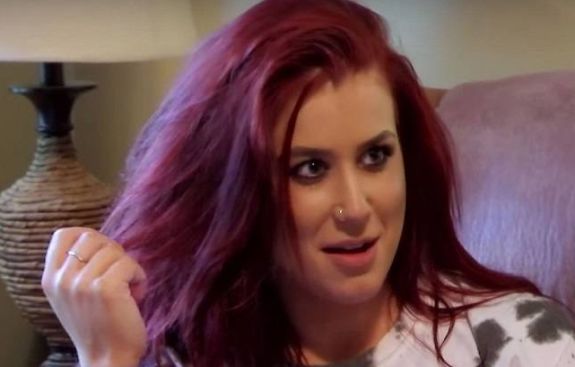 Before things erupted into vase-throwing chaos at the recent Teen Mom 2 Reunion taping, Chelsea Houska sat down with her co-star Kail Lowry to record an episode of Kail's podcast, Coffee Convos. Chelsea chatted with Kail and her co-host, Lindsie Chrisley, about a variety of topics including her daughter Aubree's father Adam Lind, her family and how she deals with online criticism.
She also finally revealed what hair dye she uses to get (and keep) her tresses so red!
Chelsea is the second of Kail's 'Teen Mom 2' co-stars to appear on the podcast. Back in February, Leah Messer did an episode. Teen Mom OG stars Catelynn Lowell and Tyler Baltierra have also appeared on the podcast.
Here, The Ashley breaks down some of the more-interesting topics that Chelsea discussed during the interview, which, by the way was filmed for an upcoming episode of 'Teen Mom 2.'
On Adam's Relationship With Aubree:
Chelsea confirmed that Adam does not see his daughter regularly. Adam, who has failed several drug tests over the course of a year, is only allowed to see Aubree at a court-ordered visitation center. However, according to Chelsea, Adam has never actually done that.
"He has to set it up, which he doesn't," she said. "He's also allowed to have lunch at her school once a week, because his mom goes, but he just recently went to his first one.
Adam posted a photo of them at lunch on his Snapchat, something Chelsea said she feels was to show off that he's visiting his daughter.
"Cole has gone and surprised her with lunch, without me even. He doesn't post it because he has nothing to prove," she said.
Kail asked Chelsea if she has talked to Aubree about what's going on with her dad.
"After we had the whole court date or whatever, I did sit down with her because I was worried she would be hearing different sides and stories over there and I wanted her to know as much as possible, in a gentle way, what was going on," Chelsea said.
"I said, 'This is what's happening. Your dad's sick right now and he's not making good choices. And for that reason, and for your safety to know that everything's OK, you're going to have to see him [at the visitation center] now if he sets them up. You're going to still see your grandparents on that side."
Chelsea said that Aubree handled the conversation well.
"She is seriously the best kid. She just adapts to everything so well," she said. "She tells me that she doesn't really think about him. It's not like [Adam] has ever been really consistent [in her life]."
On the possibility of Cole adopting Aubree legally: 
Chelsea said that Cole would be OK with that, but Adam would not.
"In a heartbeat, Cole would [adopt Aubree]," she said. "But in order for that to happen, Aubree's dad would have to agree completely."
On having more kids:
Chelsea currently has two kids– Aubree and one-year-old Watson with Cole. (She is currently pregnant with her third child, and said that she and Cole will definitely have more kids after she gives birth to the baby girl she's currently pregnant with.
"Cole texted me the other day and was like, 'Can we just have 10 more kids?' We'll have the DeBoer Dozen! That's what we always joke."
While 12 is too many for Chelsea, she does want to have more babies.
"The max I would have is two more after this [baby], at least one more after this," she said.
On reading critical comments about herself on Reddit:
On an episode of 'Teen Mom 2,' Chelsea was seen reading what was written about her on Reddit. On the podcast, she confirmed that she no longer does that.
"I gave it up!" she said. "After they showed me reading it on the show, I said to myself, 'It won't be the same now that they knew that I read it.' I seriously haven't looked at it in a couple months.
"I gave it up, and my life has been significantly better," she added. "I couldn't stop reading it…I seriously think it was affecting my mood. If someone tries to tell me something on it now, I'm like, 'Nope! Don't want to hear it!'
On her hair:
'Teen Mom 2' fans have long been obsessed with Chelsea's hair (regardless of the color or style she was wearing at the time). However, she said she gets the most questions about the dark red color she is currently sporting.
"I wash my hair at least every other day…I just use good products," she said. "I've done it so many times, right now I do whatever I have. I can buy real beauty products because I have my license.
"This color I did two days ago is Kenra Creme Hair Color
6RR with a little 5RB, and there was a squirt of 4RR in there. That will make sense to people who know hair. I don't even know if that's the right thing to do I just mix it."
To read what Chelsea had to say about her marriage to Cole, and the name she's chosen for her unborn daughter, click here!
To listen to Chelsea's full interview, click below!
(Photos: MTV, Instagram)